Lead changes
---
Hey guys, So ive got a question for you..
How exactly do you ask your horse to change leads?!
I realize how important it is while jumping, and feel it is something johnny and I have to master.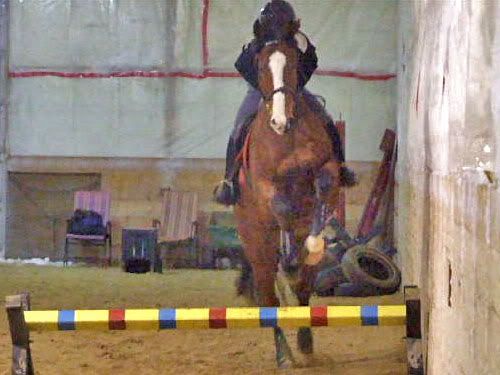 ---
Last edited by laurenlovesjohnny; 02-24-2010 at

01:02 PM

.
When changing leads on my horse while he's moving forward with good impulsion I bend him (through the body not the neck) in the direction I will be going and apply my outside leg. When he was learning it took an extreme amount of bend for him to change to the right (he's left sided), now it takes minimal bend, and most times I'm sure he looks like he's going perfectly straight.
---
Gordon Wright once told a student to take up swimming because he would never be a good rider, that rider was George Morris.
I don't rely on lead changes as much as I rely on my ability to let my horse know where he is going after the jump. That way he lands in the correct lead. Much better. Are you doing hunters? Are you wanting to do jumpers? Every time you have to swap leads, you lose time. Many people use imbalance against the horse to swap the leads. I always train my lead changes on a straight line with no turns incorporated in them.
Thank you both for your opinions.
I am going to be doing jumpers, I have heard several ways to cue my horse to do lead changes, and so i am a bit confused on what the proper way to do it is!
I dont really do anything, except stay as balanced at possible so I dont throw the horse off. Horses naturally change leads, and a lot of the time dont when ridden because the rider is throwing their balance off. Try to focus on sitting in the center, DONT lean, and maybe bend their head to the outside a little. When practicing with my mare, I'll do figure eights and when I want her to do a flying change, I act like I'm gonnna keep circling the way I'm going, then at the last moment I turn the other way to circle, making her change her lead. I do this exercise for a few minutes every ride.. It helps her get in shape and lets her practice her changes.
---
"Have fun - Stay on top."
"There's nothing like sixteen hands between your legs"
When I'm going around a whole course of jumps, I usually let the horse sort itself out instead of unbalancing it by trying to get it to change leads all the time, so it can focus on the job of getting over the jumps.

But when I'm doing individual jumps and just flat work, then I try and focuss on getting the correct lead changes to try and get the horse into the habit of knowing when and how to change lead to help them when doing things like jumping a course, and then you will find that they will automatically change to the correct lead on a course of jumps by themselves.

To get my horse to change leads, I make sure they are in a nice controlled canter, then I give them abit of impulsion with my legs while sponging with the rein that I want them to change into and looking in the direction that they are going to go.
---
*~ THE HORSE STOPPED WITH A JERK, AND THE JERK FELL OFF -- Jim Culleton ~*
MANURE HAPPENS