Lets see those jumps gone wrong!
---
Badly strided double...poor pony but she is one honest mare




Edit: Removed copyrighted pics
---
A good horse can never be a bad colour...
---
Last edited by SouthernTrails; 02-12-2014 at

11:27 PM

.
Yearling
Join Date: Jul 2008
Location: between florida and maryland, usa.
Posts: 759
• Horses:
1
I'm not home, but I'm sure I have some of these. I'll look once I get home and post some later.
I can't wait to see more!
Cool, can't wait either!
---
Ride more, worry less.
darn it I had a computer crash a few years ago & lost all my pictures & videos. Yes I have learnt the value of saving things like this to disc people!
I had a brilliant video of me jumping a speed class on my horse Barney, also learnt a valueable lesson that day tighten your girth before going into a speed jumping class.
So we got round nearly half of the course I spun onto a double disaster saddle starts to slip on the first fence, I end up sideways offski I go & Barney carrys on to jump the last fence of the double, stops looks like what on earth are you doing on the ground.
I am fairly certain my old instructor should have a copy of this somewhere but have lost contact with her. Mental note should search her out, would love to have it back was freaking funny.
Last week Com decided to go through a jump :roll: jerk...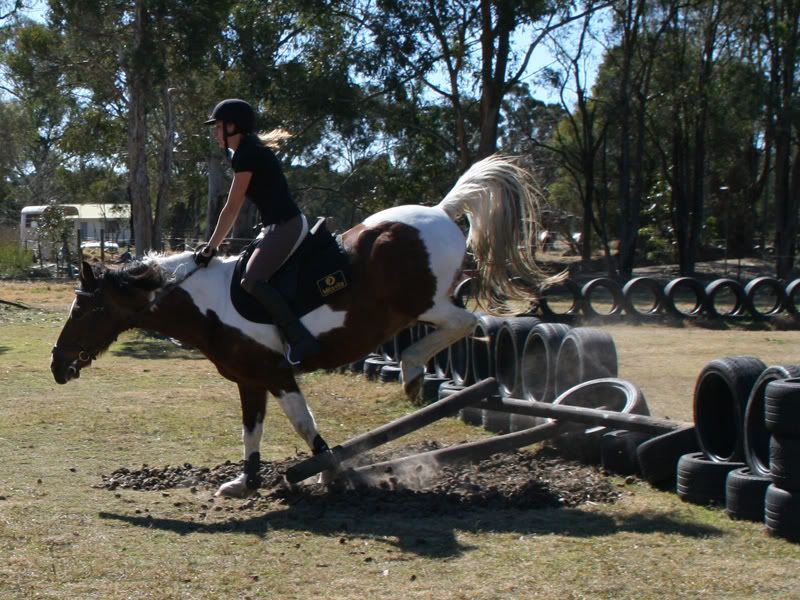 What a lazy boy!
Pinto Pony - Lovely horse but just curious is that gravel that he has to land on?!
Nope, it is horse poop! Where we live the ground is rather hard, crappy clay, so to soften the ground we use manure, we had only just put that down that morning, hence it hasn't really broken up :S So on either side of most of our more permanent jumps we dump manure to make the take off and landings as soft as possible. We did have some sand dumped in one end of our arena, but it was sooooooooooooooo expensive!!!
haha cool I thought it might of been poop as well but couldn't think why, not a bad idea
Aw lol!
He's very cute!
---
Ride more, worry less.