Those are still some amazing photo's! Keep em coming!
---
Dixon's Red Hot Ember
Yay for jumping fat ponies! (she looks like a jellybean...)
LOL! =P She looks like she was thinking, "Okay, ONE foot first!! Left foot!" hahaha.
---
Ride more, worry less.
Quote:
Deeeeep
OMG that is how Sam my horse jumps on the bigger jumps
Quote:
OMG that is how Sam my horse jumps on the bigger jumps
Deep...yes...just a tad ;)
But you look awesome on him!!
I'm almost too embarrassed to put this one up but....there are some things to consider when looking at this ridiculous photograph...it was Deuce's first time EVER not only jumping the barrels but SEEING them haha we had just got them the night before, and I'm kind of a risk-taker and so is he so...I thought...why not? And this is what we came up with:
He's not even really JUMPING, he's like leaping? In some way hahaha I think he thought they were going to eat him...he's such a wuss. He jumps them really well now though
Eeep that looks like he will jump fall down and land on it haha.
Banned
Join Date: Dec 2008
Location: At my house, or stable, duh!(Michigan)
Posts: 2,479
• Horses:
3
pinto pony- was your horse having a bad day or does she just like to refuse?
she normally doesnt hit them, but i love this picture, pole flying :)
and me and Charli showing of both our amazing forms!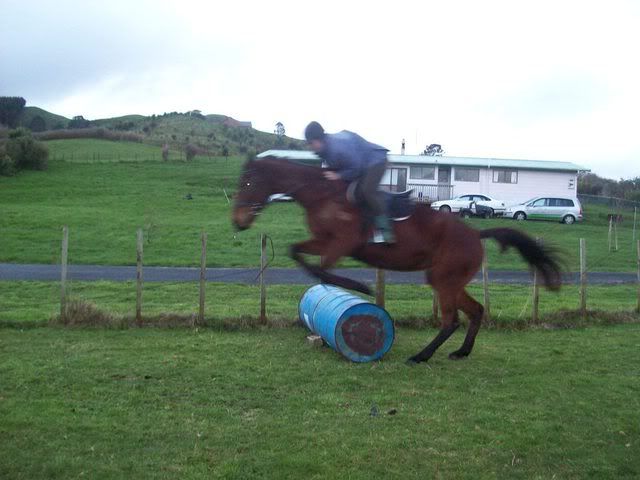 ---
Last edited by charliBum; 01-23-2009 at

03:50 PM

.
PintoPony,

LOL. Maybe you need to give your pony some more treats or something...she seems to be trying to do you in! :p
My pony is a crazy boy. He usually does refuse at the exact same jump which I have has set up for over a year now :S so sometimes when it is our first time coming at it for the ride we get a ugly refusal. But once we are over he is fine and will go over no worries :S