Picture and video of our last outing..
---
Ok not the best video to show you my mare Clover has been abit challenging recently.. Since this have worked on bending round my inside leg on her bad rein and stopping after poles so she doesn't get a run on!! she's been pretty good heres hoping she can keep her head at our next competition.. E~mailed my trainer the video and she's given us a few things to work on but if you have any constructive advice that would be cool :)
video stills of fence 9!! oh dear!!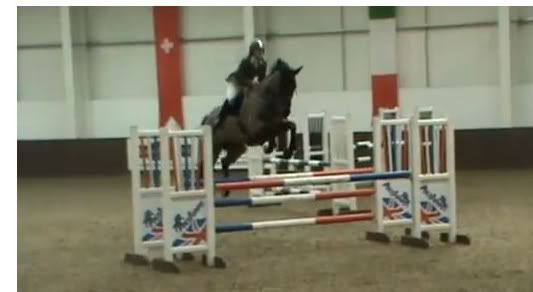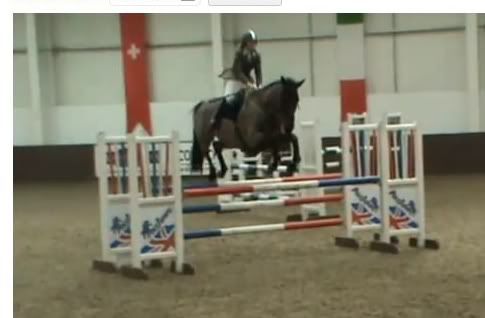 yer oh dear sit up was never going to be able stear her laying on her neck!!
So anyway not posted for a while so yer hiya everyone!!
He seems to be a lot of a horse! He's nice looking though.
---
Horses are scared of two things... Things that move and things that don't.
Thank you Clover is a she ;) She is alot of horse was sold to me 2 years ago as 16.3hh have measured her tho and is 17hh's.. she tends to be more of a handfull winter time anyway!! however she has been a good horse for me she doesn't really know how to stop.. we have qualified for both british novice and discovery regonals and plan to start newcomers this year which is 1.10m ~ 1.20m..
this is us training in the summer we're doing alot of stopping after grids and fences because she does tend to get a run on!!
My good friend jumped her on new years day as the novice grand prix was the biggest she had ever jumped so wanted someone that could help her abit better than I could..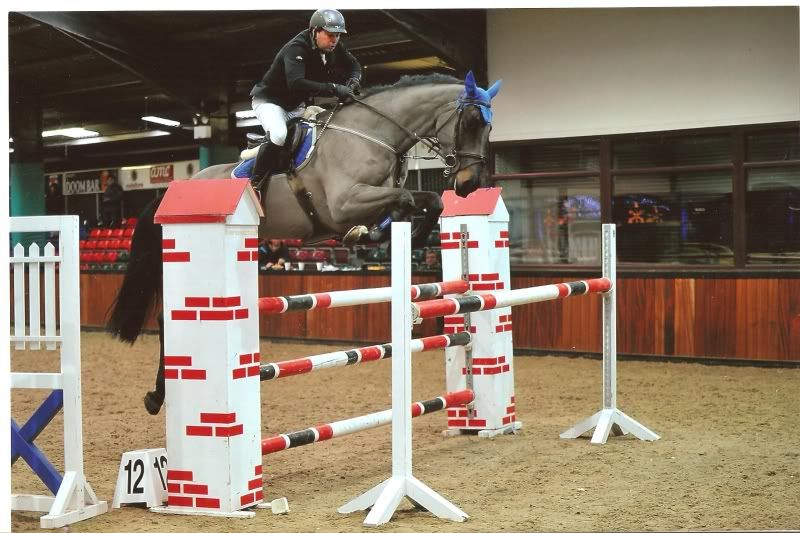 That oxer is 1.20m she went into the jump off which was 1.30m which she compleated with 1 stop but it was massive..
Think part of the problem spent alot of time slowing her down then have taken her hunting twice which she really enjoyed but it blew her head abit and she was mega strong..
out hunting the 1st time..
and errr the 2nd time notice our bridle tryed up with string!! it actually fell apart!! :p
---
Last edited by steff; 03-11-2011 at

05:32 PM

.
Sorry! I don't know why I thought she was a he! Clover should have clued me in :) She is looking great! What kind of bit is she in, in the last picture?
---
Horses are scared of two things... Things that move and things that don't.
you seem like a very promising pair, but it looks like you need to take a step back. your horse is jumping, but not listening to you between the fences. it concerns me that her head is cranked around to the side. does she know what a half halt is ? do you school her in dressage ?
---
Gypsy & Scout <3
Everybody is a genius. But if you judge a fish by its ability to climb a tree it will live its whole life believing that it is stupid. ~Albert Einstein
This horse appears to have a very powerful jump, and you're waaaay above my level, but I do have some concerns. I see a horse that is extremely counterbent while turning which is creating some inbalance to the point where I thought he might actually fall over in one corner. In the still pictures, I see pinching knees and the lower leg swung way back with heels up. That may be par for the course at your level. I have no way of knowing. I agree with gypsygirl, some dressage or at least additional jumping related flat work would help. In the long run, it will save you precious seconds if she can turn in a more balanced fashion. She's a beautiful horse.
---
You just have to see your distance...you don't have to like it.
I have a difficult horse too and I must say-kudos to you for using every moment as a "training session" instead of going into "show mode" where you HAVE to finish the course within time. Aside from having a difficult event horse, I jump judge a lot of cross country and people who don't think like you have some pretty scary run ins!

No advice (sorry). Hopefully your trainer will be able to help you more!
Thanks guys :)
In the last picture she's in a cheltnam gag the rope pully snapped out hunting hence the string!!
She's not easy on the left rein anyway we work on our flatwork but have never done dressage, this week have concentrated on getting her to bend around my leg on that rein in particullar.. been doing alot of leg yeld and shoulder in in canter and come over poles then halting from canter afterwards, in a competition it can go abit out the window she was difficult to warm up on tuesday and very overexcited and in the ring abit like a deranged bannana!!
Gypsy girl errr yes she knows what a 1/2 halt is but chooses to ignore it sometimes!!
Again thanks guys for your honesty have a show again tomorrow!!
You should do lots of dressage and flat work to get her listening to your aids and RESPECT them.
---
Horses are scared of two things... Things that move and things that don't.
I feel that if you worked more on your lower leg and being really secure in your seat, you would have a much more secure position to offer the horse and would be able to rate her better. My impression from the video is that you are slowing her from your arms and hands instead of from your core (based on a really secure seat). It concerns me that she pulls you out of the saddle a lot and that your leg swung back over the jump and you lost your stirrups.

That being said, she looks very strong and you are brave and have good balance to be able to jump and hunt with her. I might take her back down to a lower level and jump courses that seem "easy" for both of you until she can be rated better.