Rider's size matter when jumping?
---
Hi I'm Mike,

Ever since I was young I always thought that jumping was awesome and always wanted to learn. I am going to start riding lessons soon, but I know jumping won't come until all the basics of riding are mastered.

My question to you guys is: does someone's height or weight restrict them from learning and progressing in a sport like horse jumping?

My height and weight are 6'3' and 187 lbs.

-Mike
Nope you shouldn't be limited at all. You just need to make sure that you are riding a horse that is big enough and has a big enough barrel so you can get good lower leg contact for jumping as you are rather tall. The only thing you might have to work extra on is posture in the saddle. I am pretty tall as well.. Not 6'3 but tall, and I personally find that I have a tendency to slouch and round my shoulders. But that is for me personally, you might not have that problem. Good luck in lessons :)
---
Never give up on a dream you can't stop thinking about for a day...
I think your position would be a much bigger factor than size, in your case, your upper body. While you could easily impede your horse's jumping effort by getting too far ahead of your horse, I think you will find your taller upper body to be an asset once you know how to use it to influence your horse's way of moving.
---
You just have to see your distance...you don't have to like it.
6'3" and 187lb is nothing, I know shorter heavier people who ride and jump with no trouble at all! My coach would easily be 6'7" and he is an incredibly effective rider.

The rider who I'm trialling a working student position with, I'm not sure how tall he is, but he's a grown man too and looks around average height to tallish (his horses are BIG horses, and he looks just right on them, you'd never guess they are all 16.2+), and he's been to the Olympics.

As long as your horse is built well, and has good strong legs, I don't see any problem with weight. I know horses that can't be ridden by anyone over 75kg (not sure what that is in pounds), and I know horses that don't have any trouble with 300lbs.
---
REGAL PRINCESS
This is William Fox-Pitt, three times world no.1 and eight times British no. 1 eventer, who is 6'4". Have watched him at several events and whilst he looks all limbs and far from graceful, he gets his horses round like nobody's business!
Hilarious pic of him having to duck to fit through a country jump: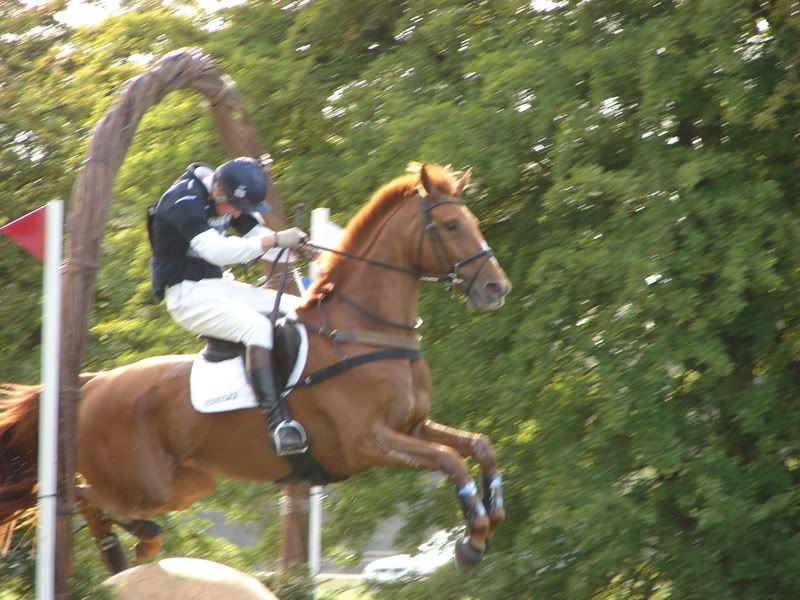 Ian Millar, show jumping world cup winner and Olympic silver medallist for Canada, is 6'1"
Mark Todd, 6'2", has won Olympic gold for New Zealand in eventing and gold at the World Championships.
Lots of tall riders out there doing very well! Weight is less of an issue than height as long as you have the right horse - something built to carry weight is ideal, but even TBs, WBs and hunter types can carry more weight than you'd think! So go for it! (Yay jumping!)
Thanks guys! May I ask, is it harder to balance in the saddle (in general) because of my size?
Mike, first of all your height should NOT limit you for jumping (plus sounds like you are on thin side with your height + weight combination). The long legs will keep you in place more secure (although personally I'd go for the bigger horse in your case). I'm quite tall for a woman, and frankly I find my height to be an advantage (because I can comfortably ride those wide barrel-looking horses since I have no problem wrapping my legs around).
As for balancing as long as you are taught correctly how to go over the jump you are just fine.
---
"Life isn't about waiting for the storm to pass: it's about learning to dance in the rain..."

"When we are no longer able to change a situation - we are challenged to change ourselves."

"How people treat you is their karma; how you react is yours."

Jumping is an amaing sport, but Mike as long as you have the right horse for you, you know tall enough and has a big enough barrell, you can do anythkng you set your heart on! (:
Also, depends a little on how you carry your weight... All shoulders, Or more evenly distributed? When it gets to that point, your trainer can help you stay in balance jumping.