I'm 5'10" and have been that height since I was 13. Originally it was annoying, but now I use it to my advantage. I've had plenty of trainers comment that being long legged is the perfect conformation for riding (especially jumping). My only issue with it is buying saddles. Generally the ones that fit correctly are ones that cost more than my horse.

I have only ridden a handful of ponies in my life, even as a kid I was generally too tall. Though my most successful jumper was a 14.2 HH foundation QH mare. She took me up to 4'6" before I couldn't handle the thrust and nearly rolled right off the back. LOL. My current horse is 16.2 and wide, he still looks a little small IMO. I'd love to have a horse where my leg doesn't go beyond the barrel.
---
If your horse says no, you either asked the wrong question or asked the question wrong

And God took a handful of southerly wind, blew His breath over it and created the horse
I am 5 ft8" and I think I even look tall on my 16.hh horse Maestro. I look pretty good on my 17hh horse though. I look gangly when I ride anything shorter than Maestro.
Posted via Mobile Device
Quote:
My only issue with it is buying saddles. Generally the ones that fit correctly are ones that cost more than my horse.
Ha, me too!
I'm 5'9" (5'10" according so some tape measures), and I fit my horses just fine.
On Jester, who's 16.2
And on Charlie, who's 17.1/17.2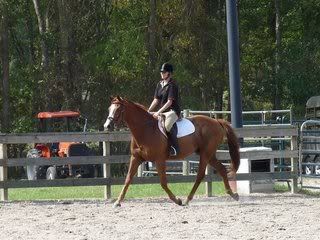 I'm fairly tall, I'm 5'7 but I'm 80% leg it seems. My whole family is tall, my sister being 6'3 at 16 and my dad was 6'4. I'm actually the runt of my whole immediate and closely related relatives. I feel like a giant at school though! I ride a 16hh horse, but I sometimes feel like I look leggy on him.
haha i'm feel you.. Im 5'8" and my my mare is 15.1.. usually the jumpers seem to be a lot taller.. so I feel kinda "big" on her. But as long as you don't weigh much, it doesn't matter!
Oh, and all my height is in my legs too! haha
I'm 5'6 at 23 so I'm done growing. I feel 'at home' on 16hh. I also weigh 195 (down 6 lbs in 3 weeks!!! YAY!!) everyone's length is in their legs and mines in my back =( I feel so disproportional now LOL
I'm 5ft8 and my horse is a fine built 15.3hh TB (i'm light - 57kg)
Remeber that height doesnt really matter, as long as you are balanced. It is the weight which is the issue - horses can carry 20% of their body weight, so go 0.20 x (how heavy your horse is) and that is the maximum weight your horse can carry comfortably. :)
I'm also 6' tall and feel best on 17hh horses or over 16hh high horses that are stockier so that they take up my very long legs. A great jumping saddle for long legs is the County Conquest and another good one is the Crosby XL (I have used both) and I have researched them all!! I have now decided to take dressage lessons and already tried a Passier Grand Gilbert which has long flaps. Yeaaaa.