Agreed, there was no release at all over any of those jumps. She may get away with it over small jumps, but as Tia goes higher, it WILL come back to bite her, and you will end up with a resistant horse who won't use herself properly for fear of getting popped in the mouth. Your rider needs to be working on this NOW not waiting for later to fix her hands. Remember it is easier to teach them properly from the beginning, that to go back and fix problems caused by sloppy riding.
---
"Keep a leg on each side and your mind in the middle"
Yes, I love your horse, but not a fan of the rider. I know it's not you, but even in that later video you posted, she is STILL holding her mouth throughout the entire jump. With a greenie, it is better to have the rider overjump than underjump (as this rider is.) Remember - Green + Green = Black and Blue!

Now, I wouldn't call this rider green, but I would say she doesn't have the hands to be starting anything yet. Not to say she never will, but for now, I will say get a new rider. Just tell this young lady that you want to get a number of different people on her, just so that Tia gets the experiance. Make it sound like it's not the girl's fault she got kicked off the horse. She looks fairly young, and has plenty of time to learn those lessons later.

On the other hand, I love your mare! Tia is genuially trying to please, and to do well. I love the way she moves - very flowy and pretty. The judges will like her as she moves into the show pen ;)

About her leads - I think she is trying to get them right. She is just doing whatever she feels is right for herself. Notice going into the turns, she switches to the correct lead if she was wrong before. This is an awesome sign. I much perfer a horse to do this than let him/herself be off balance going around a turn.

I would say what someone has said before - if she lands on the right lead, turn right, etc. but I would do something slightly different - Alternate! We can worry about leads later,(as long as on the flat, you can specifically ask and recieve a certain lead) especially because she already seems to kind of know them. I would turn left, turn right, turn left, turn right, etc. This will keep her thinking, and not leaning to one direction over the jump.

Regarding rushing the jumps - once you get into a bigger arena, this will be easier. But anyway - Try not to focus on JUMPING so much. If I were riding Tia, I would be doing lots of circles, serpintines, transitions, changes of direction, etc. to keep her interested, thinking, and calm. If a horse begins to think, 'Oh my gawsh, we are just going to jumpjumpjumpjumpjump,' they will just ... charge. Like Tia is thinking of doing. Think of it this way - in your jumping sessions, just do flatwork with speedbumps. Do a circle, change of direction, serpintine, jump, circle, etc. Change that 'jumpjumpjump' mindset to the 'ride along with my rider and enjoy life,' mindset.

Watching recent vid again ...
ugh, the way that rider just pulls her around the turns ... all mouth, no leg ... so in her face ... >:/ I'd pull her off ... now...

COOKIES to you for reading that massive novel! Hopefully something good came out of it! I wish I was your neighbor - I would ride your sweet pony for you :3
---
~ When I Die, Remember Me By My Horses ~
* Because They Are Responsible *
.: For Letting Me Live :. (c) xJumperx
---
Last edited by xJumperx; 06-04-2012 at

02:12 PM

.
Thanks guys. I agree with everything you are saying, its so hard not being able to ride my own horse the way I like. I have had a few others come out and ride Tia, none of them got to jumping because I wasn't comfortable with how their flat work looked. I think I will limit this rider's ride to flat work while I continue to look for another rider for jumping. Its hard since I live in a mostly western riding area and the few hunter/jumper barns out here charge an arm and a leg to have one of their trainers ride plus most of them are haul in only and I don't have a trailer. SO for now I think I will keep looking but keep this rider for flat work only. I do have a potential working student job lined up for after I have the baby and so I'm hoping that if I get that position they will help me get back into shape for riding and help Tia learn correctly.

I took a chance on getting Tia since I knew she had no jumping experience and was much thinner since the last time I had seen her (I rescued her from 700 miles north of here, several months after the last time I had ridden her) So I got really lucky with her since in the few months I've had her she's made amazing progress with her health and her jumping. She lunged a 3 foot oxer the other day with ease and has room to go higher. She also has a much bigger stride than most 15hh horses. I love her to death and I can't wait until I'm back on her ridding.
---
"Horses are the best medicine for the soul"
!~*~Horses4Healing~*~!
This is the oxer she lunged over, it was raised on the other side to make it 3 foot shortly after I took these. She loves it and trots the jumps better than she canters them.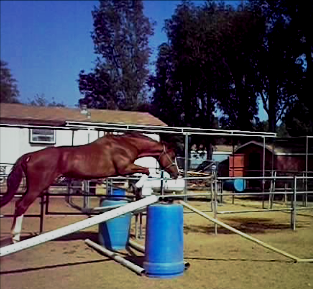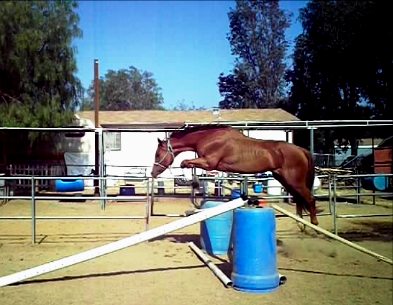 This picture is from when I first got her on Feb 1st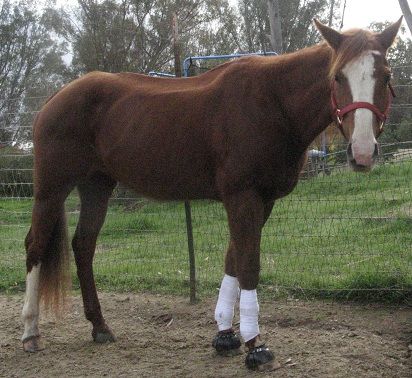 And this is a new picture of her. Still needs some topline work but def better. Coat is a better quality too.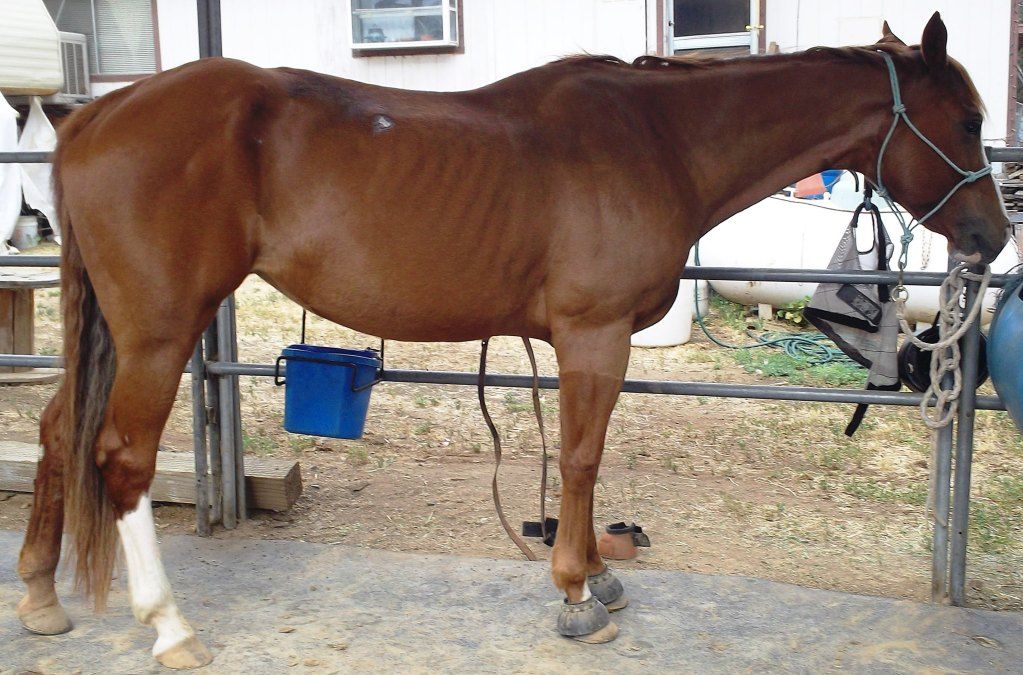 ---
"Horses are the best medicine for the soul"
!~*~Horses4Healing~*~!
I really love her conformation and attitude. She's going to be a great horse for you once you're riding again!

And she's already looking so much better.
---
I give myself very good advice, But I very seldom follow it
Still not much release. If the area is really small, maybe put the jump on the diagonal to give a little more room.
Quote:
Still not much release. If the area is really small, maybe put the jump on the diagonal to give a little more room.
I had not thought of a jump on the diagonal. This will help with lead changes and change of rein too. Thanks for the good idea!
---
"Horses are the best medicine for the soul"
!~*~Horses4Healing~*~!
Your horse has a very nice jump to her!!! (free jumping) With more weight and muscle, she'll be awesome... And I don't just say things to be nice.
I see a lot of improvement with the ground line it would be nice to see her land and go straight for a stride or two before turning, this will help with her balance instead of landing directly into a turn. Placing the jump on the diagonal is a great idea so she can ride her straight to the corner before turning.