What to do??
---
I have the opportunity to get a fancier show horse from University of Findlay. I currently have one of their 17yr old TB geldings, and he's such a sweetie. I've had him for 3 months, and showed him at a couple local shows. The thing is, he's 17, and isn't a very good mover. His jump is practical, but not pretty. I show in 2'6" hunters. We're constantly being beat, and only getting 6th place. It's getting frustrating because I'm paying for these shows and not getting much out of them.
I'm wondering your input, should I keep this horse, or should I trade him in for something nicer? Its a hard decision to make because I love him tons, I just don't see him as a horse I can advance on. Below is a picture of his jump.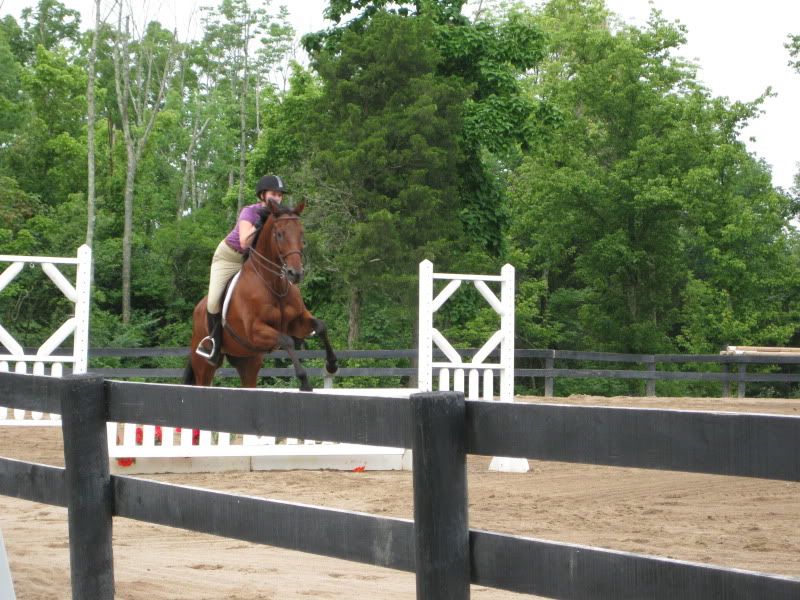 What is your ultimate goal - to be competitive or to have a friend/partner horse? If it is the former, I guess the horse you have now is not the one for you. If the latter is more important, though, it seems you already have the horse for you. It all boils down to deciding which is your priority I guess.
To be competitive. But I want a horse that I can develop a strong relationship with. I really love this horse. And It'll be so difficult to get rid of him, but I feel like this is something necessary to advance. Ugh this is a really hard decision.
Is there any chance you can just do a trial on the other horse, to see if you make a connection?
Or maybe the horse you have now just needs some exercises to help him snap up his knees more?
I hope whatever decision you make, you'll be happy with it.