Weanling
Join Date: Aug 2008
Location: On the banks of the Red Cedar...
Posts: 494
• Horses: 0
i feel boring, we just use regular jumps. though, a bunch just got repainted XD now we have a MSU & UofM line, hahaha. awesome!
and the outdoor:
---
A dream you dream alone is only a dream. A dream you dream together is reality.
John Lennon

[quote=bexandponies;307974]Just wondering what you are all using for jumps these days? Weather you have proper jumps or make do with what you can find?
These are a few of mine i finally painted today :) Still have some more to paint when i get time :)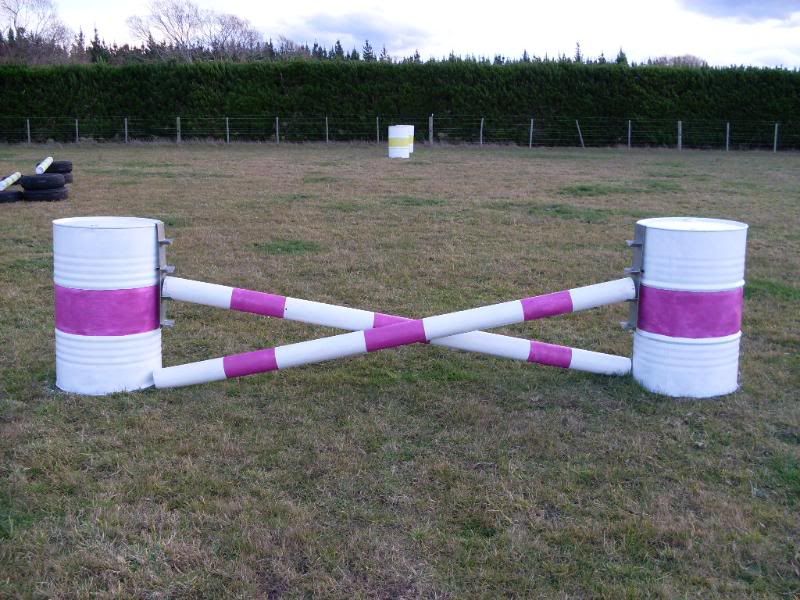 /quote]
What are thoes things that you attached to the barrels and where did you get them?
Logs, my next project will be making some proper jumps lol. I just usually have someone drag some logs out on the trail or in the field.
I use regular 'store bought' jumps as well.
still wanting to know where you got those stacked cups!!
Great jumps everyone!

At Equine Innovations, we used tires for jump stands.

At Sunny Brook, we have the wings.


ALSO: would like to know about those cup stands on the first set of barrels in the thread!!
---
Grooming - The fine art of brushing the dirt from one's horse and applying it to your own body.
Well I have those things you put on the barrels and I just got them out of a catologue
For those using tires as jump stands, what is holding the pole in place? I have TONS of old tires on the property we are using. LOL
---
The outside of a horse is good for the inside of man.........unknown

Green Broke
Join Date: Mar 2009
Location: Kansas in the summer, Kentucky most of the time
Posts: 3,028
• Horses:
3
my family and I make most of our jumps with our circular saw and extra wood. But my main set of jumps has about 12 sets of standards and 30 poles that we bought from a friend who was moving to Texas. She used them to compete at Preliminary level eventing so they are well used but are good enough :) We are in the process of painting them again.

The ones we have made are my eventing colors, Navy and Sunburst Yellow. As well as a few red, white, and blue ones. We are in the process of making a panel that has a KU (red and blue) theme on one side and a Nebraska (red and white) theme on the other. Representing my divided household! haha
---
Look like a SUPERSTAR, Ride like a FOUR STAR, Win like a ROCKSTAR
Eventers: Making BAD Dressage look GOOD!
For those using tires as jump stands, what is holding the pole in place? I have TONS of old tires on the property we are using. LOL
---
The outside of a horse is good for the inside of man.........unknown

Similar Threads
Thread
Thread Starter
Forum
Replies
Last Post
Jumps

MovingOn

Jumping

1

03-24-2009

09:27 PM

Jumps

BrittAnne

Jumping

7

01-11-2009

03:36 PM

Scary Jumps

showjumpxo

Jumping

15

09-07-2008

07:16 PM

making jumps

horsejumper123

Jumping

1

07-15-2008

06:16 PM

Jumps

Robyn-Niagara

Horse Tack and Equipment

7

07-01-2007

05:03 PM