Haha my first jumpp... hoo boy.

So it was my first time officially being allowed to canter. I had had a bad habit of trying to canter everytime my instructor turned her back so it wasn't my first time cantering, just my first time with permission haha.

So I was riding some huge 16h ex show jumper, I was told she had been pro but now she was around 25 so she was quiet enough to be a beginner lesson horse. Well, my first time cantering around the ring, I lost control of her and she headed right towards a fairly high jump that had been set up in the ring. She must have had a flashback to the glory days, so instead of jumping the jump or running out, she jumped the STANDARD! It was one of the smaller standards, maybe 4 ft, but ohh man was I terrified. It had been my first time even cantering!!!

I landed the jump and then slid off the side. According to eyewitnesses, her back legs would have come down square on me but instead she did like a double hop on her front legs to avoid me. I can honestly say I owe Fancy the rest of my horse life. If I had been stepped on as a beginner at such a young age, I never would have gotten near a horse again!
Well the first time I ever jumped was at a friend's house, over a log that would've been about 18".
But the first time I jumped MY horse was just a couple weeks ago, and we've haven't quite gotten to the "jump" part yet.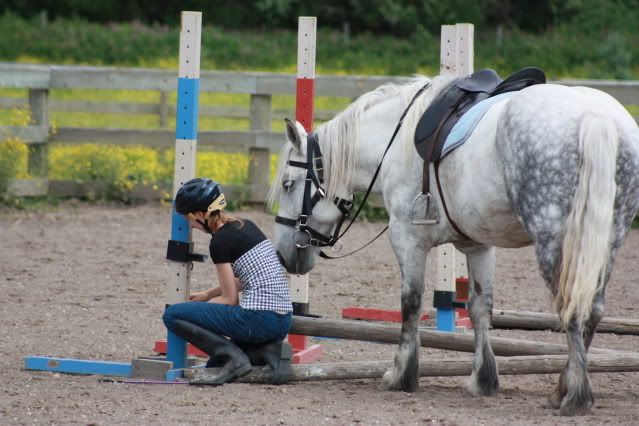 We've trotted 12" crossrails, but she has never actually jumped something. We'll get there :)
Your horse is so pretty!!!! Percheron?
My first time jumping was well..amazing <3

IKt was on my 14 hh pony that hates having me on her back. She seemed to be in an exceptionally good mood that day, so I decided to dig out my English saddle, and she took to that much more than the western saddle..She had never jumped except free jumping and I had never ever jumped on a horse, so I'm sure she was a bit nervous too. So after I taught her to accept me posting on her [for some reason she wanted me to just sit down. lol] I practiced 2 pointing around the pasture, then had my friend who was watcing just in case set up a low crossrail and we just kept raising it until we got to probably 3-4 foot crossrails. I was really proud of the pony because she carried me over it so elegantly, even though it was the first time for either of us.
Haha xD
My horses first jump with me, was a bit of a disaster. It was a fall type jump a gate with fake pumpkins and orange flowers at the bottom. I take him to the jump, he trips, tries to jump, but ends up knocking it down and breaking part of the gate. Then he trots foward and trips one more time.
We only did cross country for a while after that.
He's much, much, much better now
.
Banned
Join Date: Dec 2008
Location: At my house, or stable, duh!(Michigan)
Posts: 2,479
• Horses:
3
My first jump was on a 13.3hh horse named rusty when i was 5. about 2 feet. and he was mine
---
Last edited by morganshow11; 08-05-2009 at

09:50 PM

.
I don't remember the exact details of my VERY FIRST jump, because it was quite a bit ago. But I do remember it was on my first horse when I was about 11/12 years old. A quarter horse that had originally been trained WP, so he was a very quiet horse for me. My trainer had us go over a tiny crossrail, and my QH took it as a jump in stride. All I remember about it was that I was thinking "This is SO COOL" and wanting to do it all the time after that.

So, that leads me to my addiction now. Hahaha...

The horse I have now, our first jump was actually just about a month ago. He is young, and never had formal training over jumps. So I set up about a 2'6, just to see how brave he was. I got light in the saddle a few strides out, but kept my rein/leg contact to encourage him to it.
I was thinking "He's a little Morgan, he'll probably just do a little jump over it."
Totally underestimated my guy. He jumped it like it was 4' and completely jumped me out of the tack.

Yep. I had a huge grin on my face and knew that I had bought the right horse for me. I underestimated him, and he is proving me wrong every single day. He is just phenomenal, and LOVES to jump.
---
...he's so kissable, huggable, loveable, unbelievable...
I can't seem to find the video of my first time jumping, I know I have it somewhere.. I was riding a like 26 year old horse that was blind in one eye. He loved it so much he'd actually JUMP over the tiny cross rails, and even though I only meant to trot after them he'd be having so much fun he'd canter off!
I do have a video of one of my first jumps on Eddie, the horse I'm going to be leasing in September.. this was only my second time riding him and booooyyy was he testing me. I've seen him go over this cross rail with his owner over and over again no problem, then I get on and he kept running out lol. But eventually I got him to do it and this is how it went.. I know I don't look great but it will improve once we get used to each other.


I don't remember the first time I jumped, but I do remember the first horse I jumped...well she was a Shetland pony, and we didn't jump really high; just about 12" at the most alot of times, as she was old, and I was young...Lol!
---
"The ideal horseman has the courage of a lion, the patience of a saint, and the hands of a woman..."
I dont remember the first time I jumped but the first time but I do have pics of jumping prada for the first time (Shes the first horse I had owned in like 10 years)
She had been jumped before but not for over 4 years as she had been turned out for the last four years - and I had only just brought her back in:
Similar Threads
Thread
Thread Starter
Forum
Replies
Last Post
Jump on it!!

Hoofprints in the Sand

Horse Videos

24

05-10-2009

08:43 AM

jump

handytsabre

Horse Riding Critique

9

02-09-2009

01:19 PM

Awesome Jump Horses

bway1341

Horses for Sale

19

11-25-2008

08:47 PM

Look, Ma! I can jump!!

MirrorStage2009

Horse Videos

2

09-17-2008

01:31 AM

when i jump i nearly die!

horsecrazy15

Horse Training

14

12-04-2007

04:05 PM