Bonjour from Quebec, Canada!
---
I'm glad to join this forum that I find very informative as well as friendly.
As a horse owner, I love to learn new things and improve everyday.
We have four horses: three arabians and a canadian mare, 11 to 13 yo. We've had them for 11-12 years, so they all came to us as youngsters and will stay hopefully here forever. They're all barefoot since 2008.
We do a bit of everything, for the fun and the challenge. My SO did some eventing with his arabian gelding. I ride mostly the two other arabians, trail rides and some dressage. I'm training them for endurance, did a couple limited distance rides and I'm totally hooked!
This is Alize, 13yo psa registered NG Get Afire Dream
Here is my second Partner in adventures, Eole (which is "King of Winds" in mythology), 11yo psa registered Beaux Shamy. That was a couple years ago, he's graying fast, almost white now.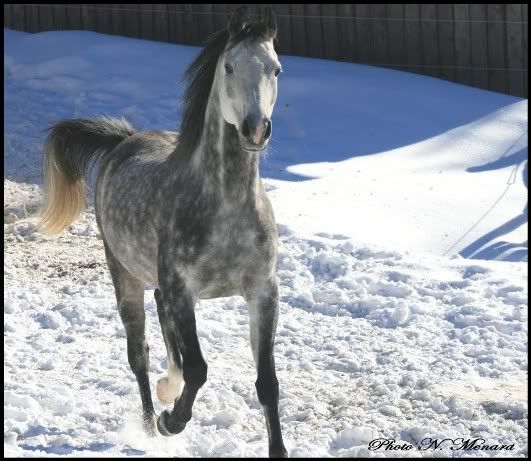 Welcome to the forum! great to see another Canadian!
Welcome, and what beautiful horses you have! :)
Welcome to the forum, beautiful horses!!
---
Being horseless is the pits!!
both of the horses you showed us look like quality mounts. Welcome to the forum. Is your first language French or English?
Thank you all!
Tinyliny, French is my first and daily used language.
Here are my two other loves:
Mistral, canadian mare. Destined to help in the maple bush, but we never seem to have time to finish her education on the sleigh. So her purpose in life is to boss everyone around, and she's trustworthy enough to be our "visitors-beginner's' mount.
And finally, Rafale (registered Rafeen), mostly my SO's mount: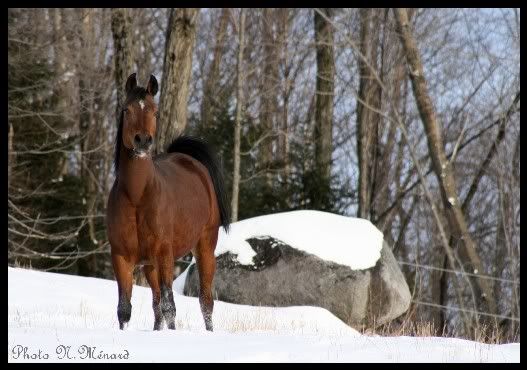 NorthernStar: I went to Northern Michigan (Chelsea) to get my dog two years ago. Is it anywhere close to where you are?
Showing
Join Date: Jun 2011
Location: Cariboo, British Columbia
Posts: 11,930
• Horses:
3
Welcome to the forum! Gorgeous horses!