G'day From Australia :D
---
Hello,
I feel that I have no need to be formal about this.
So I'm Phoebe I am from South Australia,
I have been riding for about 2 1/2 years and I have just had my horse Bella for a year this month.
Here is Bella: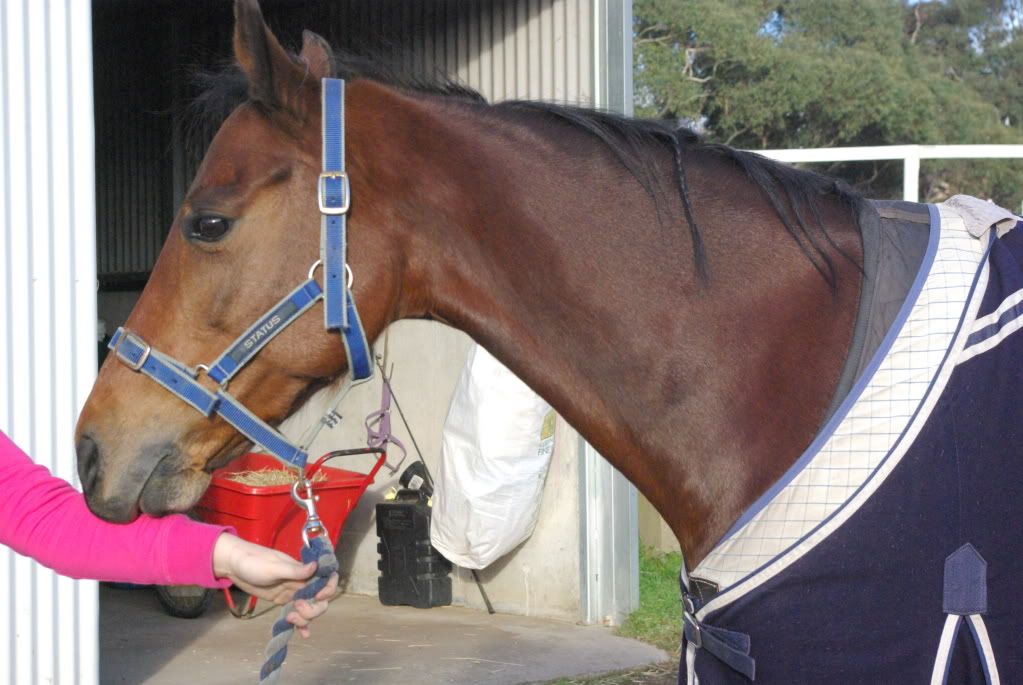 She is a 14.2hh Riding Pony however she is a galloway. Dressage and Hack pony won her class in Brisbane Royal with previous owner/s. She is a beautiful horse which I love to death :3
I have nothing much to say about myself but I love horses and I love art, drawing and creative stuff.
Welcome to the forum!
Posted via Mobile Device
Tremaynelove,

Welcome to the forum. there are lots of Aussies here, and I am on often late at night, which puts me in with the Aussies, as I am WEst coast US.
My son is just now flying home from Brisbane, where he visited family.

Some day, it'll be my turn to go visit Down Under!
Howdy and welcome to the forum
. Bella is gorgeous.
---
Always remember that feeling of looking at a big, open country over the ears of a good horse, seeing a new trail unwind ahead of you, and that ever-spectacular view from the top of the ridge!!! Follow my training blog:
http://robertsontraining.blogspot.com/
Welcome to the forum. your horse is beautiful! hope you enjoy the forums, there are lots of freindly people here.
Thank you very much for the warm welcome (:
Welcome to the forum!
---
Life is like a camera. Focus on what's important, Capture the good times, Develop from the negatives and if things don't work out, Take another shot.
Welcome! Lots of great folks here, tons of information, and great stories to share. You might even make some really special friends on here!! Glad to have you, and Bella is a pretty girl!!
---
"If you talk to the animals they will talk with you and you will know each other. If you do not talk to them you will not know them and what you do not know, you will fear. What one fears, one destroys." - Chief Dan George
Hi aThere From a Newie
---
Hiya, my name is Lesley and another night owl here! We have quarter horses that we show in hand. My health isnt the best at the moment so only have persmission to do slow walk,trot for a bit. Unfortunatley my mare looks to have done her tendon on the weekend so will definatley be slowing down a tad or two. Very unfortunate as we were looking forward so much to showing her this year.... Never mind, give me more time to lose weight and look good for next season. Have to say that or I will cry!
Have been enjoying myself looking around this site. Is a great one as so many different topics to read and learn about. Will post a couple of pics of our guys when I learn how to. Till then, hope you all have fun with your ponies and good luck at any events that you may have coming up. Cheers
Welcome - where in SA are you from? I'm in the hills/southern suburbs :)