Greetings From Wisconsin
---
Hello everyone,
My name is Alexandra, but please call me Alex, I'm 19 and I live in Central Wisconsin (Wausau to be exact).
I've been around horses my whole life =DD and I've been riding since I could walk. I've dealt extensively with the Icelandic breed, but have rode and worked with many other breeds as well. I used to own a beautiful gray Saddlebred / Arab cross but unfortunately in 2006 I was forced to sell him due to multiple reasons.
Since moving I have not been able to ride much (its torture) but whenever I get the chance I go visit my home town and ride as much as I can.
Here is a photo of my old boy, Yankee:
My favorite little Icelandic Stallion, Rodi: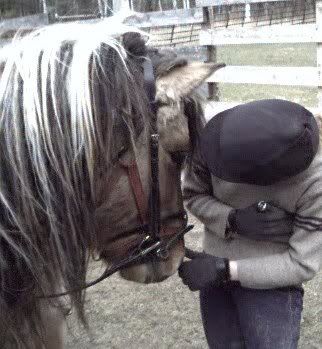 And my little buddy, Hringar (this was my senior picture lol):
In addition to my horse addiction I am greatly in love with fish, both freshwater and saltwater, I currently own 4 tanks, one 38 gallon freshwater cichlid tank, one 29 gallon future nano reef tank (will be housing sea horses), one 55 gallon FOWLR tank, and my baby: a 125 gallon reef tank. My fish include: A Tiger Oscar, A Jack Dempsey Cichlid, An 8 inch Common Pleco, A male Crowntail Betta, A female Crowntail Betta, 2 False Percula Clownfish (mated pair), 1 Red Sea Sailfin Tang, 1 Yellow Tang, 1 Hippo Tang (it appears I like my tangs =P), 1 Flame Angel, a Fire Shrimp, a Coral Banded Shrimp, Bluelegged Hermit Crab, Redlegged Hermit Crab, 3 Turbo snails, an Acropora Coral frag, and my thriving Green Button Polyp coral colony.
I also have a rescue kitty who is amazing,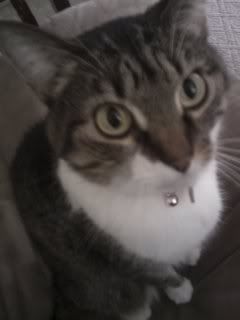 Shes obsessed with bags: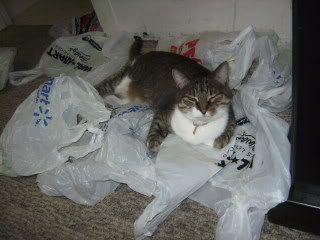 and of course the love of my life:
My baby Normal Ball Python, Zeus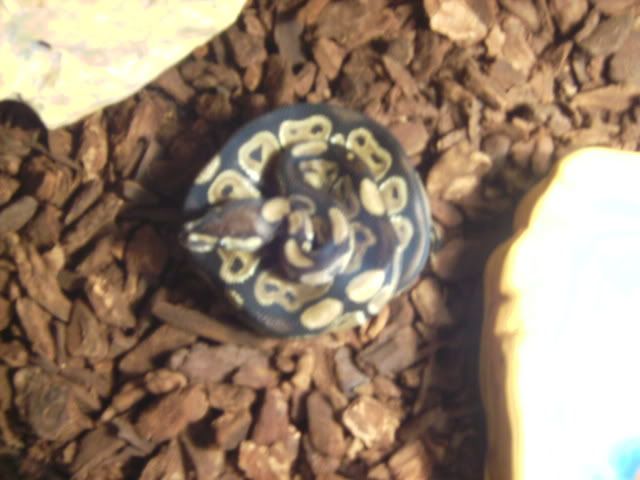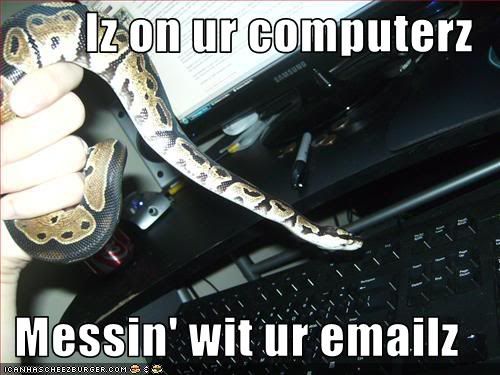 ---
God, Where have I been? I'm terrible company, With zero apologies,
My God where have I been? Where have I been?
Welcome to the board! Love all your critters! The kitty on the bags is adorable, and I don't even like cats! LOL

Sorry to sound harsh but I really hope that those ponies aren't turned out with the halters all the time, the little brown has some pretty bad halter marks on him!
Oh don't worry I strongly disagree with turning the horses out with halters at night. Its just not wise, they can get caught on too many things.

He was left out with his halter on for the summer because he was not very trusting of people and next to impossible to catch without one, but I worked with him all of summer 2007 and he doesn't need it on anymore and doesn't wear one in the pasture.
---
God, Where have I been? I'm terrible company, With zero apologies,
My God where have I been? Where have I been?
Right on so glad to hear! I have seen horses die from halters being left on and my sister and I literally and to cut a halter out of a horses face one time (not our horse) The poor guy couldn't even open his mouth wide enough to eat properly.
Whoop! More Wisconsinites! Hahaha welcome to the Horse Forum!!
Howdy, Your fairly close to me (while I am in school) at UWSP. I worked with Icelandics for numerous years while I taught Therapy riding, and (still) love them with all my heart, especially that Tolt!