Hallo aus Deutschland
---
Hey there :)

My name is Judith, I'm 17 years old and I come from a smaller city in Germany. Yeees, Germany. Wanna know why I'm here? Well...On the one hand I'm veeery interested in horses and I want to know how people in other countries live and work with these gorgeous animals and on the other hand I want to get my English-skills better. So please don't mind, if my posts are not perfect, I'll do my best, so that you are able to understand me. If you don't just ask. ;)
My hobbies are music [mainly Billy Talent, Peter Fox (You know him?) or house music], meeting friends and - of course - my lovely pony called Merlin. He is nearly 7 now and I got him when he was 3 years old and I was only 14. I train him on my own (mainly dressage), sometimes we jump and when the weather is good, we often go out into the nature. That is a lot of fun, I can tell you.
Hm...That's all for the moment. I would be happy if you had some questions so that I can get in contact with some new people
Yours Ponni :)
---
D
on't be too hard with my English, pls. I try my best.
Greetings from Germany.
Wow, I took German in 7th grade! Welcome to the Horse Forum!
---
Good people get cheated, just as good horses get ridden
Welcome!!! I love billy talent :) and know some Deutsch.
---
**Mocha - 4 year old Spotted Saddle Horse Mare**
Thank you.
well, Billy Talent are sooo great & Ben is so hot
got a ticket for their concert in november '09, but that day i was ill. argh. :(
i think for foreigner german is a very difficult language b/c of the grammer and the thousands of exceptions in it. glad to have it as my mother tongue. :P
what can you say in german? i'd like to know :)
2 pictures of my pony in spring: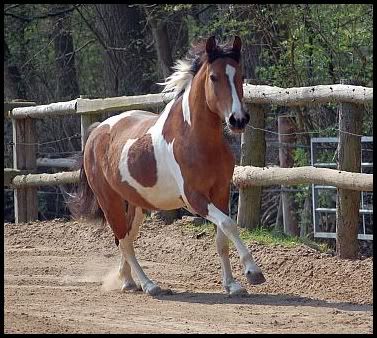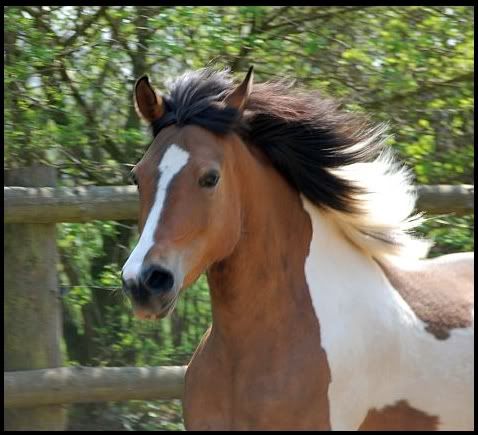 ---
D
on't be too hard with my English, pls. I try my best.
Greetings from Germany.
You have a beautiful horse :)!

I personally know, animals, body parts, ailments, furnature, colors, clothing...the simple stuff. And it is quite dificult to learn! not going to lie there!
---
**Mocha - 4 year old Spotted Saddle Horse Mare**
Welcome to HF. :) Your English is pretty good, so not to worry. My father was born in Germany and most of that side of the family is currently living there, but I am still learning the language myself. It *is* difficult but very beautiful, I think.

Wow, Merlin is a beaut. Looking forward to seeing more of him.

And I know Peter Fox! He has some excellent stuff.
Dein english ist sehr gut und dein pony gefaellt mir sehr. Wo in Deutschland wohnst du? Ich habe fuer 13 Jahre in Trunkelsberg gewohnt. Trunkelsberg ist bei Memmingen. :)
Your pony is beautiful! And no worries about your english, you are doing very well! I used to spend alot of time with one of my more distant reletives who speaks German when I was little, but I have forgotten what I used to know. :) His last name is Groeschell. (I think I spelled that right. ) Anyway, Welcome to the forum!
---
Proud owner of ~Mana: 6yo Arabian gelding~Pearl 13yo Arabian~Danzer 14yo Arabian mare~ Tiny mini filly
I'm very amazed of how many of you can speak a little german!

Never thought so much of you have something to do with it =)

I'm also happy to have german as my mother tongue because I think it's very very difficult to learn it.
But that's what everyone of you already said ;)

English is much easier to learn ;)
Hallo! Ich spreche Deutsch aber ich bin nich sehr gut. Deutsch ist sehr schön! Do you know where Würzburg is? My teacher and my friend lived there. Dein Pferd ist auch sehr schön!!! :)
---
"Don't turn you disabilities into a crutch, turn them into legs and run with them"