Hello from 105*F Las Vegas!!
---
Hey guys. I'm new to the forum... obviously.. lol.
So i guess this is where I say something about myself and my horse....
I'm from New York and moved out to Las Vegas in Feb of 2008 thanks to hubbys job. I own an amazing OTTB rescue that I was lucky enough to find in December 2007. She was Canada bound for slaughter. Her registered name is horrible so I decided to call her Brooklyn (brook for short). The rehabbing process has been a long and grueling one, but well worth it to see the progress shes made over the past year and a half. She is a very loving and willing horse that I would give up for the world.
Hope you all have a Happy 4th of July (even if you're not in the states).
<3
MK & Brook!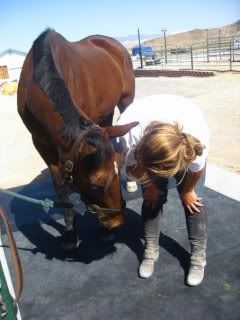 Ah, did a cool front move through?

at 1am last night it was 95*F (less the humidity, so it still felt like 102)

Oh, Welcome to horse forum.
---
Whatever course you decide upon, there is always someone to tell you that you are wrong. There are always difficulties arising which tempt you to believe that your critics are right. To map out a course of action and follow it to an end requires courage.
Welcome to the forum
I'm always happy to hear from someone who lives in a place hotter than me
---

"Until one has loved an animal, part of one's soul remains unawakened..."
- Anatole France
Hmmmm.....so that's where all the sunshine is because it certainly is not here in Maine!
Welcome to the Forum.