hello from AUS
---
Hi Everyone. im Lea, i live in Perth Australia. found this forum by accident with a google image search =). been reading all the threads for a few days now, so i thought i better join.
my main interest is training/educating horses. i have a soft spot for the ones with issues.
this is my main man Knievel. he's my pride and joy. though he seems to think he's a large dog at times. he's only been in work 3 weeks.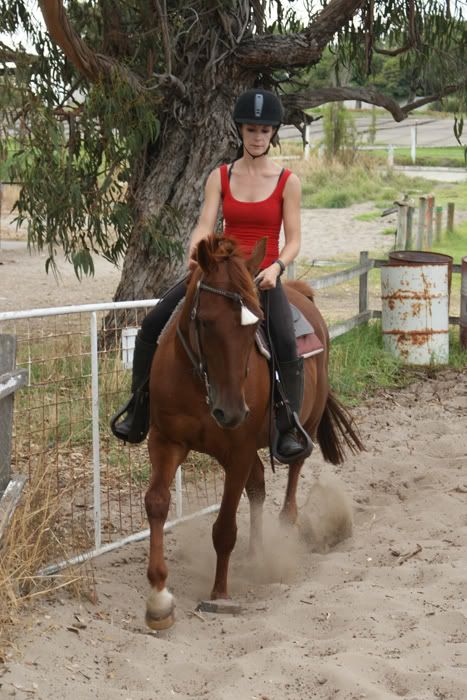 Hey, I'm in Margeret River
He's a beautiful boy, looks great for only being in work 3 weeks too
---
Flirt-Hugo-Phoenix-Romance-Fanta-Nippa-Shiloh

Trojan 09.11.02 - 26.10.10 // Kody 01.09.89-25.06.12 // Rex 05.11.95-21.12.12

thanks guys, it's nice to see some WA people on here :)
Knievel is a STB..lol.
Great another Aussie to infiltrate the forum ;)
I'm Kayty from SA, glad to have another aussie here!
im from Brisbane, QLD! yay. gald to see some people from Aus here!
---
There is one principle that should never be abandoned, namely, that the rider must first learn to control himself before he can control his horse. This is the basic, most important principle to be preserved in equitation - Alois Podhajsky
Great to see another australian on the forum. Welcome aboard
Trained
Join Date: Sep 2007
Location: Hatton Vale, QLD, Australia
Posts: 5,227
• Horses:
7
hiya. queensland here :) welcome
---
"I whisper but my horse doesnt listen...So I yell!!...He still doesnt listen"
Green Broke
Join Date: Apr 2009
Location: Queensland, Australia.
Posts: 4,488
• Horses:
1
Welcome to the forum
QLD here.
---
Sir Success. Eventer.
2000 - 2013,