Hello From Freezing Cold Michigan!
---
Hello, I'm Amanda..19 yrs old. I have 5 Horses here at home.
First My personal horse..
Pogo, a 12 yr old Quarter pony mare. We run NBHA, Rodeo's, Open shows together.
Second My other baby
Thunder, a 30 yr old Hackney/Quarter gelding.. Was used for an allarounder up intell 3 yrs ago. He is now living out his yrs as a very expenisive pet.
Third My moms baby boy
Earnie, a 4 yr old Breeding stock paint. He is a western pleasure machine.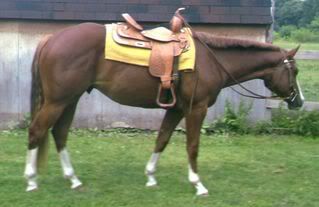 Forth The Extra trail horse
Nikki, a 22 yr old Quarter horse mare. Just a deadhead trail horse anyone can ride
Fifth, The Sale horse
Zanty, a 7 yr old breeding stock paint mare, I horse we bought to resale.
---
A Woman Needs 2 Animals... The Horse of her dreams.. and a Jacka$$ to pay for it!
WElcome to the HF!!! Have fun chatting:)
your babies are beautiful!
Greetings and welcome to the forum. Nice horses you have, I like Pogo but I have a thing for black horses
I grew up in MI but on the other side of the state I think.
Welcome neighbor! Very nice group you have there.
Greetings to you! I wish you a warm welcome to the HF and compliment you on your fine horses.
Welcome!! :)
---
3 barrels , 2 hearts & 1 passion
Trained
Join Date: Sep 2007
Location: Hatton Vale, QLD, Australia
Posts: 5,227
• Horses:
7
hiya and welcome to the forum :)

your horses are gorgeous...especially that pally. i love pallys :)
---
"I whisper but my horse doesnt listen...So I yell!!...He still doesnt listen"