Hello hello!
---
Hola, I'm a 19 year old from Australia. I've been riding for nearly 10 years, have competed in a variety of disciplines, did the whole pony club thing and have now been seriously competing in show hack classes for the last few years (Of the Australian/UK variety, not the US Saddleseat Version.
THE SHOW RING - The Show Hack
) . I currently own two Thoroughbred geldings, Outrageous Fortune (Tigga) and MP King George (George) who make my world go round.
I've owned Tigga for over two years now, and got him at the beginning of his shown career. He's your typical hot TB, and had lots of ups & downs but has had a successful career both in ridden and halter classes. Unfortunately he recently had to be retired from ridden work due to an old racing injury in his lower back which was getting progressively worse, despite receiving regular chiro and bowen massage. However he'll still be shown in halter classes.
[IMG]file:///C:/Users/User/AppData/Local/Temp/moz-screenshot.png[/IMG]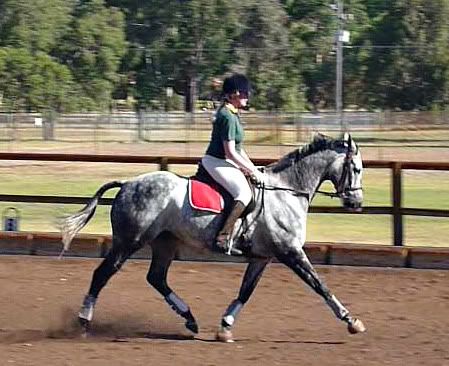 I've only owned George for just over a month, but he is an absolute superstar. He's had alot of experience in the show ring with alot of success, which is a nice change as the other horses I've had in the past have been greenies. And he's got the most sweet obliging nature.
Your horses are beautiful, i especially like the dapple grey (:
---
Hallo and welcome, congratulations on your achievements .
Beautiful horses
---
Whoever
said money can't buy happiness didn't know where to buy a horse.
How
do you catch a loose horse? Make a noise like a carrot.
Hey and welcome to HF. Its always good to have another Aussie on here. I'm Sarah :) And I'm from the Mid North Coast of NSW. I love Tigga, he's really pretty. Its a shame about his injury because he is stunning.
Welcome to the forum, your horses are very pretty.