Hello from MN/ND!
---
Hey guys, sorry if my intro is long :/
My name is Sara, I'm from NW Minnesota but am currently living in NE North Dakota for school.
I'm 19 and have been riding for about 13 years. I started off with 4H just doing everything, then did some showing. I moved to AZ about 4 years ago and got an opportunity to train horses at a ranch. My twin sister and I trained their roping horses for barrels and they took us to rodeos and stuff for free, it was amazing. I then moved back to MN and got a horse that a friend of my moms was trying to re-home. He turned out to be absolutly out of his mind. After about a year we were competing a lot in barrel racing and he was doing amazing. I also had a young horse I was training at this time. I ended up having to sell both of them a while after I started college. I just didn't have the time for them going to school full time and I felt so bad leaving my barrel horse out to suffer boredom in the pasture. He know lives a happy life competing in mounted shooting.
Like I said I recently moved to ND and am living in town. ( I was living on a farm and had plenty of pastures and small indoor arena as well as an outdoor arena to ride and have my own horses). I however cannot have horses living in town now and I texted a friend who I previously rode with if they knew anywhere I could ride or train. I now train at thier stables a beautiful palomino mare who is going to be a gaming horse for a little girl who is 4.
About a week and a half ago they asked if I knew anyone looking for a horse, i didn't. The next day they told me to buy him and I said I just didn't have the money or the place to keep him here, that night they said if I kept him there for a while I could have him for free. So, I now have my own horse who I am boarding at the stable I train at.
My new horses name is Simon, he is a Quarter/Thoroughbred (appendix) , he's about 9 and I plan on training him as a games/barrel racer. He is the best horse I have ever owned in my life, he's a big boy and he doesn't everything asked of him with the smallest movement. I think he would make an absolutly wonderful english horse but showing is not my thing anymore. Once I get some work into him I hope he starts to love doing games. He loves to go fast!
I'll post a couple pics but please keep in mind that he has been out at pasture and he is now moved in, this is the first day I got him and I know he needs to put on weight, not sure how well you can see it but he is quite skinny.
Here's my boy simon.
This is Barbie, the pali im training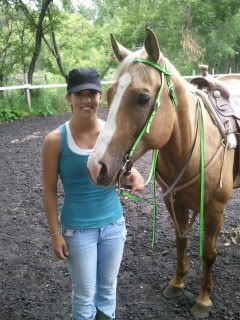 here's a couple quick pics of the two horses I had to sell, the sorrel is Rocket, I only had him for a short time and just was able to train the basics, the other is Buckshot (Buck) and he was my gaming, barrel horse
(pics of rocket were the day after I got him, he too was underweight)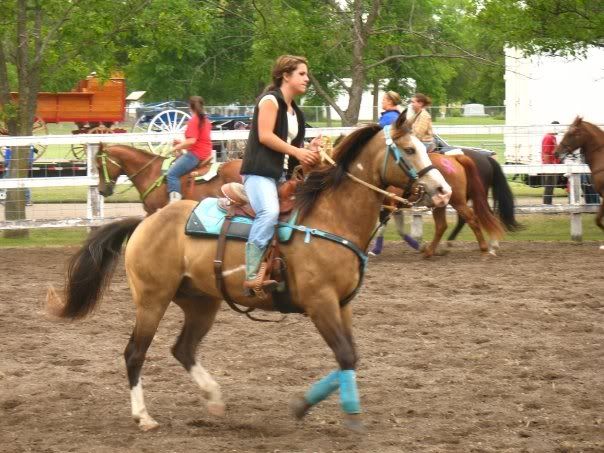 Buck is a gorgeous horse! Good luck with your new one :)
Posted via Mobile Device
I agree, he was gorgeous and very unique! I was very sad to see him go :( and thank you