Hello from Scotland!
---
Hi there,
My name's Daren, and I'm a full-blown Clydesdale-holic!
I've been riding since June 2006, having been interested in "having a go" for a long time!
I've been utterly addicted to Clydesdales just as long - and have HUNDREDS of photos if anyone wants to see them!
I used to have a Clydesdale mare to ride, called Sally, but sadly she died in April '08.
Here's one of my favourite photos of her (she's also in my avatar and signature photos):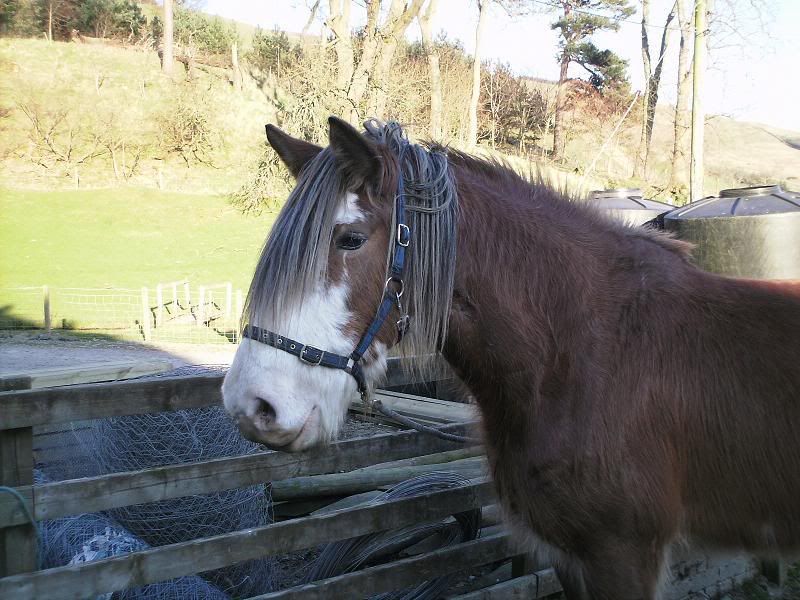 I've been looking, on and off, for another Clydesdale to ride, with varying success!
At the moment, I'm currently without a horse to ride, however I help out with a local branch of Riding for the Disabled. Here's a photo of "my" charge, a Shire x Appaloosa gelding called Ace.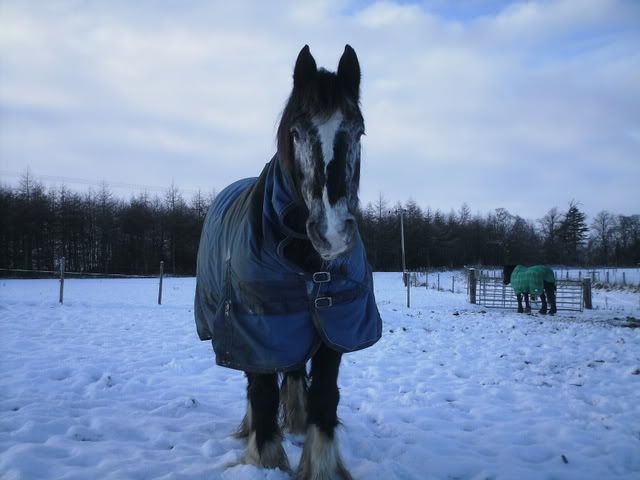 This photo was taken just before Christmas last year.
In addition to the RDA work, Ace has done dressage and a small amount of jumping. Because he has arthritis in his back legs, he's only used for light work during the week, but he gets PLENTY of cuddles and fussing from me!
So, anyway, that's me. Like I said, I've got hundreds of photos (840+ at the last count! lol) so if anyone wants an orgy of Clydesdale pics, just let me know!
---
Cheers,

Daren
---
Last edited by DarenC1; 04-06-2010 at

08:59 AM

.
Here's a short video I made of Sally a while back:

Also one of her foal, Arwen, who was a complete lunatic - but very adorable!

Finally, one of Ace having his itchy spot scratched:

---
Cheers,

Daren
Welcome to the forum, Daren. Where in Scotland are you? Son #2 is currently finishing his Masters in Edinburgh.
---
I'm not arguing with you, I'm just explaining why I'm right.

Nothing sucks more than that moment during an argument when you realize you're wrong.

It's not always what you say but what they hear.

Scotland? That's really neat. Where are you at? Welcome. :)
Posted via Mobile Device
Where in Scotland are you?

I'm in Glasgow.
Thanks for the welcome, folks.

I'm about 12 miles south of Edinburgh.
---
Cheers,

Daren
Is it drier over there? :)

It's been p*ssing down here for the last two days. Doesn't make for great riding.

I used to live in the 'Burgh and kept the horse at a place on the Penicuik road.
It's not rained here today, but it's been windy as hell!

Funnily enough, I'm at Penicuik!
---
Cheers,

Daren
Always bloody drier on the East Coast.

The horse was stabled at a livery yard near the Edinburgh Uni vet school, just off the City Bypass, so closer to the city than to Penicuik. That's a nice area. :)

Love your clydes, by the way.
Was that at the Dick Vet, or Swanston?

Got loads more photos of Sally, Arwen and Ace!
---
Cheers,

Daren