Is that yours in your pic? Looks lovely.

I rode a Shire x Andalusian last year. Pure grey, and like riding a couch, even when he took off into canter!

Some not bad bits around Rosewell (where we do the RDA), and there's the Clark estate up near me which is/was frequented by riders at weekends.
---
Cheers,

Daren
Aye, that's her in the pic. She's awesome. Not like a couch though. She's a big mover and you have to work hard to sit her trot. LOL.

Shire-Andalusian sounds really cool (or a conformation nightmare!).
I'll find a photo of him. He was called Jake, and it was my first time riding on the beach!
---
Cheers,

Daren
And here he is: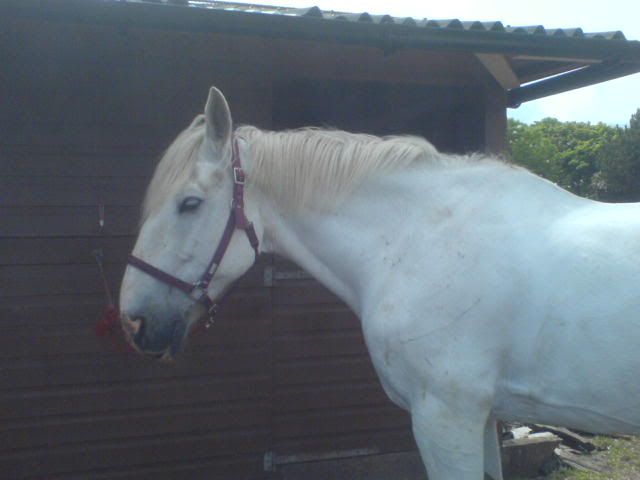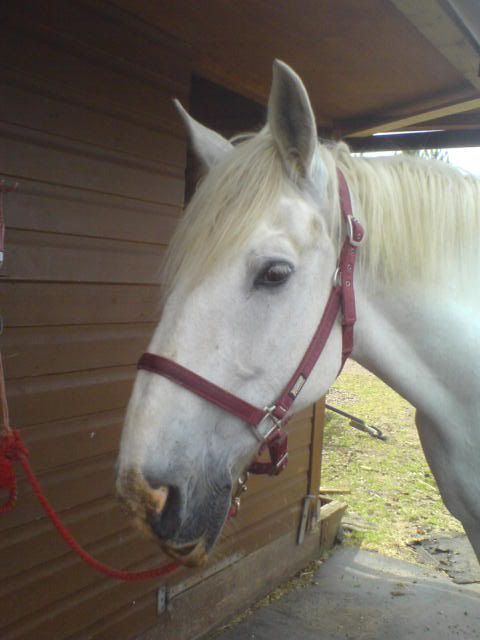 Those lips were extremely wobbly!
---
Cheers,

Daren
He's cute. Looks like he has an Andalusian face on a Shire-ish body.
Yeah, I think so. Wouldn't mind having a shot of him again. He was out at North Berwick, at a place called Seacliff Stables.
I rode a pure Andalusian once - her canter was like sitting on a rocking horse! Just as well, really, as I was ever-so slightly hung over....
---
Cheers,

Daren
Ah, ok. I was wondering where the beach near Lennoxtown was. LOL.

I don't even trot mine when hung-over. Can't face the bouncing.

Never ridden an Andalusian, although I'd love to.
LOL. No, the one I rode at Lennoxtome was a 17.2 Clydie-x-TB called Dallas. I've got a pic of him somewhere. He was good, even when he did kack his pants when a gust of wind blew through the bushes alongside him!

The place where I rode the Andalusian was called Cannock Chase, which is down in Staffordshire somewhere...
---
Cheers,

Daren