Hey Ya'll, from GA!
---
Hello everyone!
I'm going to try and make an impossibly long story short. I've worked at a ranch for the mentally challenged, doing therapeutic riding. I've shown 2 paints in halter competitions, a yearling filly and colt that I raised to 3 years old before I had to sell them. Those aside, I also had a mustang and a thoroughbred, both geldings. The thoroughbred was my first horse, an 18 year old bay that lived out his life with me until he passed away at 25. After that, we moved off the ranch and all the horses had to go. I was 17 then.
Now I'm 20, and I'm in the coast guard, active duty. I finally got the nerve to bring up my love of horses to my husband, and instead of getting laughed at, he asked if I'd rather have tickets to go to a fantastic play and a night on the town in South Carolina... Or a horse.
Well, since I'm here we all know what I picked! He was paid for today, but I've had my eye on him for a while. I've raised yearlings, but never weanlings, but here's my chance to start!
Meet Casanova, a little paint that shares the same birthday as me, April 6th. He's my one and only horse, and someday he'll grow up to be a fine stallion. Well, that's me, and this is my boy.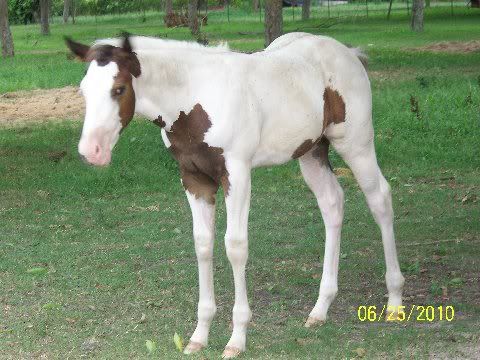 Hi from Alberta, Canada! I'm new here as well.
Sounds like you have done a lot with your life so far in such a 'short time'! :)
And congratulations to your gorgeous boy! I'm sure you're gonna have many fantastic and eventful years ahead of you with him!
Hi Georgia, I'm another Georgia girl!!! I'm in North Georgia. Welcome!

Rhonda
He's adorable! What part of GA are you in?
What a cutie! Raising weanlings is great! You really get a chance to bond with them and become friends. I got my QH when she was 13 and she'd already developed her personality so sometimes we clash. My colt and I have a special relationship, just because I've been with him since the beginning! There's nothing like it. Congratulations!!

And yay for another Georgia girl! Why does everyone live so far away?? I'm right below Atlanta in Henry county.
Welcome to the forum! I'm a fellow Georgia gal too.

Love your colt!
---
Do not go where the path may lead, go instead where there is no path and leave a trail...
Similar Threads
Thread
Thread Starter
Forum
Replies
Last Post
Hey ya'll, I'm new around here!

rangergirl56m

Meet the Community

9

08-28-2009

11:18 AM

Hey ya'll!

Cowgurl060405

Meet the Community

4

06-10-2009

12:30 AM

Hey Ya'll!

Whispering Meadows

Meet the Community

15

05-06-2009

09:21 PM

Hey ya'll

ndv101

Meet the Community

6

04-12-2009

03:01 PM

Hey ya'll

RubaiyateBandit

Meet the Community

3

01-25-2009

01:20 PM