Hi From Alberta
---
Thought I would introduce myself as well.
I grew up with horses on the farm, used to be the natural horsemen everyone came to because I was good at what I did. Horses trusted me and a instictually new what to do with them most of the time. I worked summer camp for the longest time, worked doing trail rides, was a barn manager for a couple of years and then kind of dropped out of horses for a bit to raise my kids and start up a dog business. I have four kids now ages 6 and under. SO haven't done a lot of riding in the past 7 years. I did make sure to do a trail ride on every vacation we have been on, so have done some interesting trails. My favorite would have to be the mule ride down to Kalaupapa trail in Molokai Hawaii.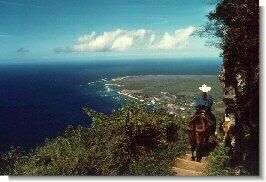 I have recently bought two new horses and have had a little feral pony given to me to work with. So far we have been having a lot of fun remembering all the horse stuff that used to just come to me when i immersed myself in horses every minute of the day.
I am looking forward to having horses be a part of myself again and welcome all your help in getting me back on my game and back in the saddle
---
Many people have sighed for the 'good old days' and regretted the 'passing of the horse,' but today, when only those who like horses own them, it is a far better time for horses. ~C.W. Anderson
Welcome to the forum!
That's a gorgeous picture you posted! Are you a dog breeder? That's great that you're getting back in to horses, congrats on your new horse purchases. Tell us a little about your new horses!
---
No hour of life is wasted that is spent in the saddle. ~Winston Churchill
Hello Fellow Albertan! Welcome to the HorseForum!

I know what you mean about taking time off to raise kids! I just have one 2 year old! I used to ride everyday and now I ride about 30-50 times a year..lol!

Looking forward to getting to know you ane your horses! The horse in your Avatar is stunning!
Welcome to the Horse Forum! :)
Have fun posting.
---
Ride more, worry less.
Trained
Join Date: Sep 2007
Location: Hatton Vale, QLD, Australia
Posts: 5,227
• Horses:
7
hiya
welcome to the forum :)

that looks like a lovely place to go riding :)
---
"I whisper but my horse doesnt listen...So I yell!!...He still doesnt listen"
Hi and welcome to the Horse Forum!
I totally understand the time issues you face. I have 4 kids also.
Glad you are here!
Hi Welcome to the horse forum!
Have alots of fun! :)
---
3 barrels , 2 hearts & 1 passion