Hi from Michigan
---
Hi all! I'm a California transplant living in Michigan, and I'm feverishly looking to get back into riding out here. I leased a mare back in CA, but with all the open land around the city, it seems much more feasible out here in MI! I'm hoping to meet with a couple different people next week to see if I'll be a good fit with their horses. Unfortunately, my riding apparel got left behind in the craziness of the move, so I've been eBay'ing my head off for new (to me) boots, breeches and a helmet.
I've been looking around in the forums here, and it seems like a fun, intelligent group.
I can't introduce myself to anyone without talking about the loves of my life, so here's a picture: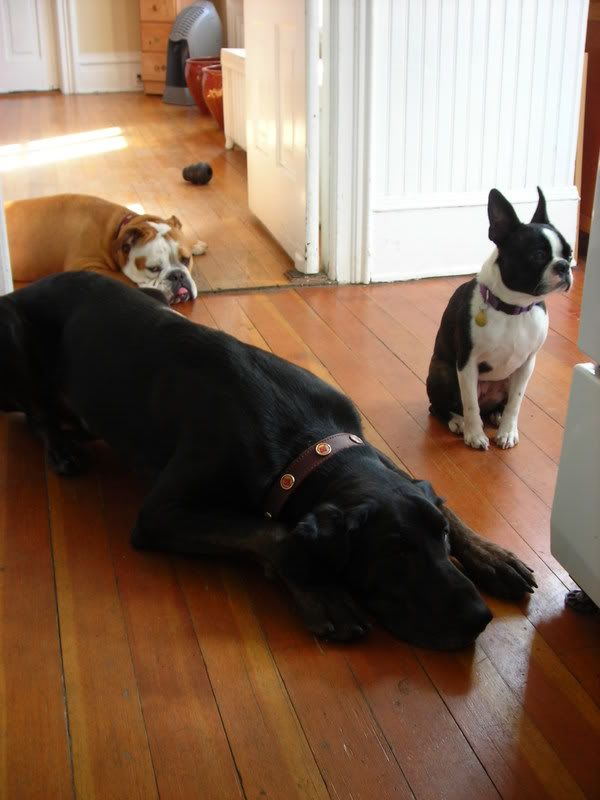 Look forward to chatting with everyone!
Welcome to the Horse Forum!
Aww, your dogs are very cute. hehe I like how they're all like posing sleepily haha. :P
Have fun posting!
---
Ride more, worry less.
Welcome! :)
---
3 barrels , 2 hearts & 1 passion
Trained
Join Date: Sep 2007
Location: Hatton Vale, QLD, Australia
Posts: 5,227
• Horses:
7
hiya
welcome to the forum :)
---
"I whisper but my horse doesnt listen...So I yell!!...He still doesnt listen"
gotta love the bulldog (is it an English?)
yea, he's an English bulldog
He's 4 years old and his name is Meatball. He's my baby.
Aww your doggies are so cute!

Welcome to the HF! I hope things work out next week for you
Welcome to horse forum and Michigan!

There are a lot less horse people in Michigan it seems. You are about an hour and a half away from me, I'm in Ludington.
Yea, it seems like MI is a pretty good horse state!

I haven't had a chance to look at any horses in the past week, but this weekend am checking out a mare and a gelding. My job situation may heavily influence my decision, as the gelding is near where I work now, but the mare is near where I *may* be offered another job.

We shall see!
looking forward to meeting u, n ur cuties
---
Lexington Farm
~
LX