Hi from NC
---
Just surfing the net and stumbled across this forum so i figured that I would join since I can never get enough horse into my day.
I live in a small rural town in NC. I am owned by 6 horses 3 kids 2 dogs and 1 hubby.
My horses:
Cheyenne 33 year old paint mare
Skittles - 9 year old QH cross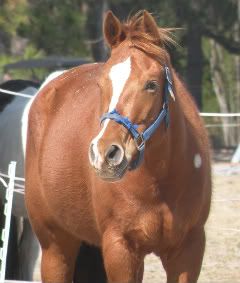 Mac - yearling draft cross
Cupid - yearling paint (with my daughter giving him a bath)
Fancy - 5 year old Appy
Katie - 20 year old paint - rescued in Late Feb see her story here
KATIE'S STORY
Got to show the dogs!
Daisy - 1 year old great Dane with my 12 year old
Ruby - 3 year old lab mix mutt
Welcome! What a lovely family you have (human and animal
) Bless your heart for rescuing Katie. Read her story, saw the pictures, you truely saved her.
Hello from the Paint mares, also in NC.
---
On the sixth day, God created the Quarter Horse.
On the seventh day, he Painted the good ones.
Welcome to the forum! I'm also here in great North Carolina!
---
~~~~~~~~~~~~~~~~~~~~~~~~~~~~~~