Hi From Ohio
---
I'm Kelly and I live in NE Ohio w/my hubby, our 4 kids, 5 alpacas, 48 chickens, 1 dog and 1 rabbit. I'm Daughter of the King, a stay-at-home, homeschooling mom who's desire is to grow/raise our own food on a homestead without pesticides and with little or no drug intervention.

I've loved horses all my life and took my 1st ride at age 4. My children are crazy about them, too, esp my 21 month old! Everything is horsey, horsey, horsey! I'm praying that one day I'll have some of my very own!
Welcome from New Lebanon Ohio : ) Who is the King? Lol
---
100% Anti-Slaughter and PROUD of it!

welcome to the forum. hope you get that horsey someday.
Yearling
Join Date: Aug 2010
Location: Gold Coast, Queensland, Australia
Posts: 926
• Horses:
3
Horsey Hello and Welcome!! Im homeschooled, but i dont enjoy it so im off to boarding school in Febuary.. Hope you can one day own a horse!!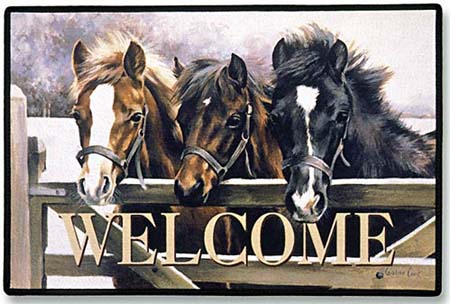 ---
The Perfect Day-
Going to bed with a Dream
and waking up with a Purpose!
Welcome from the Paint mares and ex-Clevelanders!
---
On the sixth day, God created the Quarter Horse.
On the seventh day, he Painted the good ones.
Similar Threads
Thread
Thread Starter
Forum
Replies
Last Post
Hello From Ohio

appy4fun

Meet the Community

3

11-14-2010

06:46 PM

hello from ohio

blueflames

Meet the Community

1

08-01-2009

07:10 PM

New from Ohio

LuvCaesar

Meet the Community

5

03-28-2009

08:39 AM

Hello from Ohio!

Birdeye723

Meet the Community

8

08-17-2008

11:12 PM

hello from Ohio

missy45690

Meet the Community

5

04-25-2008

09:18 PM