Hola from NE by way of CO
---
Hey all! My name's Rachel. I'm currently living in Nebraska, but my horses are in Colorado and I'll be moving back there next year. I used to go back every weekend, but since they're both going into training within the next year, I'm trying to save money by staying in Nebraska as much as possible. But... I'm going stir crazy. I joined here thinking I could use my sudden plethora of free time to learn as much as I can. :)
I have two horses, Ziggy and Bandit. Both are BLM Mustangs.
Bandit is two years old and comes from Wyoming. I adopted him from the Canon City prison when was a yearling. He's a bit of a character, to put it mildly. Bandit's hobbies include destroying objects large and small, sticking his head anywhere and everywhere it can (and can't) fit, and touching electric wires.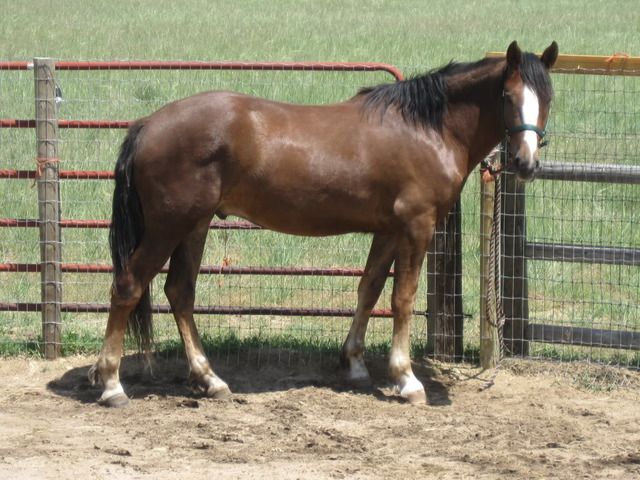 Ziggy is our newbie. I adopted him in April up in Bridgeport, Nebraska. He's six years old and has a very nice gentle soul about him. He's also afraid of his own shadow, though he's getting better. Ziggy's going to a trainer sometime in the next month to finish the gentling process and get him fully halter broke. Then it'll be back for saddle training in February or March.
Sorry if the pictures are too big. I can't figure out how to make them any smaller. Anyway, I can't wait to get to know y'all better! <3
They are both really pretty horses!! Welcome to the forum! You will learn so much here!
---
When God Made Horses, He Painted The Good Ones.
"All I pay my psychiatrist is the cost of feed and hay, and he'll listen to me any day."

Thank you! I'm learning a lot already. There's so much info about anything and everything!
Started
Join Date: Aug 2009
Location: In the barn whenever possible.
Posts: 1,910
• Horses:
2
Hello and welcome to the forum! Your mustangs are gorgeous!
Similar Threads
Thread
Thread Starter
Forum
Replies
Last Post
Hola!

elmosworld

Meet the Community

1

06-08-2009

02:58 PM

Hola From Texas!!!

Kate and Paint

Meet the Community

1

08-19-2008

06:30 PM

Hola

StealingSociety

Meet the Community

1

03-10-2007

11:36 AM

Hola!

Sneak_Preview

Meet the Community

4

03-04-2007

10:27 PM

Hola!

OhSnapItsRoxy

Meet the Community

1

11-20-2006

08:48 PM