Howdy!
---
Hi there! I'm a college student in NE who has a gray paint gelding, that I think is the bomb, but I'm a little bias. We LOVE trail (competition and for fun), pleasure (english and western), equitation and horsemanship. I also have an Aussie I do agility with and will be getting into flyball with (this January actually, I'm excited!). I work at a kennel, and am looking to graduate college as a Vet Tech or Dog Trainer (still deciding, but animals are a HUGE part of my life).
Just came here for the heck of it, and to procrastinate during finals week
Welcome to the forum!! Please share some pics with us!
---
Being horseless is the pits!!
Hey, I'm in NE too and..... you sound like someone at my stable, LOL
Welcome, Miss procrastinator! My favorite passtime.
Welcome to the forum!
---
Life is like a camera. Focus on what's important, Capture the good times, Develop from the negatives and if things don't work out, Take another shot.
This is Reily, and though it was taken last year he is about the same fuzzyness right now.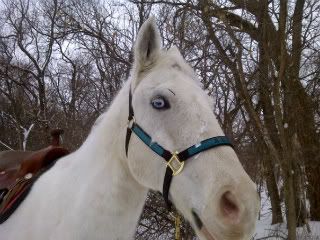 We show mostly western.. but for some reason my best fancy pictures are english.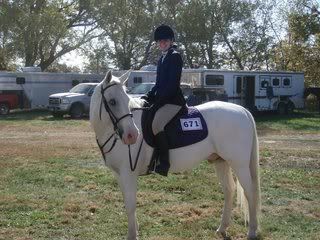 We dressed up as Frankenstein and the mad scientist for Halloween :] (yes they put a TON of makeup on me, and it took me about an hour to un-tease my hair haha)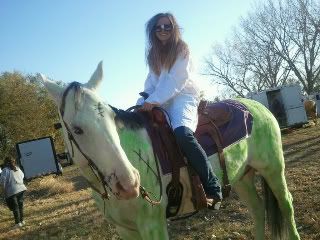 Did I mention we like dressing up? For fair this year my 4-H club's theme was Rainbow Brite, and we got to be the main people!
This is my puppy Tilly, she got to dress up too.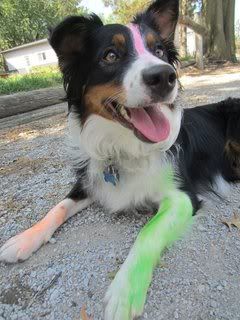 I'm super happy for you!
---
Take a ride across the badlands
Feel that freedom on your face - Breathe in all that open space
You'll understand why God made -Those fly over states
Welcome to the forum, I have learned so much here.

And thanks for the congrats :)
Welcome! LOVE the one of you and your horse as Frankenstein and the monster :P
Quote:
Originally Posted by
Skyseternalangel
View Post
Welcome! LOVE the one of you and your horse as Frankenstein and the monster :P
Thanks!
---
Take a ride across the badlands
Feel that freedom on your face - Breathe in all that open space
You'll understand why God made -Those fly over states
Similar Threads
Thread
Thread Starter
Forum
Replies
Last Post
howdy

EmilyTrailridder

Meet the Community

2

05-18-2010

09:53 PM

Howdy

Thatgirlsacowboy

Meet the Community

0

08-17-2009

03:50 AM

Howdy from MI

MyMonkeyHero

Meet the Community

6

09-06-2008

09:57 PM

Howdy

BustersRyder

Meet the Community

14

08-08-2008

10:23 PM

Howdy!!

Equine_Woman

Meet the Community

15

07-22-2008

12:37 PM