Introducing myself!
---
Hello from cold Belgium!
It's snowing here now.
Oh, I forgot! I'll introduce myself!
My name is Liz. I live on a small Appaloosa and New Forest stud in Belgium. My parents are the ones who are breeding. Not me, I take care of them and ride them. I have my very own pony for myself. I don't like it when the one your taking care of suddenly gets sold. So, one of their broodmare's became mine.
*Drums*
This is Neon Light!
She is a 8 year old Appaloosa x New Forest.
Kantje's Ronaldo x Sonny Boy
We don't compete in competitions yet. She is having her 3rd foal this year. Due in Febuary/March. The father of her foal is Lamento III.
Neon Light!
Last year oktober/november with her big belly!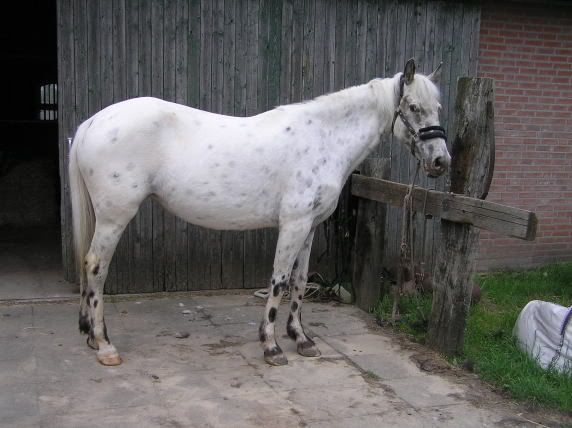 Early this year
Trained
Join Date: Sep 2007
Location: Hatton Vale, QLD, Australia
Posts: 5,227
• Horses:
7
hiya
welcome to the forum
your horse is sooo cute
---
"I whisper but my horse doesnt listen...So I yell!!...He still doesnt listen"
Welcome to the forum! Nice to meet you.

You have a cute horse! It sure is tough to get rid of them I'm sure :(. I haven't had to do that yet but I imagine it'd be hard!
---
TM Tardy's Chick "Hunter" - 13 yo Paint
Remmy - 18 yo Morgan/QH cross
Gunner 3/31/11, Heidi 7/2009 Miniature Sicilian donkey

Welcome to the Horse Forum!
---
Ride more, worry less.
welcome to the forum! Have fun posting. Youre mare is very pretty!
---
Bailey's Mountain
6 year old tb
I know you! Your from bokt.nl! Anyway, welcome from me too!
Ik hoop dat je veel plezier hierop het Horse Forum hebt!

xx Mij
She is very very pretty.!!!
Welcome to the horse forum!




Chad
-I have a 8 year old mare too!