New girl here!
---
Hey everyone, I'm Megan from California! I'm 18 and a college student currently working on getting my vet tech certificate and then transferring to another school to major in zoology - focusing on animal behavior and training.
I was born into a family involved with horses. I went from riding western on QHs, to english pleasure on Arabs, to jumping TBs, to riding saddleseat on big animated . My first horse was a 14.2hh chestnut mare named Princess. She was the horse that I learned all my riding basics on - absolutely most wonderful, bombproof, gentle horse I've met. I sold her about 5 years ago and started looking for a younger, more challenging horse. I was out of the horse world for a while, but when my grandpa passed away, I decided to take Shadow, the horse he'd bought for me to ride at his place in Missouri, to California to stay with me. Shadow is a 16.2 black and white Tennessee Walking Horse gelding. He's 8 years old now and was 4 when I brought him out here. He's enormous, knows he's absolutely gorgeous, a total mouthy brat who loves to chew on things and rub his teeth on you, doesn't know the meaning of personal space, doesn't realize just how big he is, and is such a social little butterfly. I put him in training, took him to his first show, and all that good stuff when he first got out here. I got really busy with school though and stopped riding for a few years.
Recently, I started having more time to spend with Shadow, but he went lame in October. After many deadends with the vet, Shadow was getting really bad and couldn't hardly walk. We x-rayed his right front leg and found what the vet though to be bone cancer. We were advised to put him down immedietly and although I was devestated, I didn't want him in pain so I agreed.
Luckily, I changed my mind the day before we had scheduled and decided I wanted a second opinion first. The vet sent the x-rays to a team of radiologists who said that they didn't think it was cancer, but actually really severe arthritis - worse than they'd seen x-rays of, especially in an 8 year old. He's recovered some and only limps a little now on good days, and he's getting better. He's walking, and running around a little sometimes in the arena. We're trying different therapies for him and spoiling him rotten! It's such a relief, because this boy is so full of life and spirit, he's my baby.
Here was his skinny, leggy butt when I got him..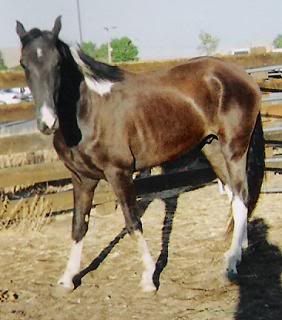 And here's a little more recently.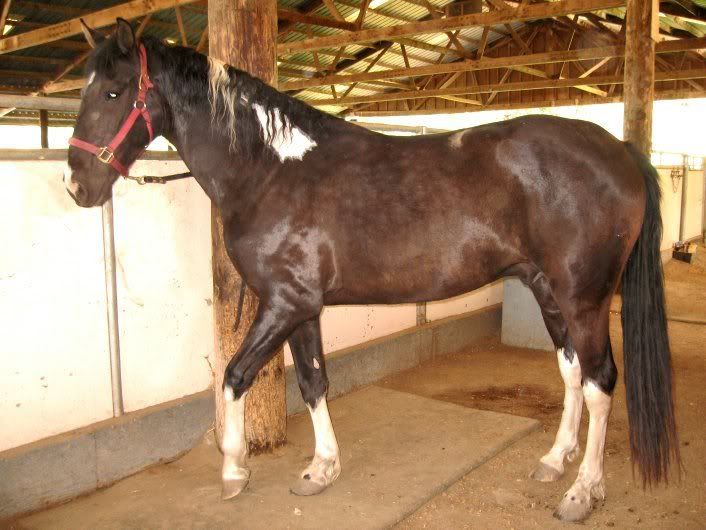 And one of my favorites from his first show!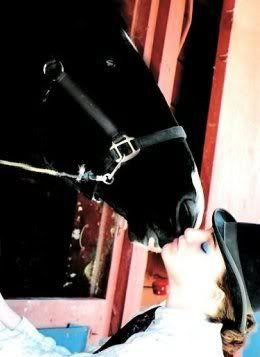 Ok, I'm shutting up now!
---
Fall down seven, stand up eight.
Hey there! Nice to meet ya! Sounds like you have a ton of experience and can be helpful in posts! Your horse looks gorgeous! Hope you have a nice time here :)
He's stunning Megan. I'm really sorry to hear about the arthritis though.
Welcome to the forum and have fun posting.
Thanks guys!

Oh.. And I just realized.. I forgot to put "Saddlebreds" after "big animated" and missed a "t" in "thought". That's what I get for multi-tasking.
---
Fall down seven, stand up eight.
Morning and a very warm welcome to the forum.
Hope you enjoy your stay here
Regards
---
2¢
-Jehanzeb-
2¢
If something's HARD to do, then its NOT worth doing!

glad to meet you and welcome-nice to hear your guy got a second opinion and is feeling better.
Welcome to the Horse Forum Megan! :) Have fun posting.
---
Ride more, worry less.
WELCOME! And that's a fine looking steed you have there!
---
Hi Megan, welcome around ;p I love the last photo (your icon) so cute <3
Welcome and enjoy the ride
---
A good cowboy always has a better horse at the end of the ride, a poor cowboy will be afoot reguardless of the horse.

Mis Raices Estan Aqui (my roots are buried here)