New from New Mexico!
---
Hello everyone!
My name is Renee and, of course, I'm new to the forum, LOL! Though, I am not new to forums, I am a very active member to other horse forums.
I'm 22 years old and am an Independent Contractor that does Legal Assistant work, primarily bankruptcy preparation, for local law firms. I am currently attending college for a degree in Paralegal Studies. I hope to graduate within the next year and a half.
I have an 11 month old Paint x Appaloosa (Pintaloosa-registered) filly named Gertie, an almost 3 year old AST (Pitbull type) x Husky male dog named Rocky and a 4 year old domestic medium hair with tabbyish coloring male cat named Bonkers.
I haven't decided exactly what to do with Gertie (Lusty's Surprise Lace is her registered name) once she "grows up," but I have a few things in mind on what I would like to aim for. But a lot will depend on her.
Besides reading and posting on horse boards all day, I love training and being around horses. I've been riding on and off for 18 years now. No showing and no real desire to. I like the "behind the scenes" work ;) I love snowboarding during the winter. That is my other large passion. I love singing and dancing and just having fun!!
It will be a pleasure to meet you all! I'm wondering what else I will learn on this horse forum!
Gertie: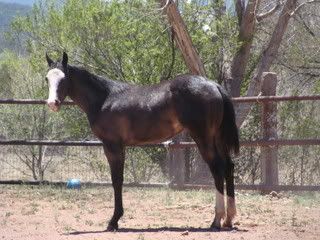 Rocky: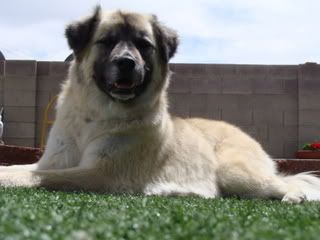 ---
Renee & Gertie
Hey there! :)
Welcome to the Horse Forum!!
Have fun posting.
---
Ride more, worry less.
welcome!!!
i just joined 3 days ago and im having fun!!

aww what beautiful animals u have!

have fun!
hello and welcome!!

i just have to say, Gertie is GORGEOUS!! so pretty. i want a horse with a white face.
Welcome Renee! Where in New Mexico do you live? My parents live there :)
Thank you everyone for your replies and welcomes! :)

Missy, I live in Albuquerque.
---
Renee & Gertie
Hey Renee, welcome! Your animals are so cute!! I hope you have fun here!
---
"'For I know the plans I have for you,' declares the Lord. 'Plans to prosper you and not to harm you, plans to give you a hope and a future'" ~ Jeremiah 29:11
Welcome from Paint mares Lady, Cinnamon, and Angel!
---
On the sixth day, God created the Quarter Horse.
On the seventh day, he Painted the good ones.
Welcome! :)
---
3 barrels , 2 hearts & 1 passion
welcome!!