NEW From Oregon
---
Hi,
I first became interested in the horse world last Feb. by a little colt by the name of WindChill..Since then, I have grown to love and hopefully understand this beautiful animal so much more.
I currently volunteer at Equine Outreach Rescue in Bend, Oregon. They have 75+ rescues on the property and match volunteers with a horse for ground training getting the horses confidence and ready for adoption.
I have learned so much in the past few months and continue to do so.
They have a new rescue that is in serious medical condition and underweight. Her name is Buttercup. I have been going and visiting with her, grooming and massaging her legs every day. You can see her and hear about her progress on her blog:
Buttercup - Equine Outreach's new rescue
Also you can read more about me and follow my training and experiences at EOI here:
Fostering a Horse
Looking forward to sharing and learning.
Deb
Bend, Oregon
hey there DeDocWyatt!! It's nice to have another Oregonian on here :). Sorry to hear about Butttercup, hope all turns out well. If you have any questions about using the site, feel free to ask, and look forward to reading more posts from ya!

-Lacy
Hello and welcome!! It's great to have you here! As Lacy said, just ask if you have any questions. And have fun posting!
---
"'For I know the plans I have for you,' declares the Lord. 'Plans to prosper you and not to harm you, plans to give you a hope and a future'" ~ Jeremiah 29:11
Welcome! this is a great place to come for advice and to learn new things! hope you enjoy!
Hi Deb and welcome! I'm from Oregon too, I live on the coast! The Horse Forum is a great place, lot's of knowledgeable people who are willing to help!
Welcome! And yay for Oregonians! I'm one too! =)
Awe, Thanks for the warm welcome! Heres a current photo of Buttercup. She was standing on her own today!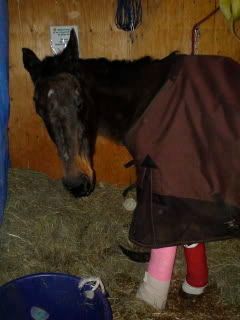 aww Buttercup is cute! Welcome to the forum. Have fun posting
---
TM Tardy's Chick "Hunter" - 13 yo Paint
Remmy - 18 yo Morgan/QH cross
Gunner 3/31/11, Heidi 7/2009 Miniature Sicilian donkey