Ţjálfunardagbók Signýjar og Stínu :)
---
Since I can't sleep I'm gonna start one of these
Well, my horse season officially started today! I wen't to check out the stables, and they were nice, nothing fancy, but that's the way I like it. My tack is gonna stick out though xD Mine is all new and shiney
And since the waterpipes for the automatic waterers are still frozen I had to buy a bucket, which I found very humourous. I did draw some attention while walking through the huge store in horse clothing with only a bucket.
Stína comes in tomorrow, but I can't use or shoe her yet, since her foal was just taken from her. I'm gonna have to watch her udders, I don't want her to get an infection/whatever it's called in English.
Asi is staying at the farmers with a few other newly-motherless foals.
I am having him microchipped and registered soon.
I'm gonna have to dig up and gather my tack tomorrow (well technically today
). It's all over Reykjavík
I think i might also have to buy a new bit. I think the one I have is too "long" for my (not so, but still) petite girl
Well, it's 4 am. I really have to catch some sleep.
Veriđi blessuđ
Did I make anyone curious with the title?
Well, she came today at about 17:30. Fat but not so furry.
I didn't get the chance to get my tack today, and since I'll have to take the bus tomorrow, my saddle will have to stay home a while.. :roll:
I smell like horses, life is good again!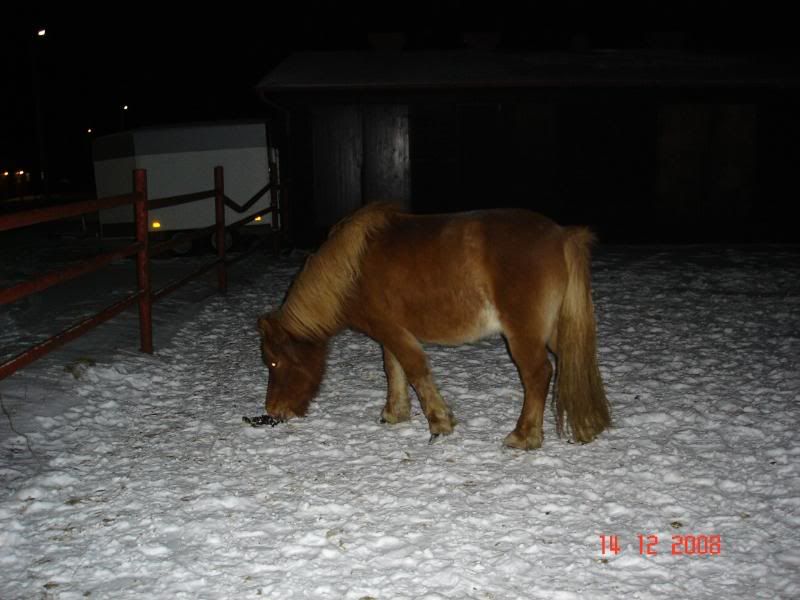 Just got back! I didn't do anything to day, just let her out and groomed her. She had a bad attitude, but I didn't let her get away with it. I think she's testing me.
The snow has started to melt a little so I didn't want to do any groundwork with her since her hooves would just stack up.
I'm gonna try to do something tomorrow, maybe flex her neck or something like that.
Took her out and streched her neck and stuff today. She was great with that, but when I was going to work with her in hand she got lost. Didn't understand a thing and when I moved she would move too. I definitly have to work on that.

And I seem to own the only pasture shy horse in Iceland! I am not joking, she is the only one I know of.

I'm going to try to have her put on shoes next weekend. Tomorrow I'm just gonna make her run around a little and maybe but the bridle on to attempt some ground work.
I've only been making her run around. I took her to a round pen today, and she was so "excited" (for the lack of a better word). She was hard to control on they way and ran like she had the devil on her heels. She calmed down though, and was better on the way back. I'm guessing this was her way of burning excess energy.
Ok, I got her shoed today. She was alright until her last hoof. Then she was a bit difficult.
She's being skittish, and managed to get herself stuck between 2 chains.
I'm gonna have to get her used to the "city".
Well, I rode today! It was awesome!
She was okay, didn't listen all to well to my hands, but she responded well to sounds. I really can't use my leg on her, she's a little to sensitive to that.
It was mainly at walk, well holding her at walk. I've got a spirited horse on my hands. We did a bit of tölt/trot, but it was so little it's hardly worth mentioning.
It was my first time in the saddle. I wasn't excatly focusing on that, but atleast it didn't hurt my or my horse.
Well, took her for a real ride with the BO today!
It was soooo fun! She is really spirited and I'm gonna have to try and slow her down but that was the only problem! She was amazing!
I'm in SUCH a good mood! The BO also loved her!
well, we took her too the vet for the lip and there was also a mouth injury (best guess: cut her self on her teath when she got kicked) and she told us to give her a week off. it really couldn't have come on a worse time since my trainer, with whom I am trying to set up lessons with, is going to the Equine university next weekend.

oh well, I'll just try to work with her in a halter for the next week, it'll have to do.
Ok, I've been riding her some now and taking a few lessons and it has been going well.
For the most part she's great, but she's just a bit too impatient (always having that "faster, faster, faster!" mindset and not standing still), but even in that short time things have begun to get better.

Her choice gait is very obviously tölt, so getting her to trot can be a hassle, but we're getting better by the minute!

Stína has been bucking every now and then, but it's nothing I can't handle.

My trainer really likes Stína, and thinks we'll do good... it's too bad she's going to the Equine collage because I'd love to ride more with her.

On to me, I really have to start thinking more about my seat. I took a lunge lesson and I felt like I was about to bounce to the moon (granted this horse had a VERY bumpy trot). I felt a lot better on my mare.

I have not taken any pics lately.. I'll maybe try to get my sister up with me to take some. I think it'd help to fix my seat if I could see how I look.