2012-2013 Oliver's Winter Training Jurnal
---
I'm starting this thread so that I can see our both Oliver's progress as well as my own in my own riding.
I would love for anyone reading this to give me feedback!
I dont have an extra pair of hands and eyes to video tape every time I ride but hopefully I can snag someone every once in awhile! I also dont have an indoor arena to ride in but sometimes can haul up to our local horse park where we have a covered arena I can ride in!

Little bit about Ollie's background:
6 year old 15.1 hand Dutch/TB gelding, I have owned him since August of 2011 where before he had really only had a great start onto him by a great trainer I am very fond of and then sold off to a older amatur rider who was in over her head with such a young green horse. Long story short he made it clear to everyone who rode him after being sold that he needed more constant work by someone who knew what they where doing with a young horse. He was given to me, deemed unsafe and unrideable.
Let me just say...this guy is the biggest love bug! He loves his job, loves to please and has not once tried to hurt me in the ground or under saddle since I have owned him!

End goals for Oliver:
Stronger back and hind end.
Be able to really get him to stretch over his back at the walk and trot.
Be straight, forward and relaxed in the canter both ways.
Going correctly over small jumps at trot and canter.
Become stronger with lateral movement.
Be ready mentally and physically to go into a schooling show and ride good training level test or two!

Goals for me:
RELAX! RELAX! RELAX! How is this so hard to do!
Ride more through my outside rein and inside leg!
Keep my and zi side hand/rein still!
Be able to ride without looking down....not like he is going anywhere!
Soft arms, steady contact and be able to keep my shoulders back for my whole ride!
Build up my core muscles to correctly sit the trot.
Build up the confidence to to get super nervouse in the show ring! (my mind blanks all that I know and I will sit there looking incredibly stupid!)
Save up money to attend some dressage clinics that will further help Ollie and I!

I will be posting pictures and hopefully video!!
Thank you in adavance!
Pictures taken on 10-20-12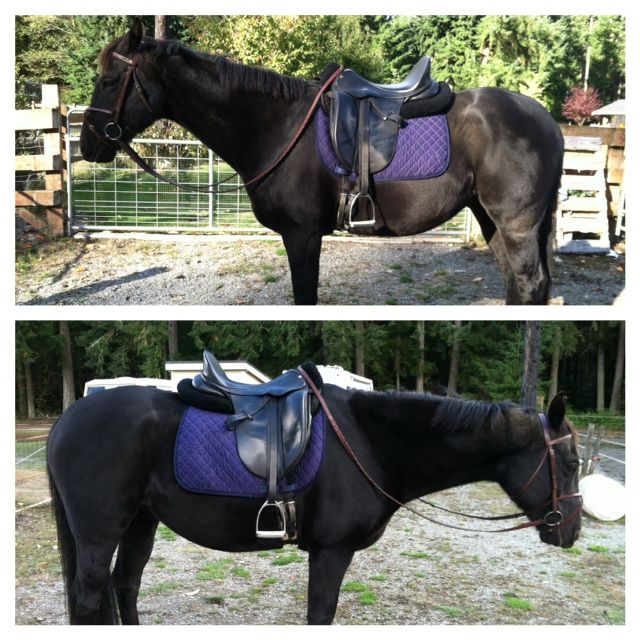 So what I see here is good boy who has had a month off while I was in Europe and he's just really out of shape!
His neck is pathetic, tummy low and way less HQ muscle from when I left!
Depressing in a way but makes me want to really get him going again!
This hopefully will be a great "before" picture!
10-25-12 Trail Ride
---
Had a pleasent walk through the trails today :) ran into some people with dogs and Ollie did great :) just had him on a long rein most of time (just not with the dogs haha) he grunted and groaned a lot and really stretched down in his neck a lot of the way! Only one spook at a random plastic chair in the bushes ;)
Did our carrot stretches after before and after! I think that's his favorite part of every ride lol

My back was really spazzing today after yesterday and was in extreme pain and forced myself to ride and actually feel better but I can feel it tightening up again now that I sat down for lunch. I've and heat and maybe a tramadol for me tonight!

Giving him a day off and back to work Saturday!
Rain Rain Go AWAY!
---
Ugh I hate all this rain! I feel like I might need to go get some floaties for Ollie if I try to take him out to the arena! This is when Id love to havea covered arena on the property or a short walking distance away!
This might happen If we go out today!
Weather is clear! Well kinda cloudy but not rain! Will be hurrying back from work this morning to go out and ride!!
10-28-12 A Great Ride!
---
Well I will start out this out with, I love my trainer. She is family to me, I live with her 4-5 days a week and couldn't have come this far with Ollie without her!
She was riding her mare while I warmed up Ollie, he was nit as lazy today!
We worked in stretching down, getting him to relase through his his poll and start to reach down, lifting his belly, streching through his hind end and keeping an even temp through my hips. I had to really stretch up with upper body. I had him pretty good on my outside rein and off my inside leg....lots f inside leg! Ugh! So much inside leg!
I then cantered him, good transitions considering it's only his 5th? 6th ride back!? Same idea as from our walk and trot work, help him stretch down and guess what! He didn't tens up as much as he ussaly does! He was able to sit down, balance better and and relase and relax through his poll helping him streching it down with stepping through in his HQ! I felt so good about our canter!
Then my trainer got on to show me what I'm looking for in our stretch work. This really helped me see what I'm working on getting him to do. Before he was completely upside down in his neck, bracing underneath and bunching up on top, not stepping through in the hind end. I wish I had my phone on my to get video cause it helped so much and made me smile seeing Oliver working so hard, having the light bulb go off in his head, have her keep the outside rein steady on contact but giving with her inside rein. He looked amazing, like he was in such a comfortable place! He instantly started foaming at the mouth and streching intoner hands but driving from the rear engine!
This is something I needed to see to hep keep my eye in the prize so to say!
I'm on a slight ride high I must say!
Before our ride, while grooming I noticed his tail was getting pretty gross.... Turns out a dandruff bunny has moved into the top of his tail! Ew! So after our great ride I washed it out with head and shoulders and hope it's not as bad soon!
just beyond gross really! Poor guy had to be itchy!
Hoping for a another good ride tomorrow, felt really good about my hands and upper body today! I am sure I will wake up feeling that! But it will be a good sore!
Really hoping the next two day are at least not rainy, I want to get in another couple good rides in while this is clicking for him! I meant to get a body shot of him while I was grooming him but forgot! Tomorrow!
Im calling the vet to manke an apt to get his teeth and shots done next month. Thursday he gets his new shoes!
10-29-12 Weather, please make up your mind!
---
So this is what my weather app says but I look put side and see small patches of blue sky and really hoping the rain clues that are spitting with wind burn off so I can have another good dry ride today!
I got great news that it looks like we will be renting the house 15 minutes from where Oliver is now starting in December meaning i can comitt more days to riding! Right now I'm faced with deciding to either ride in the rain and stay another night here and ride again in the morning before going home. Only thing is if it pour here over night again I am faced with a flooded arena...
Stupid NW!
Ugh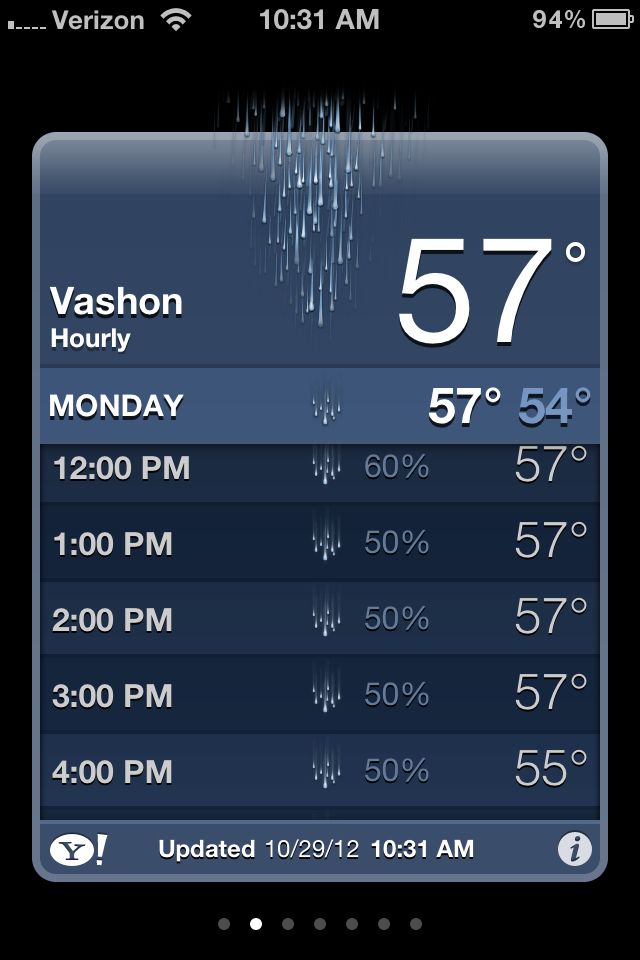 Crossing my fingers I get at least an hour of no rain! Just 1 hour please!
Postive thinking!
10-29-12 Progress!! So Happy! My Booger is growing up!
---
Okay so im now waiting for somthing to happen cause I have now had a great ride each and ever ride since I got back from my month away in Europe...maybe thats his way to tell me to never leave cause he missed me that much?!
I love that I could tell that he sat over night and processed what we worked on yesterday cause it sure did show in leaps and bounds today!!!
Right now we are working on the longer neck, I.E stretching down, stepping up underneath and lifting the back. This is really helping me stay focused on my body....sit up, shoulders back look around the 20 meter circle, long legs soft arms, no bracing in my legs are knees....when this happens and all is flowing together and i ask for some stretch and to lift his belly he goes there and stays longer and longer, getting more and more confidant in himself each stride!
as soon as I got on i started ona long rein and just wanted him to move out, he happily did so! Even while it was POURING DOWN RAIN!
He was a little unsure but did give it a good try and was praised each time he responded correctly.
In the trot he tried to bunch up and I had to tell myself to not tense up, not brace in my arms. So I looked up and around my circle planning my every other stride half halts, sat deep, used a lot of my inside leg, straightened my upper body likea string was pulling me up. took many deep breaths and just though forward and down and it took a few circles but he got it. He started dropping his head down and bring it up again two strides later like " I don't know....I could loose my balance and trip over my own face mom" and I just kept telling him he was a good smart man and he could do it. within a few minutes it got more and more constant and we had a OKAY downward transition but I praised the crap out him gave him a sugar and walked him the other direction. RE adjusted my body, gathered him up into light outside contact, added inside leg, sat up though trot and had trot...head up like a lama but better then kicking and having him groan into a slow measly trot. He sprang into I sat deep got the correct posting diagonal. Found a steady rhythm and asked for him to stretch. He got it faster and really went for it, was blowing and licking his lips, really listen to my half halts and his shoulders where free nad moving fluidly. It was so great. A year ago this was no where in the picture as the trainer I was with then didn't even teach us contact or forward from the hind end and threw us in front of jumps. Now he is doing it, feeling confidant while doing so and in the rain and wind outside. What a big improvement!
So then I asked him to go into canter as I know our trot work will get better after I canter him. Wow the transtion sucked but he immediately lifted his back (what an amazing feeling!) pushed from the hind end and his shoulders felt lifted up a tiny bit, freed up. His neck was getting longer as he reached further down and I STILL had my outside rein contact!
Again praised the crap out of him, gave him sugar, walked a bit. Cantered the other way, not as good but nothing to complain about as it was even an improvement from the day before! let him walk again. then stretched him in the walk and really asked for him t o stay connected into our transition up to trot while stretching down. This took a few transitions, lot of talking to him. I had to really remember not to brace, pull down or pinch with my leg or knee in these transitions as I was trying to make it light and quick. After a few times he really got it down, as soon as we walked from the trot id ask for trot again, his back stayed lifted, he sat down and pushed and stretched down. I was amazed he got this so fast! I was so happy. gave him lots of scratched and sugar and all the good stuff. Thought I will try canter again, see what we have.....had two great soft, forward transitions where he really used his body. He wasn't falling in, he was not racing, he was not slow. the hind end engine was warmed up and ready to go! but in a very good steady rhythmic stride and e was stretching down more then he was in our trot work!
This was an amazing ride. No one was there to see it but the goats! He was so proud of himself! We even opened and closed the gates to go in and out of the arena today for the first time!
My booger is growing up and doing good things!!!
I'm so proud!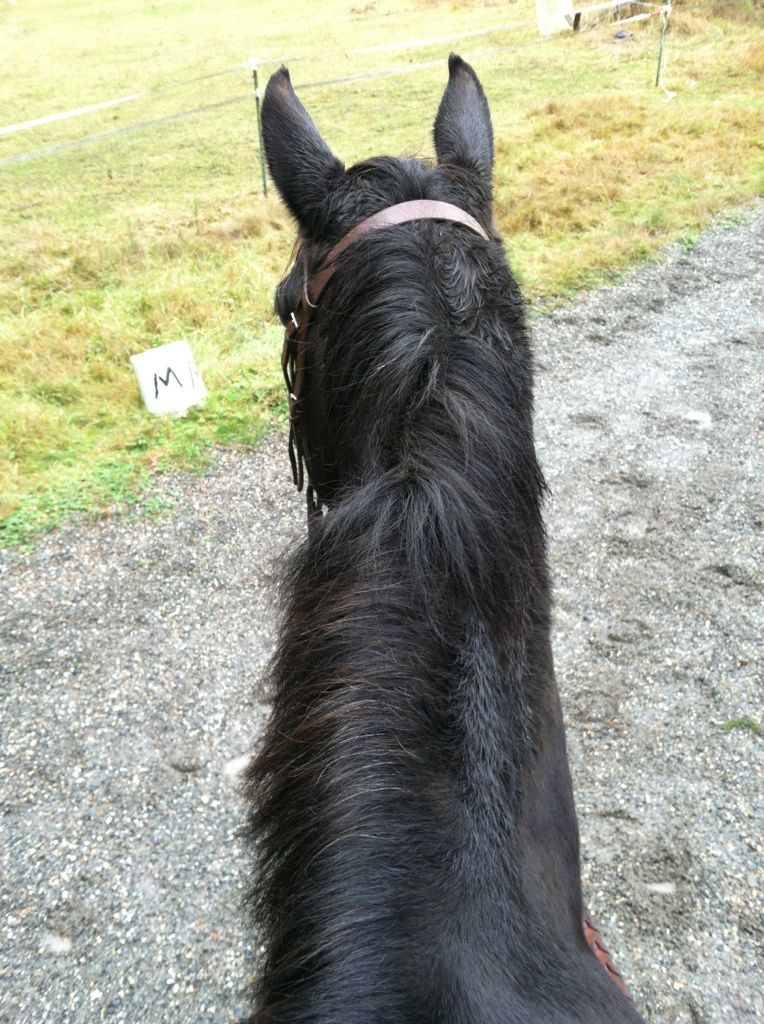 cooling out after much hard work!
Tonight eating a warm meal :)
This was my only dry place to get a body shot of him! UGH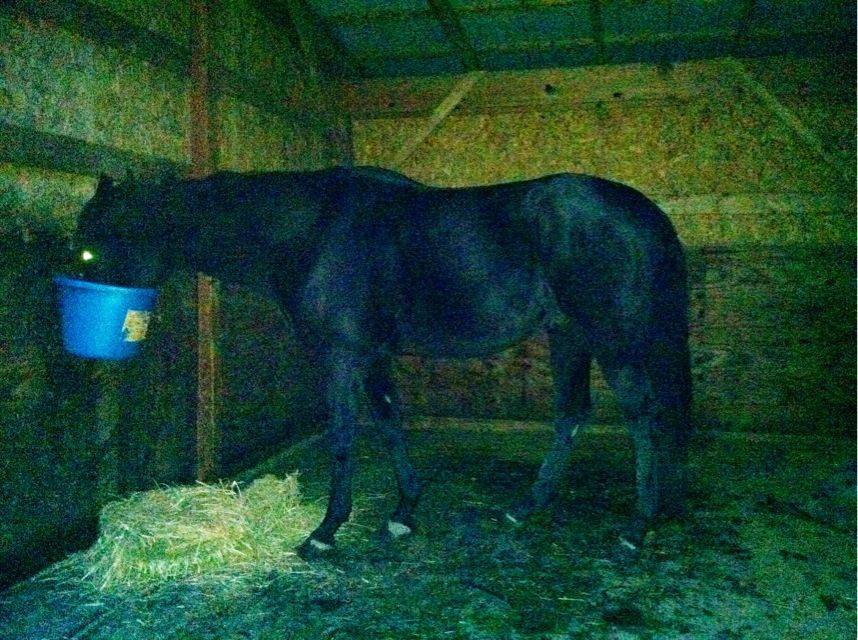 Going out rain or shine tomorrow for sure!!!
I am here to follow your progress ^_^
Thank you very much!!!
Having people fallow this will help me stay on track and go out and work with him more!
I'm hoping for a dryer ride tomorrow, breeches and sweatshirt will be going in the wash tonight fro. Today's wet sweaty workout! ;)