10-30-12 No riding, just rain rain and more rain!
---
Yup all it did today was pour! Non stop!
Good news is I got the house I wanted to rent, picked up the keys today and am allowed to paint, need to build a dog fence for my puppies and start looking for a chicken coop for my moms Christmas present!!
Lots to do to get the house nice and cozy!
Maybe less rain tomorrow?
Please?! Lol
10-31-12 ugh
---
Well the rain hasn't stopped, I'm getting a cold :(
Won't be able to ride for the next couple of days!
Bummer! At least our last ride was so wonderful I can remember that!
11-1-12 Hello November!
---
I greet Novemeber from seattle...and guess what...

ITS NOT FREAKING RAINING!

Where am I?
At the barn to ride?
At the barn to clean paddocks?

NOPE......................

I am in stupid Seattle the day its not raining!
Im so frustrated its almost funny...

This is when it gets really frustraiting living in the PNW where its so hard to tell what the weather is going to be!
Good news is im going shopping for the new house!

I better be able to ride saturday!
Well nothing exciting to post, two mote days gone by with out my feet in the stirrups! Very frustrating! This just makes me want to get this move over with all the faster!
The lady whoblived there last, is still not out with all het stuff so I can't starting bring things over, start working on my fence, start prepping for painting or start painting!
Good news is iv cleaned so much and have three room ready to pack and keep packing away all my mom books!
4 more days till my birthday!
I WILL be riding tomorrow no if ands or buts! Let it pout I'm still going to ride! Heck let is snow and you will still find me out there!
Bring it!
11-4-12 well worth the wait! Feet back in he stirrups!
---
Finally was able to ride today! Such a busy day and made it so great that I got to ride! Was only going to hack, do transition work for about 25 minutes since it has been a few days since I was on him last.
He just never does anything wrong! I cannot believe how much we have come since moving here in may!
Even just a few days off and he come back to work, right where we left off on our last ride and works even harder just makes me smile ear from ear! It sounds silly I'm sure but iv ever had a horse that I can keep progressing with! Always ben a few steps back and a fight or two but with Ollie it's like once he figures it out he takes not of it in his own little work journal!
I was really able to half halt with my core and less with my outside arm! That felt great!
Our canter today was even better then last times! I ousted him to canter on the long side ( while arena) and he was unbalanced and tried to brace. It was all I could do to brace against him so he could relax Into own rythem so I just kept lots of inside leg, outside rein and focused on keeping myself straight, shoulders back, breathing, planing my half halts into the short side and plan for the next long side. He did well (only did this once, both direction) since it was new and then put him back on the 20 meter, where he felt much more balanced, relaxed and rhythmic, stretching down too! So now I can work on his confidence and help him find his rythem to relax into in order to use his body more like on our 20 meter.
Also I felt like he was very straight today, when I felt him start to either wiggle around or pull Id flex him the inside for a couple strides then counter flex him and then straighten him out making sure I was sitting tall in the saddle and evenly in my stirrups and looking to theboutside to help me keep my inside hip from falling in. This really helped him in the canter.
I the trot he was much better then last time, more forward off my leg. Steadier on my outside rein, was able to not to "fuss with my inside hand"
I do have to say from just 3-4 months ago it's way better! Not asking for his head down with it as I have learned better and one just trying to kick that old bad habbit!
Again I didn't get any pictures, I'm such a looser lol
If the dry weather in the afternoon comes back tomorrow I will snap pictures.
Till tomorrow!
I'm going I bed a happy girl!
11-10-12 couple great rides
---
Got some pictures of the boy :)
He's been so good, known iv been stressed out with things outside the
barn. Love how they just know to be good! Didn't get the best work out of
yesterday but today I put some trot poles out and boy did ER have forward!
He really seems to get stretching down in the trot across the diagonals!!!
So we did that a bit today, yesterday did some walk leg yeilds and he was very good going off my right leg, think I bed to get my left leg stronger!
Had amazing canter yesterday and some good canter work to the left today, was
Really stretching down and at one point I just sat up and used a lot of leg to push him into it and I was so pleased that he took that and got steady in his stretch as well as got good steady stride!
Today over trot poles I just worked in him stating straight, controlling the rhythm through sitting up and my hips and stretchy urging all my weight through my lower leg! He was doing great both ways, and we needed in a super good note! Was very happy!
Hopefully will be able to jump him Monday! That will be fun!
Here are the pictures I got of him today :)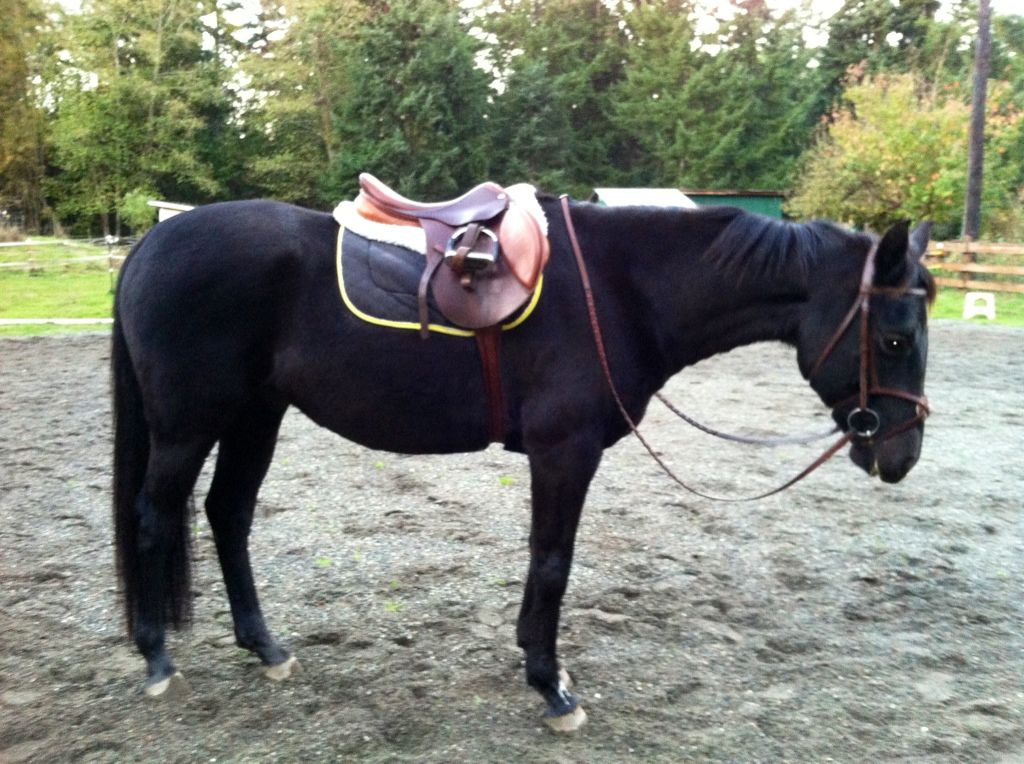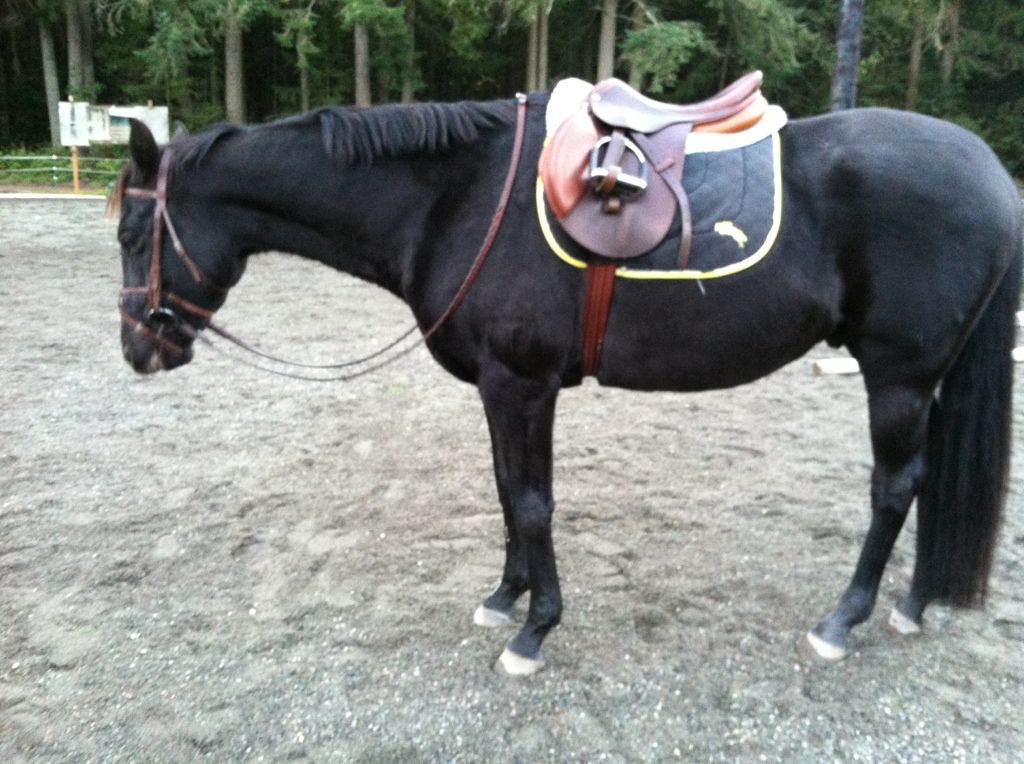 Here are some pictures from yesterday's ride
11-9-12- sorry they are crappy qaulity!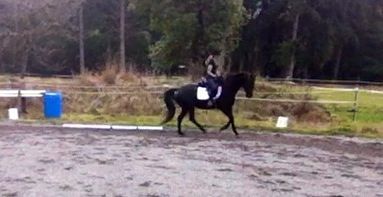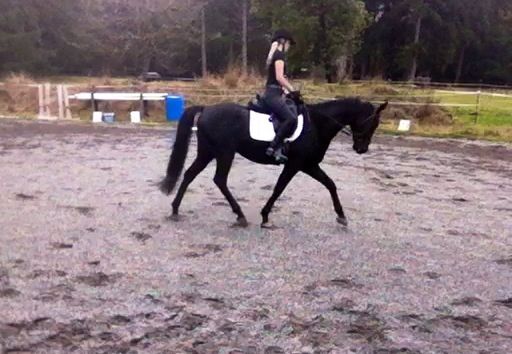 11-10-12 continued pictures
---
11-11-12 riding in the rain!
---
Well rode the bug-a-boo in the rain today!
He's was good as ussual
He was much more constant in his downward transitions, had him go off my legs aids without any hesitation, got two great trot stretches in my diagonals and almost three full 20 meter circles of relaxed and stretchy canter to the right! Did a little bit more trot pole work and a canter pole (he jumped it the first time
) then went over a few times both ways really well!
Jumping lesson tomorrow! So excited! Last time we jumped was in august!!
Going to beg my trainer for video or pictures!
10-12-12 First jumping lesson back!
---
So happy with the jumping lesson, been so crazy busy and now sick so he's had a fee days off, was only planning giving him 1-2 days off and going on a trail ride! But no lol

So back to the fabulous lesson I had on the boy!

We had a great warm up, all the work I did last week to prepare both of us. Got a great working trot and was told that is my warm up trot and now have a solid feel and trainer confirmation on it I know what to work on in our trot.
He was a little behind my keg, not going up into trot the very first time I asked and so we worked on that, We did some trot leg yields and OMFG....thank goodness no one but my trainer saw those and that no one was there to video (even though later in the lesson someone SHOULD have been there to do just that!) need to really work on getting my leg wrapped around him and getting the leg yield aid down and get more then two steps at a time, hes falling out through the outside shoulder and we are just not able to communicate the step over movement together!

Had some great canter, was able to really get more constancy in him being over the back, coming further underneath himself through his hind end each stride! Was able to really sit, rock his weight back and go into trot, control the speed and rhythm with my hips, sitting up and putting him on my outside contact and off my inside leg!

We started with trot poles, got him straight. Put up a small cross rail, popped over that a few times, worked on me staying quiet and supportive.
Ended on a great note, I was not expecting such a smooth, progressive ride!

The last jumping lesson we had was in the summer, and he was very very Thant, just gun ho! This is from my last trainers doing, thus why I moved him out of there. My last trainer would only give me jumping lessons, I would get a flat lesson maybe once a month if that and she wouldn't help me teach him to use his body correctly and relax.

When I took him from my last trainers I wanted to change everything that was going on, I put him in a large pasture with a run in shed, started lunging him to really see his movement and work on the ground with him, he got turned out into a acre of grass for 4 hours a day soon after the move, starting taking him out on the trails. The changes I made gave me insight to what tiptoe of horse Oliver is. He is a very de give guy, big barns over stimulate him and stress him out, like any horse he can't handle doing the same thing everyday for months on end.

His mental health turned around so fast, I was so happy i was able to make the change for him. It's with all the change has all the training and binding progress has come.

It's after great rides like my jumping lesson do I look back and feel so great.
Any who
I'm still feeling sick
So hopefully I will feel better and be able to go out and ride in the next couple of weeks!
11-17-12 Too many days off, very discouraging and frustrating!
---
Disappointed in how things are going at home right now!
Been dealing with loosing the house we just moved into, not even fully moved out of the old house yet! Went and looked at what i think will be our 2nd new house...needs work but seems very doable in not a "settling" type of way...I hope. Been a very emotional and stressful week and half! On top of that the bad weather and then three days ago got a earache that has since not left me alone and infect turned into a migraine....

At least I'm regesiterd for school starting in Jan. Have a good idea what my living situation will be like soon so I can enjoy the holidays....
Just frustrating....
Working on the old house tomorrow, spending time with my boyfriend....need that. He always makes me feel better and clears my head. Then it's back to the barn and riding!