I'm a horrible horse owner!
---
So iv just been swamped with work and had to do many things making it impossible for me to get out to work or ride Ollie in the somewhat dry weather and in the daylight! It's been driving me buts, and Ollie! What a paitent boy he is!
Three days ago I got out to lunge him....
Oh my!
He needed it!
He's so entertaining!
I wish I had video of him being so silly and full of it!
I'm getting my license on wensday so I will be able to take the car out more to ride when the car is nit being used and or take the little truck I can use some times.
So I am committing myself to riding or lunging tomorrow, wensday morning Friday and Saturday and then start again in Monday!
Let's hope this plan sticks and works!!!
I will be sure to at least check in and make sure update with what we did!
I should be getting my new breeches and his fleecie sheet this week too! Pretty excited to see how they look!
Still bridle shopping, still saddle shopping! Hoping after the new year I can get into a couple clinics with one of my favorite trainers! So I need to set $120 as aide for that out of my next pay check and or out of any Christmas money or have a sit down talkie talk with the mothership as she likes to help out for clinics since she knows she won't ever come to watch.
So with Ollie's chris as presents arriving: fleece sheet! He already got his Irish knit sheet, and new saddle pad! And I got myself some new full seat breeches :) oh and my trainer got me the bit I have been narrowing from her for my birthday last month!
I emailed out my Christmas list, hoping for a nice stanley rolling tack trunk for this coming season!
Going Christmas shopping again on wensday night, getting my wonderful trainer fleece fun riding socks and a couple nice picture frames for her favorite show pictures from last season! I think she will really enjoy tha!
Pictures of the mammoth tommorw!
Here's to being a better horse mama!
12-4-12 & 2-5-12 back to work!
---
Well I passed my drivers test today!
Got out to work Ollie and clean the barn yesterday after getting a couple texts from my family (where he lives) saying he broke the fncr down again and was up on the mound, not they safest place but thus why he has gotten the name "mountain goat" so while I was shooing him out of where he was not supposed to be he decide why go out the way I came in (by tearing the fence line apart!) instead he turned around and from a stand still jumped 3 feet in the air an down off the mound clearing the fence like it was trot pole... Pretty sure my jaw dropped. Hopefully he doesn't take to jumping IN since I spent two hours going around re doing the whole fencing job that closed the mound off to him an where the pond is.... It must have worked and back to full shocking power cause he was in this morning and when I got home this afternoon! Horray! I also took his hood off from his blanket since I figure that how he wasn't getting socked as bad! Lol

Lunged the crap out of him and did tons of inhand work yesterday after dealing with the fence, my boy is a crazy goofball!
Got back in time to pull him out and get in him today! Decided not to lunge him and use his forward regret in a productive way.
He was a god boy, only worked him for 30 minutes and he was very pleased to have me back on him! As was I!
Got him to stretch in the trot after some canter work. He always comes back to work after time off like "look what I remembered! See! I can do this! Oh and that!" it's pretty cute!
I'll post some pictures in a bit!!
Pictures and good news!
---
Here are some cute pictures from the other day!
Also got some good news!
Looks like I'm getting a great job that will allow me to put money towards my dressage saddle I'm still trying to get and put away for show season 2013!
Should be getting home tonight to my package from Victory Canter, new breeches and fleece sheet in our favorite plaid pattern through centaur!
I'm hoping for no rain tomorrow so that I can get some nice holiday photos of Ollie and I to send out to family and frame!
So now for the cute pictures from the ride the other day :)
Can't wait to ride him tomorrow and Sunday!
Not so happy I'm tacking him up after three weeks of vacation time for him....also can you tell I am obsessed with plaid? Lol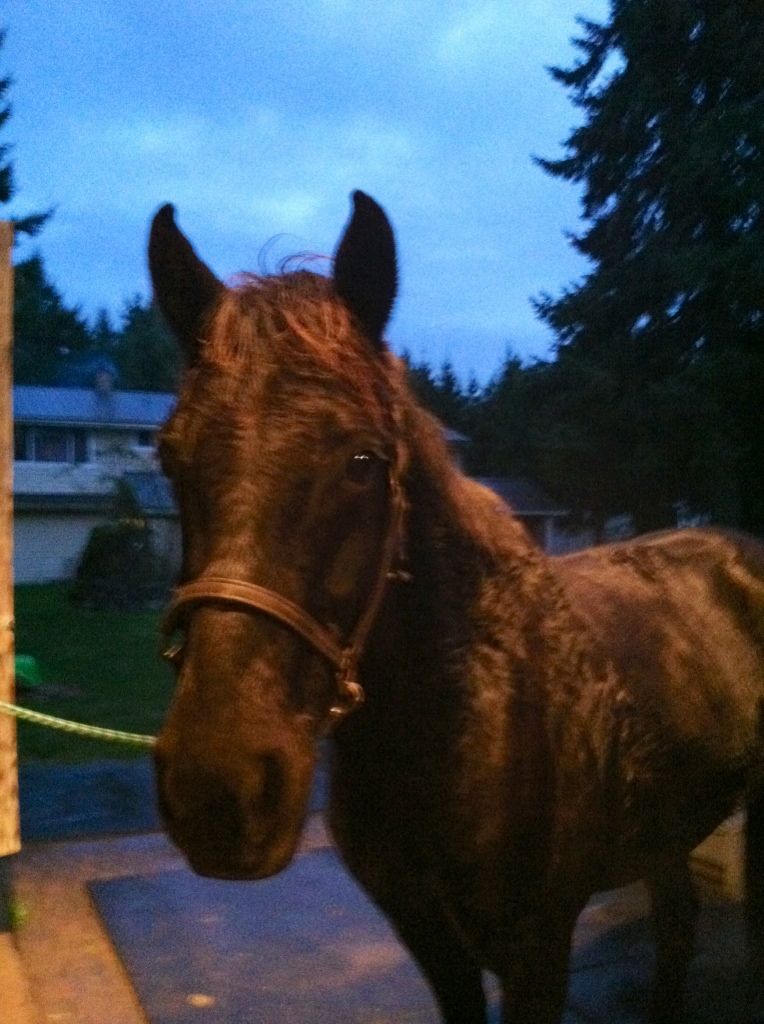 I was good, do I get another carrot mom!?
12-8-12 great ride!
---
Had a fabulous ride today!
Ollie was so so so forward!
I lunged him at the walk and trot both ways before getting on and decided not to wear my spurs today! Good thing because wow was he forward!
Need to really work on shoulders and lower leg/heel down!
Was able to have a good friend come out and watch me, tell me what she saw and get the pictures!
So this was his 2nd ride back after 3 weeks off, I had lunged him a couple times this last week to get him out moving and let him fart around, get any wold bucks or anything out and he did lol
He was so light and responsive to me today it was alloy of fun! We had smooth change of bends in the trot, he leg yielded into the corners and kept coming through behind and I could really lift his tummy with my leg and keep him on my outside rein and have a steady contact for three-four circles and it felt great!
So I was very happy with my ride! I can't wait to post photos on Monday to get a critique. I'll be going back out again tomorrow afternoon to ride him, I think I will set up some trot poles because I really need to work on keeping his hind legs active when we stretch and he loves pole work, today I fouls he really comes own on his forehand and even though it feels good and he is trying to stretch into the contact I can see how he drops his shoulders and isn't pushing from behind and isn't lifting his belly to stretch and lift his back....ugh
I got Ollie's plaid fleece sheet today! It's so soft I might steal it for myself!
I also got my full seat breeches! Yay!
I will take pictures of Ollie on his new blankie tomorrow :)
Here is a preview to the pictures that are to come on Monday!
And the new blanket that I am currently snuggled up in on my couch haha
12-9-12 oh boy Ollie!
---
So we figured out Ollie is suffering from ulcers, we thought it was him just being not worked but it's not. He's so twitchy and easily spooked on the ground and today was a complete nut under saddle. He had good moments and good circles but 80% of our ride was very tense. I wound up getting off and putting him back on the lounge line, poor guy was beyond worked up!
He had a very nice warm up on the lunge line was forward and rocked back on his hunches nicely so his walk to trot/trot to walk trot transitions where amazing.
He was so worked up he put himself into a complete lather from ears to hind legs! When I brought him back to the cross ties and untacked him he lost it again...trying to walk off, spinning around and just acting a fool. Got 10x worse when I tried to hose him down so that took an extra 35 minutes. Poor babe! Finally got him settled down and took him out for a walk and some grass and that really helped. I felt so bad for the boy, I haven't seen him that worked up in a very long time if ever! I knew my limit with him and didn't cross it and knew something was up and he wasn't feeling good. Getting him aloe gel tomorrow to help sooth his tummy and getting ulcer medication so cross our fingers we see a postive change in the next two weeks.
I'm giving him the day off tomorrow to just chill, I think he might be a little sore from all his acting out today.
I'll work him on the ground again Tuesday, maybe take him out on a trail walk if he is in a good calm mood.
Did get to use his new fleecy blanket to help cool him out after all was said and done
looks very good on him!
Hope my boy starts to feel better this week!
12-8-12 Pictures of our ride
---
These are the pictures I like the best :)
Also think they will be good compareson pictures for later :)
Okay. It's been over a month since I updated our winter training log....epic fail om my part.

Life got crazy, had to move again, holidays, was sick, and just had my wisdom teeth pulled out last week so I have been recovering this week and today was my first ride in a little over a week.

Before today we where working on simple changes, leg yeilds and really keeping him coming through from his hind end in all transitions without falling on the forehand or getting faster in the gait.

I was going to do a jumping clinic this month, this weekend but I found out it was at a location I didn't feel comfortable footing wise with it being winter and so wet as well as he's only been hauled off the property to the horse park a few times this summer and we are still working on out unloading issues.

Two weeks ago it got super cold, arena froze so it was out to the trails for us! We went on our first solo trail ride, Ollie acted like nature was going to eat him...even though that is the only trail he has ever been on! Hehe he was a brave good boy!
The day after that we had our first real working trail ride with trot work....he wasn't so sure about that lol

Hoping the next few rides I can remember to write about on here!
Needing sleep
More later
3 Weeks 4 Days - Count Down to Beth AndersonNess Two Day Dressage Clinic
---
1/24/13
Sadly was not able to ride today because my little dog hurt himself somehow and needed to be taken into the vet, off island!
Good news is he will be okay.
These next three weeks and four days will be hard work, but I want to get the very best out of the clinic!
My Goals for the Clinic:
Get my inside hand to stop trying to take over the world....okay just my rein lol
Get our simple changes down completely, correct going in, through the change and onto the new lead
When ask for the halt, be able to keep still for "5 missisippi's" and go into the next gait still on the contact and coming through from behind.
Get our hind engine more constant through trantions, no more falling forward, either of us!
I think those four goals are the key points to getting all I can out of my two days.
Just got the very exciting good news yesterday that Charlie Pinnio from California will be more then likely coming out 2-3 times this spring or summer, somthing I'm really hoping happens. Charlie has an amazing way of explaining things and getting results by the end of the lesson, stress free too! I'll post some pictures from our last clinic from last summer.
With all the riding and hard work I have been putting into Oliver's training I want this year to count and have something to show for it!
I am really looking forward to spring, shedding season when the transformation so to say comes to see all shiny new coat come in to show off all the muscle we have built! Right now it just looking like I'm riding a big dust bunny around that was under some couch for far to long!
Off to bed with me, got to ride tomorrow!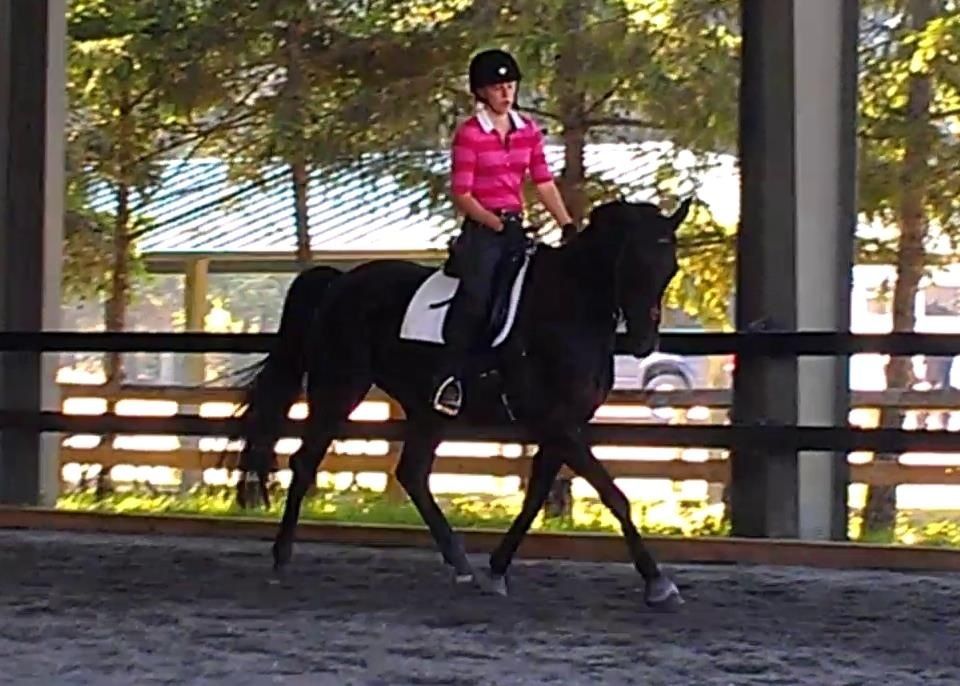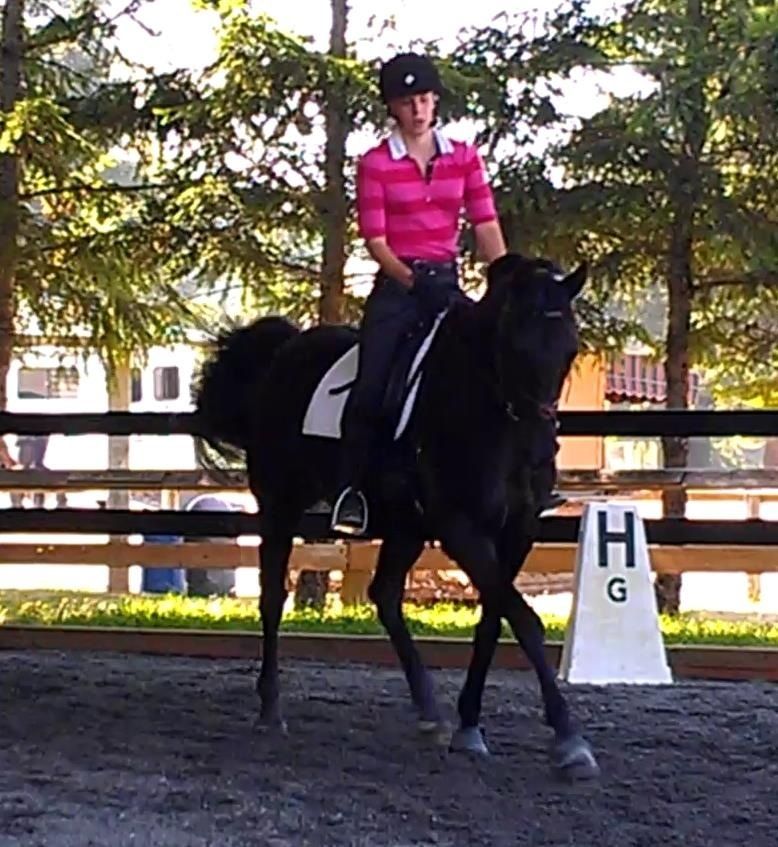 Here's to seeing a difference from last year to this year!
Sunny Day!
---
Well it was a beautiful day today! Even warm in the sun! Got a text from a friend who asked if she could take a lesson on Oliver today since her mare needs her feet done. I of course said yes and tried to rush out to see her ride him but got there to see her dismounting
lol the ride went great though both her and our trainer were very pleased. I helped un tack him and hose him off, threw his cooler on and went and watched our trainer ride her fresain mare, ooohed and awwwed over how well they are doing together. She is preparing for showing her 2nd level!
Ollie enjoyed munching on some grass while we watched and gave me some snuggles
So tomorrow I will be out riding him! Can't wait to see how he goes. My friend is much older, way wiser and has many more years of experience then I! She was once a top event rider and rode in england for years as a working student and under some very big names. She became a mom and a back yard rider, 4h helper and so forth. So having her ride my little man is truly an honor.
We are going to set up a schedule to work each others horse's because they ride so differently it will get us in shape, good for the horses and just a fun thing to do :)
Last week she rode the boy twice for me as he was getting into trouble with a few days off cause I was layer up at home recovering from my wisdom teeth getting pulled, she came out a couple days ago to help me clean pastures and "baby sit me" for my first ride back since the surgery, was still swollen and tender and on pain killers....only rode for 20 minutes but a good ride!
Getting on and just being able to not worry about him being loosy and goosey or testing me to see if I really meant work
Hopefully will get some photos tomorrow, maybe a working trail ride Sunday? Hmmm
Above airs?! I think not, thank you very much Oliver!
---
Well today was not at all the ride I wanted or expected!! The arena was very wet and was limited to just using 1/2 a1/3 of the space we normally have and he was rather hot!! Normally not ever like this! Hopefully just because his girl friend got worked without him with her because that's what he's been used to but was not acting heard bound at all. More just so touchy, like a alarm up soda can opened...flew across the arena a couple times in a way id rather not go into explaining but felt like I was riding the "Above the Airs" movement that the lippanzaners do! "ollie your not a grey lippanzaners stallion!"
So we just did lots of walk work! Leg yeilds, walk halts and stand. Then bending lines and small figure eights. Really worked on keeping him straight and my reins even with my hands up and together. He was still pretty hot at the walk!

Hoping tomorrow is much better, need to learn to haul the horse trailer so I can haul up to the park and ride under the large covered arena.

Anywho going to have to post the pictures I got today on the next post :)