Here is the goober :)
Found out today he likes Nilla Wafers, silly boy!
And of course the "me and my pony" shot ;)
1-27-13 Little man did fantastic! 2nd working trail ride!!
---
Such a great day!!!
Ollie was a superstar!! So happy, proud and excited!!!!
It was spitting rain all day today and I got a late start to the day.
With the arena getting some slick spots and yesterday's ride...whatever that was about, I decided we would attempt a trail ride, a working trail ride.....
Things happen for a reason, this trail ride was supposed to happen!
Wasn't slippery at all and it was our 2nd time out by ourselves so I wasn't expecting much but to get out and stretch, do some trot work and call it good.
We did so much more then that! He was a pro, cars on the road no issue, relised he was alone....meh no problem! So I gathered him up, got him rocked back, walking slower then just our trail ride walk and made him really use his body at the walk down the long driveway to the trails. Went through big puddles and stayed nice and straight. I was really able to just sit and "look pretty" focus on my shoulders and lower leg and keeping my hands up and together and not trying to wander off and take control of one rein or the other. Hit the trail and decided we would do some trot work.
Ollie surprised when I asked him trot on. Wasn't sure it was okay and was a little tense. I got our tempo and took long deep breaths while talking to him and really focused on keeping him coming from behind and within a couple minutes he relaxed into a good working trot. He was using his hind engine and coming through his back and I didn't have to even worry about where it was his head was cause of course if your horse is going correctly and relaxed and you have a good even tempo your horses head will be right where it should be. I could tell he was really having fun. Lots of blowing and snorting. I could really feel the swing in this shoulders and was so easy to sit and wrap my legs around!
Had a few turns and he stayed right with mr, straight and coming through. Started to throw in some trot to walk transitions and he was so relaxed and with me. We where so in sync with each other, just me and him comunicating out in the woods.
Got to the opening and decided he was going so well and conditions of the trail where just fine so I asked him up into canter. This is his first time cantering outside the arena and again like in the trot was unsure, not tense or spooky just a little wiggly and wanted to keep going down into trot as if to say "this is trotting, we where just doing this, thisis what you really mean right?" but I got him into canter each time he broke and that was fine with me.
So then we got a bit of stretch in the walk going and he was really liking that part, got to the hills and decided to play around with that for a few minutes, went up and down and turned around to do it again. Did the big hill 3 times. Slow and on foot at a time, weight rocked back. Same going up. Encouraged him to reach with his neck going up and he took to it really well. I felt good without hill work and think that alone will let him enjoy his day off tomorrow
Then we worked on some walk halts. In the halt he was collected but not overly so, almost had a little stretch with each halt, a nice low round neck and poll. We would stand for about 10-20 seconds and walk on staying round and with each time coming in and out of the trantion I would tap him from behind and ask for the first leg to move to bea hind and felt like iwas really getting that and in a relaxed but very foccused on me at at the same time. Again the let him have a long rein for a bit till we had looped back around to where we started to canter. Decided to try some canter again. Hoped to have more tempo and him really coming from behind.
This part of the trail is much wider, littler harder ground but not something that would make his feet tender.
It's a small turning incline that then slowly goes down and then narrows, with two ways to to. Left to the hills after some flat ground. Right to do the very short loop back to the driveway we started on.
So I got him up into canter, he was there! Right with me. Really coming from behind! Picure perfect! It felt so great! Our tempo was so nice, relaxed and just so great in every way! I wasn't holding him back or really asking to to GO but we where just together! Round and using his back!
really some of the BEST canter I have ever gotten from him! I know I was grinning from ear to ear and sounded so stupid telling him what a smart good boy he was!
I deicded to push him a little further and took the left turn in the canter and went a little further on the flat part of the till it started narrowing in and halted him. Gave him a hug, sugar and lots of scratches! He was so happy and proud of himself and still so relaxed!
So on the flat part we turned around to go back. I decided to try to trot to canter trantions till we got to the small decline. He was again with me, a little more go then we needed but had a few good trantions up and down! More scratches and sugar!
Then coming around the bend we ran into a jogger and his dog....no spook no spin. I just halted him, patted him and talked to the jogger who had stopped and stopped him dog. Ollie sniffed the dog and I said thank you and we where back to buissnes. Did some more trantions and then let him have a long rein most of threat back.
When we got back to the long drive way to the road I decide to see if we had trot halts in us..... Sure did! Was just so happy! Every thing I asked of him he came through and did a great job at! I wasnt tense so he wasn't. I was any bit worried so he wasn't. I was eager and just enjoying every moment of the ride and so was he! I swear if a horse could smile he would have been grinning ear to ear....kind if a funny mental image there
This little horse just seems to surprise me with rides like this. I had high hopes it would just be a enjoyable relaxing ride to just get him out and expected him to maybe spook a little since it was his only 2nd time out alone and the 1st to spooked and spun 90% of it lol
He came through for me 110% with 5 stars and the best working attitude i have seen in him!
So that was today....he will get tomorrow off. He got worked quite a bit this week and I feel great about it. Now I just have to keep with it.
So I was able to snap a couple photos on this wonderful ride! Excuse the foamy lipstick, he was working the bit in his mouth with all the sugar he kept getting got got being the best boy ever!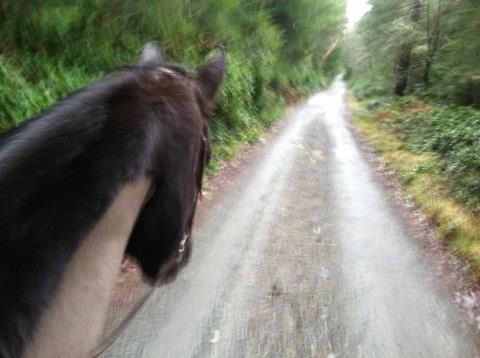 Love this shot. Saved it as my lock screen on my IPad
End of the ride, good boy stretching for his sugar. As well as looking rather adorable!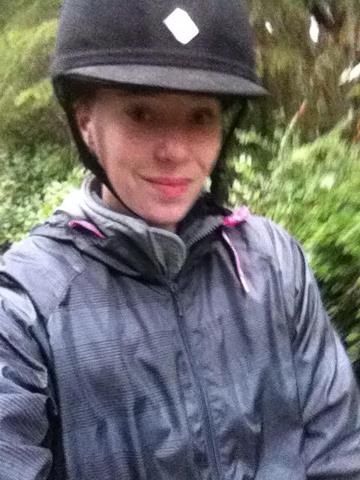 All bundled up for the cold day :) still can't get this stupid smile off my face! So happy!
As if to say, "Thanks mom! That was so much fun! Lets go again!!"
That's all for today. Going out to groom and hand graze tomorrow :)
Oliver's New Fancy Browband!
---
Forgot to add in the last post that I was given by a friend today a beautiful padded fancy dressage brow band! It's very simple yet fancy. I think it will look great on him, crossing my fingers it fits!
My friend who gave it to me felt it just wasn't what she wanted for her mare.
I decided to piece together a dressage bridle for this year instead of spending money I'm trying to save lol!
Getting the crank noseband and reins as soon as I get my paycheck and then will soon be able to put it together and fit it to Oliver!
It will be nice to have a dressage bridle with my dressage saddle (soon to still get) and my pieced together figure eight can go with my jump saddle!
I always feel awkward posting photos of me riding in a dressage saddle with my brown jumper bridle!
That's all, just wanted to share the photo!
1-28-13
---
Wasn't able to make it out today, it's okay wasn't a working day. Hopefully he relaxed an will be ready to work tomorrow!
If the arena is workable I'm going to stay in there, hope for better then Saturday!
If not back out to the trails to work!
It's been windy, cold and spitting rain past two days and when the wind tunnel comes through boy it is freezing! So might be time for a quarter sheet!
Today I got to teach a lesson again, was a lot of fun. Drives me to get my USDF memberships! So I can work on my resume and hopefully in the next few years get some clients of my own!
Till tomorrow....predicted to rain, 43 and windy...ewww
1-29-13 10 steps forward 7 steps back, really?
---
Ugh Ollie why must you be so silly!
Had a frustrating ride.
Just have to keep reminding myself
Only 6 years old
Green
3rd time alone
Cold wet winter day
High hopes low expectations? I tried today and beyond failed
Above listed are not excuses for his behavior. Just very annoying and discouraging when you have a great working trail ride and feel so wonderful about it and go out to have even just half as good and get 7 steps...very tense steps back...large tense steps.
He was so behind my leg and so distracted at anything and everything. Had one huge naughty moment....spun and I was trying to get him to stay forward and we wound up way in the bushes....and he totally reared into the spin! I was so thankful it was slick out there!
Git him past it and got him into tort and just power housed it for a good 3-4 minutes before trot halt transitions and then making him....shoving him up into the canter and making him sit down on his hind end and he was good, he relaxed once he rocked his weight back. I gave him a long rein and cookie after that. Let him walk on a long rein but insisted he walk with meaning. Then made him do walk to trot trantions and some more tot halts. He was so tired from being such a twit that he was a good boy. He worked himself sweaty the dork!
Ugh oh well got some photos of our trail that we work on.....or spook and spin through....
Ugh theory ate uploading strange
Post them later
1-31-13 Got some show dates along with headache!
---
Well good news and bad, woke up with a headache, been staying out Kate with a guy I really like (broke up with the boyfriend of 3 years
) so happy! Date night tomorrow!, pretty excite, really like the guy, been friends for a number of years!
So good news: Got schooling show dates for early spring/ early summer! Pretty excited with the thought of taking him out and getting some ribbons!
So here are the dates :)
4/13 - Pony Club Dressage Show - Will be riding two tests at training level
5/18/13 - Shaggy Horse Show - some two gait/three gait classes and jumping classes!
6/8/13 - 4H Performance Show - some flat classes and jumping
6/9/13 - 4H Dressage Show - two tests at training level!
I think it's a great start for Oliver to get used to mass crowds of horses, loud speakers, warm up arenas!
Out early in the morning to ride before work so I can get home and shower to be ready to rock an roll for my date after work!
Beginning of Febuary :)
---
Wasn't able to post yesterday, was rushing from the barn to work then from work to my date
2-1-13
Had a good first ride back in the arena, only one big puddle To have to go through, worked on.....well can you guess? Trantions! Yes!
Trot halts, he was super! The GOOD working trail ride came through with all the transtions. He was able to halt from underneath himself and stand nicely then go back up into trot. We did that slot on our 20 meter, then would send him forward into a big trot and go across the diagonal working in staying straight and my body quiet and soft. He seemed pleased, and I know I was. Got some canter out of him, nice and supple and soft. I didn't push him since I was going to be in a rush to work and wanted to end our ride on a good note!
Pictures:
Today: 2-2-13
My game plan was to do same as yesterday but push for more.
He was doing great till I asked for the left lead canter.....
suddenly we don't know how to canter on the left lead and all hell breaks loose....tense, locked through his poll, and grabbed the bit to go....a few times, was very worked up. Had to keep focused on my body communitcation so I didn't make it worse.
Eventually was able to bring him back and work on getting that lead. Was able to get it twice in a row, made a big good boy fuss over it. Worked on more trot, lateral work, walk trantitions and some diagonals. Then went back to work on our canter, had much better luck, worked on that for a good 15-20 minutes (with walk breaks) and then got some stretchy trot out of him and called it good.
I trimmed him up, his very hairy face doesn't make him look like a ragdey old mountain goat
also got his fetlocks trimmedup and he doesn't look like a scragly yak anymore...just a nicely trimmed cute fuzzy yak that likes to bed for treats!
My photos aren't loading the right way
Gr I'll have to do that later!
2-3-13 training ride-good!
---
I'm a couple days late....but Oliver had a wonderful training ride
My trainer warmed him up, told me he's really coming along, iv been doing my homework
We are now going to start asking more of him, really straight, really forward, all the time, no excuses, first time I ask.
Going to focus on our lateral ork, keeping his shoulers together and not running off.
Wasn't able to work him for two days....got work all day tomorrow
Less then 2 weeks till Lake Bay, 9 weeks till first dressage show! Exciting times!!
---
Just as the title says, looked at the calendar, time is flying by!!
Going to be out riding tomorrow morning
Very happy we have good weather upon us this week!
Straight straight straight!!
Go the first time asked!!!
Keep shoulders up, weight rocked back!!
Transitions transitions transitions!!!!
Leg down! Relaxed!
Breath!
Keep easy tempo!!
Inside leg to outside rein!!!!!!!!!!!
Very excited to hear what Beth has to say, to see video of my rides, to see what I come out of the two lessons with!!
Not looking forward to then having to take two and half weeks off completely!! Stressed me out just thinking about it!! Thankfully I have a great friend who said she would get on him, work on what we are working on with my trainer ( good close friends) so when I am done with training for work I can just get back on Oliver and go from where we left off!!! I am grateful!!
Then from there I have a little over two weeks (solid riding!) to prepare for Oliver's first show! My plans is two dressage tests, training level
then two-three jump classes :)
I'd like two get in a few more working trail rides, some jump lessons and then practice my tests!!
I will be having a reader, my first show (even if it's just a home schooling one
) I have a horrible time memorizing tests/courses with a huge side of anxiety lol
I will be interested to see how Oliver takes to the warm arena...announcing....tons of trailers...
Pretty excited though, lots of hard work ahead of me...at least on weekends during my training I can ride then...two days a week :( maybe I'll take that time to work on a little jumping and a couple working trail rides
Getting pictures of me and the boy this weekend :)
Here to Follow your progress! Looks really Great! keep us tuned!