I'm at the barn, early for once. Usually I'm rushing in at the last moment, struggling to get tacked up quickly so I'm not late for the lesson.

It's nice to be early, both so I have time to get ready and because it gives me time to reflect and appreciate where I am.

I didn't want to come today.

I'm not sure if I mentioned it previously, but I have bipolar disorder. This illness is characterized by highs and lows, with periods of normalcy.

My "highs" (manic phases) aren't all that fun. They usually involve me making rash decisions and spending money I don't have.

The last true manic phase I had was when I bought Obie.

Since then I've made huge strides in controlling my moods. I've learned to recognize them and how to cope. More than that, I usually can head them off before they start.

I've had an extended period of blessed, blessed normalcy. I took what life has handed me and dealt with it. I've made good decisions and purchased a horse with my brain, not my heart or by sheer impulse.

I think I am depressed. No... I AM depressed. There's no real logic behind it. Sure life is stressful and money is tight, but isn't it always?

It's a foggy, dreary, cold day. The temptation to stay in bed was overwhelming.

But I didn't. I got out of bed, led worship for church, and now I'm here.

I'm here. In about an hour I'm going to ride MY horse. The one that is just right for me.

I'm gonna be just fine.
Posted via Mobile Device
Lovely keep with the good work my dear.

With depression you have to push yourself through it, which looks like that's what you are doing.

I have depression and anxiety but I go see a professional. I take it you see a professional for your bipolar disorder?

Enjoy your great new horse that is perfect for you!!

Good Luck!
---
Chad Barnes 6-16-85~7-22-13
Hero Act - Thoroughbred Gelding ~ Gunner - Quarter Horse Gelding ~ John Deere - Mini Gelding
I do have a therapist but unfortunately cannot see her at the moment because of financial difficulties. I'm okay though... working through it.

I had an amazing lesson. I was nervous to get on... I just had this bad feeling... but thankfully it proved to be unfounded. Striker stood like a rock when I mounted and moved off nicely when I asked him to.

We worked on leg position and trot/halt transitions. It was a "mixed group" meaning it was me and then a bunch of younger, less experienced riders. That was fine by me, though, as my instructor makes it fun and informative for all.

She also had me working on posting trot, trotting in two point, and sitting trot. I told her I felt like I'D been the one doing all the trotting rather than Striker when the lesson was over. It was a good tired, though. :)

She told me I was ready to canter.... I chickened out. I just knew I needed a good lesson... with how I've been feeling... and I was worried that if something negative happened when I tried to canter it would be hard for me to overcome. Part of me wishes I would've tried... but mostly I think I made the right decision.

After the lesson, I did Striker's wound care myself. I've been relying heavily on my trainer to help out, even though this is the sort of thing I do all of the time with the horses at my parents' house. A trainer is awesome to have, but sometimes it's nice to remember that I also have knowledge/skill.

Striker's wound is almost healed. Caring for it involved a nice soak in the creek, then washing it off (he's awesome with a hose... one of the perks of getting an off the track horse!) and applying some powder to prevent proud flesh. His greasy heel is also doing great.

He managed to throw both shoes. I'm going to wait about a week to get shoes put back on. We've had a lot of rain so I think the pasture muck would just suck the shoes off yet again. The ground is soft and we won't be doing any trail riding quite yet, so he should be fine without shoes until then. My trainer keeps the indoor and outdoor arena footing in fantastic shape. It's not a super "fancy" place, but I sure feel spoiled boarding there. By contrast, my parents' setup is definitely "backyard" in nature, but then again not all parents put up with their kids' horse craziness but letting them have as many as five horses at one time.

Really I've been very fortunate in life, something I need to remind myself when I get down in the dumps.

And horses really are the best kind of therapy.
Keep hanging in there N79, as long as you are fighting you are winning. It sucks so much when your illness gets on the way of trying to live your life and having fun, but you are so right that our horses are such great therapy.

Keep fighting, keep winning
Didn't he deal with all that stuff going on at the sale really well - I would have bought him if I'd been there looking for a horse
Depression is awful - its like an enemy living in your head - but you can beat it
Had a great "therapy session" tonight!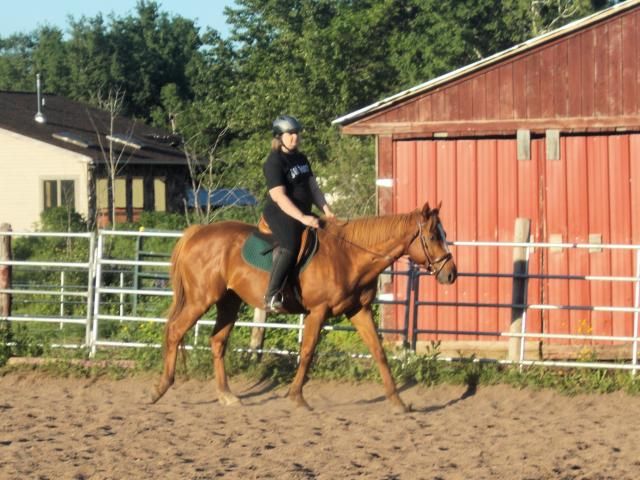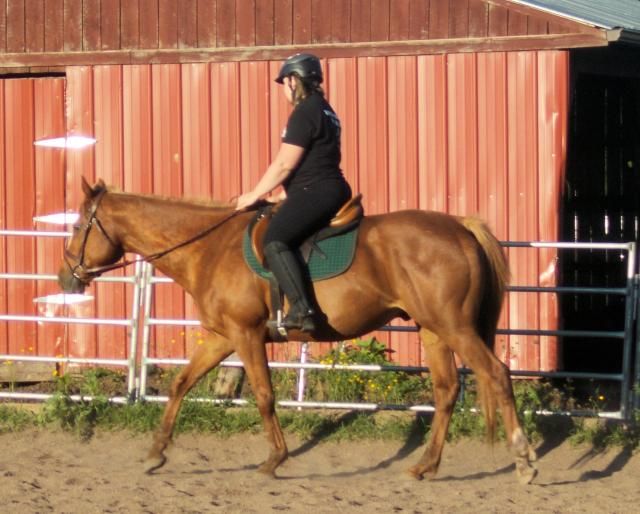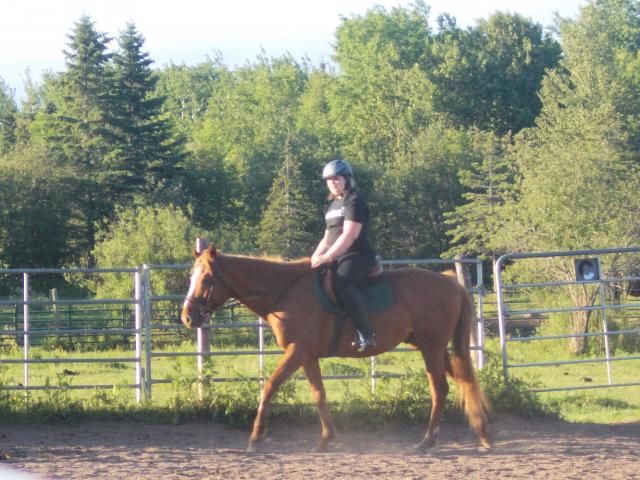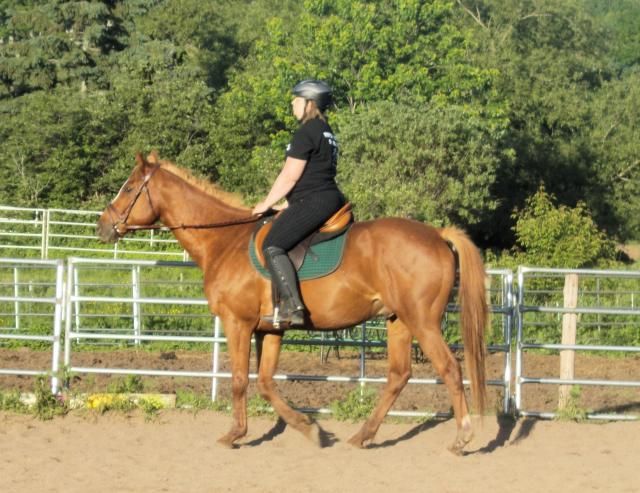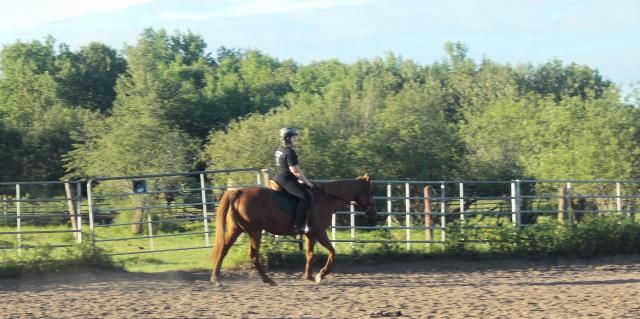 He looks such a kind, laid back horse, I can see why he gives you confidence
I will make one negative comment though - that saddle you have on him is pitching you forwards - possibly designed for jumping because I have one that does exactly the same thing to me which makes it not great for general schooling in a low level dressage way
Yes it is a jumping saddle. Unfortunately I cannot afford another saddle at the moment. :( Just found out that we owe $1300 more in state taxes. Ugh.

I'll be saving up, though, as soon as the darn taxes get paid off!
Please don't mention taxes!!! Property tax due soon and I struggle to see what we get for our money