That and the layers and layers of clothes - I have a jacket that makes me look like a Michelin Man!!
So... the saddle I bought is a Wintec Pro Dressage with Contourbloc.

After reading reviews, etc. on the net I think I made a mistake. With his big shoulder and the way the Wintec gullet plates are formed, I worry it will cause pressure points.

Thinking of just selling the Wintec and getting a used Kieffer the saddle fitter can adjust.

Thoughts?
Can you just return the saddle and get a refund?
I'm not a fan of Wintec saddles - I know some people love them and they fit their horses really well but they do get a lot of negative reviews. I bought a GP one ages ago when we first got Honey for my son because he was growing fast and she was young too - it seemed like a cheap option for short term use but it never fitted her well, was only used a few times and I sold it in almost new condition for a big loss
If you can get a good second hand leather saddle and have it re-flocked to fit your horse I think you will do a lot better
I bought it secondhand. The thing is, I technically can afford a low end custom saddle ($1500 or so) and the fitter my barn uses will take it back on trade if need be. I'm thinking of selling the Wintec, seeing how the next ride goes, and ordering a custom saddle if I feel like I can get over this irrational fear.
Posted via Mobile Device
I don't think your fear is irrational - you had a few bad experiences that have knocked your confidence so its understandable that you now feel anxious
See how you get on with the change of saddle and go from there
Try to get on the horse with the attitude that you can deal with whatever he does and stay relaxed
How about an update????!!
Posted via Mobile Device
Obie either wants to be retired to pasture or he really wants me to keep him.

He hurt his hock AGAIN.

This time he and two other horses escaped when a round bale was being put in the pasture and went crashing through the snowbanks left after a 40" snowfall.

Started out with swelling and slight lameness. Eventually split open (infection? Just THAT swelled?). Swelling is down and he's not limping but there seems to be some stiffness and the wound is still open.

Training is on hold yet again.

So, now I'm trying to find a vet with portable ultrasound equipment that is willing to come check him out.

My Back on Track stuff came so we've started with those. We put the saddle pad on him and both hock boots on the same leg so we covered the front and back of the hock.

Those suckers work!

I could tell when they started "activating," because he tensed up and had this "Holy crap what's happening?!" look on his face.

He's such a worry wart.

Meanwhile, this year's Christmas card included his picture, so I guess he's staying put...
Posted via Mobile Device
I had a riding lesson Saturday. I'd had about a month off due to the cold and craziness of the holiday season.

Boy, does my body hate me for that today! (Are English riders supposed to walk like cowboys? Cause I was walking like a cowboy all day today).

Anyway, I don't remember if I've mentioned that I'm afraid to canter. We've done a bit of canter work in earlier lessons, and I used to canter all the time in my pre-rerider days. but I'd never cantered in an English saddle.

I rode General, and I think I'm beginning to fall in love with him. He's safe enough that I (mostly) don't fear death while in the saddle, yet spunky enough to be a really fun ride.

We did a lot of trotting work and "let's learn how to not crash into one another because I accidentally over booked the lesson" work. I actually like big classes because it forces me to rely on instinct rather than overthinking things like I usually do.

She split us into two groups for canter work. By this time, my poor weak ankle was protesting strongly. It started giving out, resulting in me accidentally bumping General, who would speed up his trot or try to break into a canter.

About the tenth time I checked him back I could tell exactly what he was thinking:

"Make up your mind, woman! Speed up or slow down?! Which is it? She SAID we're going to canter, so let's GO!"

So, we went around the arena, me having completely lost any sense of rhythm and General getting increasingly ticked off and confused.

I decided to pull up.

The reason I gave was pain (TMI moment: I had an ovarian cyst that burst last week, so riding wasn't terribly comfortable). In truth, though, I could've handled the pain.

I was afraid.

Deb said I could join the second group if I wanted but when they took the rail, I stayed in the middle, feeling defeated and cowardly.

Guess what happened in the second group? One of the other riders got off balance, panicked and when the horse stretched out her neck and coughed, the rider got pulled right out of the saddle. She ended up being ok, but sprained her ankle.

Once things had calmed down, the first group was up again.

And guess what?

I went out on the rail.

I CANTERED.

In an ENGLISH SADDLE.

And I DIDN'T DIE!

In fact, I didn't even feel near death. I felt completely balanced and in control.

It makes me think that there might still be hope.

Maybe when Obie is healed up, I'll be ready for him.
Posted via Mobile Device
---
Last edited by nikelodeon79; 12-24-2013 at

04:06 AM

.
You had a break-through moment! Good for you! Have a Merry Christmas!
I feel like I'm at a crossroads.
The Back on Track boots seem to be doing the trick and hopefully *knocks on wood* Obie will be back in training soon.
I haven't ridden since before Christmas. I was out of town the weekend after Christmas and we're now in a cold snap that makes riding dangerous for man and beast (-30*F).
Not riding gives me a lot of time to think, to dream... and to worry.
I feel like I have a connection with General and have discussed buying him from my trainer. She doesn't really want to sell him but she would as long as she can continue using him for lessons (I would get a break on board).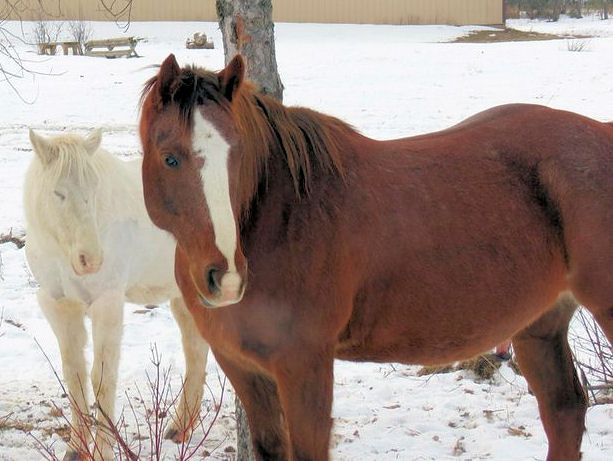 I talked with hubby and we are thinking of buying him and keeping Obie as well. General would be my "confidence builder," and then once I'm ready for Obie, General would become my husband's horse.
Another option would be to lease, and that's what my trainer is recommending. I could avoid the purchase price, and still get the benefit of riding him whenever I want. The price per month would actually be a bit higher ($185 for leasing, $100 for 1/2 pasture board), but I wouldn't have farrier or vet bills.
The thing is... since the idea of buying General AND keeping Obie occurred to me, I can't stop thinking about it. Heck I'm even looking for tack for him!
I hate decisions.
---
Last edited by nikelodeon79; 01-05-2014 at

10:27 PM

.