Tried the saddle on Aires yesterday and it fits absolutely perfectly! YAY! Didn't ride in it, since the boy still needs his teeth and feet done.
Someone wasn't cooperating with Mom while she was trying to take pics of his pretty new saddle.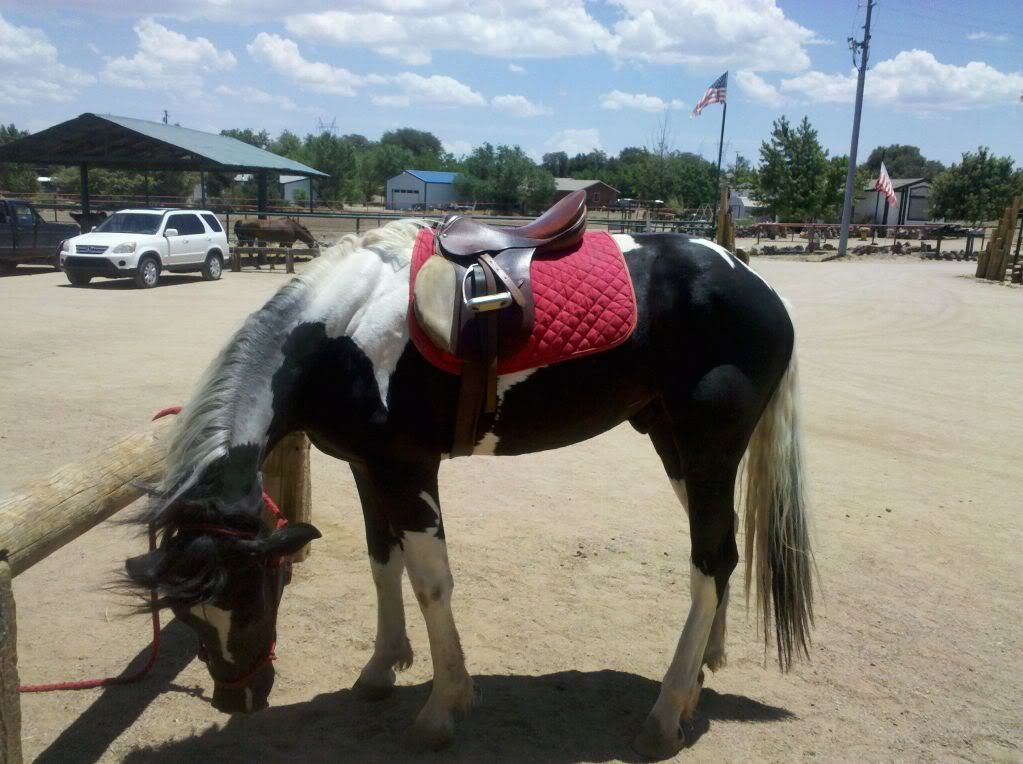 And just a pic of him standing so patiently while tied. He was being soooo good yesterday!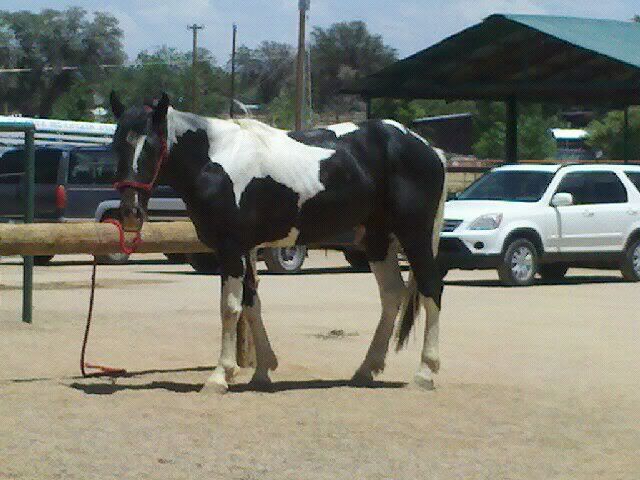 ---
Do not tell me I can't...because I will
show
you that I can.
Thanks! Fully fitted-out (older) Stubben Siegfried for $275.
---
Do not tell me I can't...because I will
show
you that I can.
Good for you!
Now, go slap some horsey nikes on him, bust out your western saddle, and come hot granite mountain with us!
Or, better yet, Cayuse!
---
I RIDE, THEREFORE I AM
COWBOY UP OR GO CRY IN THE TRUCK
Next week he's getting his feet done, so we'll be good for the trail. Let me know when you want to go! I'm buying a truck hopefully this week (if I can get my truck sold) that can pull a horse trailer and I think I know someone I can borrow a trailer from. I have Thursdays off, all but one Sunday a month (Sundays are difficult cuz I have obligations at church) and one Saturday a month off as well.
And I don't ride in a western saddle. I ride in an Australian stock saddle.
Posted via Mobile Device
Was wondering how oyur shoulder is nowadays? Was the surgery successful? Sounds like you are liking your new job & doing well w/it. This is my first AZ summer & it sure is HOT! My horses are doing fine w/it, but the hours between 1 & 5 are taking some getting used to-for sure. Hope you get some riding time in & get a chance to try your new saddle.
My shoulder...well, that's complicated. My insurance wouldn't pay for physical therapy, so I don't have full range of motion. And while it doesn't ache as bad as it did (yet...I'm dreading winter), I will get sharp pain is I overuse it or try to reach up toward the end of the day. I'm not sure which was worse: the constant ache with occasional sharp flair-ups or this out-of-nowhere, slap-across-the-face sharp pain. At least that bone chip isn't the culprit anymore. That thing friggin' HURT!

As for the heat, it gets above 80F and I start to melt. Lol
Posted via Mobile Device
Well, at least the bone chip is gone. I think your area is hotter than mine,so you must be a puddle by now. I'm close-haha. I can endure the 90's but the triple didgets really get to me. We might be getting monsoons next week-another new experience for me. Can you do any evening/night riding?
Evening, sometimes. My work schedule changes every day and half the time I'm not off until after 7pm. As far as night riding, our BO doesn't allow people at the barn after dark unless there's a moonlight ride (when there's a full moon) or if you have cleared it with him to pick up or drop off your horse. They live in an apartment in the barn, so any activity late disturbs them.

Monsoons are fun. They're my favorite time of year.
Posted via Mobile Device
Haven't updated in a while because I've been so busy with work.

Haven't seen the boy in forever. Am moving barns next month, just have to decide where we're going. I just can't afford to pay $300 a month to never see my horse.

Just had to vent something that happened just now. I texted one of my best friends to wish her a happy birthday and tell her that one of the horses from the Girl Scout horse camp was up for sale on Craigslist. She basically just told me to sell Aires and buy this mare. First of all, I don't like mares. Second of all, this mare is too short for me (I've ridden her before...trust me...she's too short). Thirdly, HOW DARE SHE?!

Sorry. This just REALLY made me mad. How dare she tell me to sell my horse, when for the three years I've known her, the first two, she hardly EVER rode her horse?! She'd show up once or twice a week (sometimes) to clean her stall and that was it. I worked her horse for her for half that time. She wouldn't let me ride him because he is difficult to handle, but I lunged him and blanketed him and groomed him and turned him out for her. Wow. I really feel like I've been stabbed in the back.
---
Do not tell me I can't...because I will
show
you that I can.