Why did she tell you to sell Aries and buy the mare? It just sounds really weird
.
Have you talked to her about how you feel yet? She might not realize that you feel stabbed in the back.
I agree that (especially after all the help you gave her) that was terribly rude and too bold.
She feels I should sell Aires because I haven't been out to see or work with him in a couple of months. She doesn't get that just because she is currently working part time and gets to do everything she wants to do pretty much whenever she wants to that others of us don't have that luxury.

I work usually from 8am until 5pm or 10am to 7pm. It's dark here by 5:30-6pm and the barn is almost half an hour away from my work (and from home). There are other days that I work 8am to 7pm or 8am to 6pm. I'm working 50+ hours per week. The only reason I see my boyfriend as often as I do is because we live together. When I get off early (5pm), I go home, cook dinner, watch maybe an hour or two of TV and then go to bed. When I get off late (7pm), we generally go out to eat and then go home and go to bed. The BO doesn't allow anyone at the barn after dark. I can't go before work on my late days (10am) because the BO doesn't feed until 8am, which means Aires isn't done eating until almost 9am, which leaves me less than a half an hour to tack him up, work him, untack him, and put him away...and then go to work (with the public...selling cars) smelling like a stable. On my days off (which are weird...I work eight days on, one day off, then three days on and two days off), I either have to help my boyfriend with his business, clean the house, or I'm so exhausted from work that I don't want to do anything at all.

All of this is why I'm moving barns. Firstly, I'm paying $300 a month and my horse is 13 miles from my house and 8 miles from my work. Secondly, I don't feel comfortable at the barn I'm at anymore (had a falling out with the BO last summer and things haven't been the same since). Third, I want Aires to be closer to me so that it dosen't seem like such a chore on my days off to drive out and work with him or see him.

I haven't said anything to her because she feels like she's in the right and said nothing wrong (according to a mutual friend who knows what's going on in my life right now and how stressed/busy I am). I don't want to sell Aires. That's a last resort. And I sure as he** don't want to buy a mare that is barely 14hh and you have to ride with a crop to make her move, even at a walk.
---
Do not tell me I can't...because I will
show
you that I can.
Ok. Updating cuz I have something to update finally. Lol.

Aires rode in a trailer for the first time in 3 years last week and was AMAZING! Hopped right in and out, no fighting. I borrowed a nice two-horse slant from a friend and she said I can borrow it whenever I want (as long as they aren't using it, which they rarely use it cuz they have a super nice LQ trailer they usually use now.

Aires loves the new barn and so do I. $185 a month, he gets fed three times a day (grass or alfalfa, my choice), he gets turned out every day for a couple of hours, and it's two miles from my house. I love the people who own it, too. They're super friendly.

I went out and played with the boy yesterday. Gonna have to invest in a lunge line cuz the round pen is ridiculously huge and he is being a teenager. He went right up on the concrete grooming rack (at the old barn, the concrete was going to eat him) and stood like a gentleman, even when Guido the potbelly pig bolted through his legs.
Posted via Mobile Device
Your boy is growing up! Glad you can see him more now.
New pic of the boy that I snapped while grooming him yesterday. Not great, but he was too busy making new friends. lol I have a couple of pics on my camera (that I snapped before it died), but don't have my camera cord handy to transfer them to my computer. Anyway, the halter he is wearing used to be HUGE on him (especially in the nose). Now it fits perfectly. *facepalm*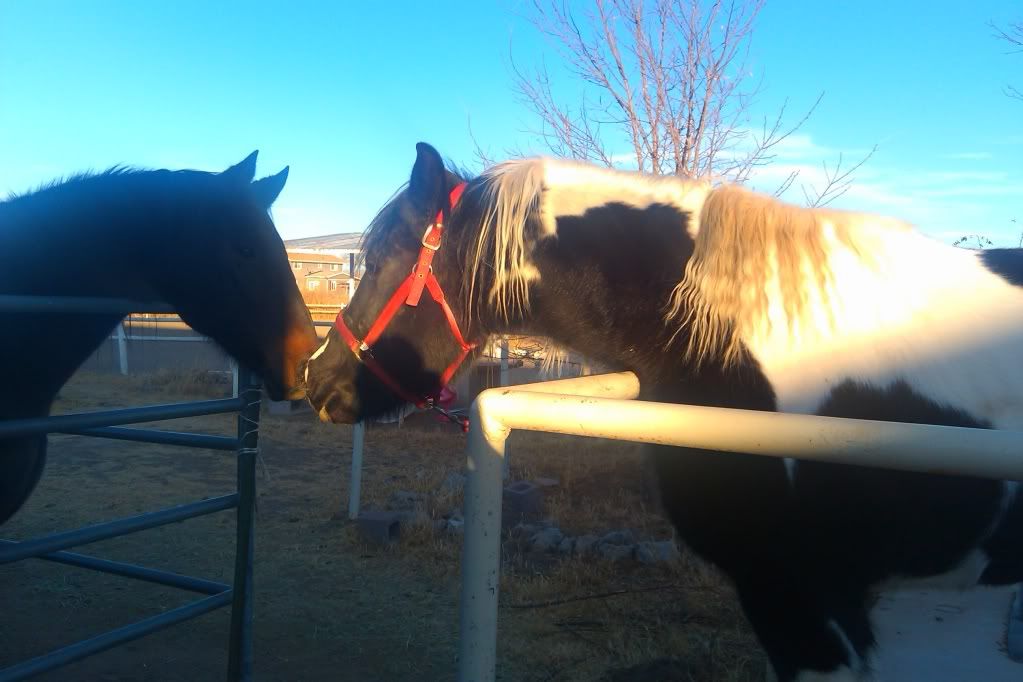 ---
Do not tell me I can't...because I will
show
you that I can.
Ok. I'm gonna vent this here cuz I don't want to offend anyone or start a flame war.

Why do people want their horse to be some breed that it clearly isn't?! Is a gray paint not as good a horse as a gray pinto mustang? Is a pony cross not as "speshul" as a curly? Is a draft cross not going to be as good a horse as a full draft? Why is it so hard to believe that just because your horse has a thick coat and wavy mane during the winter, it isn't a curly or curly cross?

Sorry, just been seeing quite a few posts asking if we think their horse is something different than what it is and then being argued with when we tell them it's not what they apparently hope it is.
Posted via Mobile Device
Everybody wants something unique, but w/millions of people ( & animals) alive at the moment,there are lots of similarities also. We have to be more accepting of ourselves & others-Life is unfair & Nobody is perfect are 2 major lessons of life we all need to learn.
I get what you're saying. I think my problem is more with the arguing when not told what they want to hear. "But I looked up a picture of a __________ and Whizzer looks just like one...except he's smaller and is a color they don't come in and..." Sorry. It's a silly thing, I know. I have the same issue with people and their dogs that do the same thing.
Posted via Mobile Device
A lot to say today.

I changed departments at work, so my work schedule changed again. But this time, it changed for the better! I work Monday through Friday, 8am to 5pm. So, I now have time to actually do stuff with Aires.

First thing I have to do is work on his mane. It's just a mass of knots and no amount of brushing has helped the dreds, so it's gonna get cut.

Then, we're gonna start working on the ground with flexing and giving to the bit. I really wish I could afford Clinton Anderson's DVDs cuz I love his methods. Gonna invest in a carrot stick and work on giving to pressure and such.

Lastly, we're going to start going on trail rides at least once a week and then going on a bigger ride with my best friend once a month. There's a local all-women trail riding group I could join, but my best friend was the youngest member at 36 (she couldn't afford her dues this year, so she quit the group...among other reasons) and she said it wasn't the most fun being so much younger than everyone else, and I'm younger than her.
Posted via Mobile Device
Went out to the barn yesterday. Bought a nice new western headstall from a fellow boarder, so met them out there and made sure it fits the monster. It will be perfect for our Little S hack, but looks like it's going to be a wee bit small if we use a bit. When we got there, the vet had just finished putting down one of the horses there. His name was Old Ronnie and he was in his 30s. According to the BO, he got sick last summer and then just couldn't keep any weight on. He also had something weird going on with his tendons that made it so he couldn't really bend his knees and made it look like his legs were bowed forward all the time. They put him down in the stand-alone stall right in front of Aires' stall. I was afraid he'd be upset by a dead horse ten feet from him, but he was calmly munching his dinner when we went to say hi. Love that boy! Absolutely nothing phases him.

I swear he's grown another inch. O.o

I'm toying with the idea of getting an inexpensive western saddle to show in this summer. I don't think we're going to be ready to show English (and by "we," I mean "me"), but I want to get him used to the atmosphere. Was thinking about showing halter (English), western pleasure walk/jog, green horse exhibition (if I'm allowed) and trail (would switch to my aussie saddle for trail).
Posted via Mobile Device