---
Do not tell me I can't...because I will
show
you that I can.
So have you ridden in your friend's stirrups?
I haven't yet. I need to ask her if I can borrow them.
---
Do not tell me I can't...because I will
show
you that I can.
Well hopefully they are the ones you're looking for!

By the way, I am super jealous of your trail riding adventures!
Forgot to mention the kind of O.o part of our ride...

We came across tracks. They were about the size of my palm (so 4-5" across) and were definitely made by some sort of cat. It was either a VERY small mountain lion or a decent-sized bobcat and they were probably made sometime during the night before our ride. Also, we saw deer up on the side of the hill above the trail. They were just chilling and eating up in the brush.

My friend and the trainer from the barn saw FRESH bear tracks (as in, they missed it by MINUTES) on their ride last week. My friend sent me a pic with her cell phone, but I haven't gotten around to uploading it yet.
---
Do not tell me I can't...because I will
show
you that I can.
Oh my!!!!!! I'm glad you guys missed that bear and that big ol' cat.

At least it didn't leave a strange scent.. I've heard they do that sometimes and the horses can tell and they freak out. Not sure how true it is, but phew.. close call.

Scariest encounter I've had was a black rat snake :P Thank goodness since mountain lions were popular in CO.
My friend's gelding and the trainer's gelding both FREAKED when they smelled the bear. They refused to cross the ravine on the trail (where the bear had crossed as well). It took them five minutes to get them through the ravine (they didn't know why they kept refusing 'cuz they didn't see the tracks until afterward).
I finally got around to uploading the pic of the bear tracks. My friend said they were bigger than her hand stretched out (so bigger than about 7" across).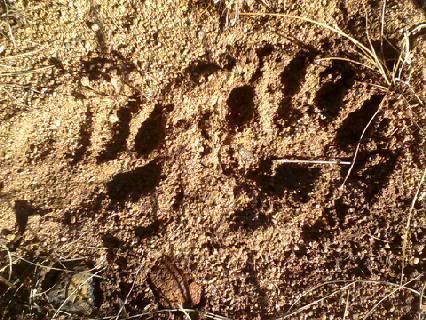 ---
Do not tell me I can't...because I will
show
you that I can.
Wow... that is intense! Hopefully he's moved on by now..!
I like those stirrups that you want~the ones I have are like the four bar, w/the cushion insole-that is really a must. Hope you find something you like~ is there anyone you can "hint" to for Christmas? Glad to hear he settled down & was good for the ride.I've seen bobcats in our area, & the horses didn't act up terribly much.
So, Aires is now officially the tallest of the "Three Amigos." The "Three Amigos" are Aires, my friend's arab gelding, CJ, and the trainer's arab gelding, Rex. Rex is 15.2hh and CJ is 15.3hh. CJ and Aires were turned out today while my friend and I cleaned our stalls and we glanced up to check on the horses and my friend goes "Where's CJ?" We started to walk over and then Aires stepped forward while grazing and we saw CJ behind him. They were on level ground! O.o
Lunged Aires in the round pen today. He did amazing, considering I haven't really done much except clean his stall since before Christmas (between work and the holidays, I have had zero time!). He listened soooooooo well. I groomed him afterward and he even let me pick up his feet with no fuss. Usually it's a veritable rodeo trying to pick his feet out with him trying to take his feet back and/or kick me. The only "issue" we had was when I picked up his first foot (his left front), he tried to lean on me, but I stepped out from underneath him and let him fall. He gave me this "Mom, you were supposed to catch me!" look that had everyone laughing.
I splurged today and bought a set of Stowaway deluxe pommel bags for our trail ride on Friday. I've been wanting a set of saddle bags and after discussing it with my friend and the trainer (who both have the Stowaway cantle bags...the trainer also has the deluxe pommel bags on her English endurance saddle), I decided to go ahead and get the Stowaways, even though they were more expensive. I wanted them in red, but the tack store only had them in black, navy or hunter, so I opted for black (they were cheaper at the tack store than online, too).
They look just like this, only black:
I'm also going to either have to make my own or have a new halter made for Aires, as his is almost too small...again. *facepalm*
---
Do not tell me I can't...because I will
show
you that I can.