Quote:
Well, what's not to like in that!
Nothing as long as it remains his new normal, it is great!
Today was Ben's first show, I took my big English dressage horse, to a western schooling show, and we had great fun. Ben made a lot of friends today, he was such a good boy.
We had a successful day, lots of seconds and thirds, YEAH, lots of classes with only 2 or 3 in them OOPS
Today was not about winning, it was all about going to a strange place, with strange horses and being asked to do odd things, and then hang about lots just being patient, and he aced all that. GOOD BOY BEN.
He did have a good run in the trail class and got a genuine 2nd, but for the rest seeing as we were trotting when others were cantering, we were never going to win very much. Our winning was staying in the right pace, making good shapes on patterns, and staying calm all day.
Also a winner he loaded well both times today, took about 2 mins in the morning, and maybe 5 mins loading to come home, not to bad at all.
Well done!!! Don't suppose there were pics???
Love love love!
Posted via Mobile Device
Quote:
Well done!!! Don't suppose there were pics???
There maybe, I'll share if any surface
Congratulations!!!!!!!! :)
---
"Strength is the ability to use a muscle without tension"

Thanks, still feeling proud of the boy today, love him.
I haven't updated for a while, I have a good reason, the weather has stayed horrible, and we were in the UK for a couple of weeks, meeting our brand new grandson. When we got back I have been using what time I had spare working with Emmy, so today I thought had best get Ben going again.
Caught him up, and gave him yet another good grooming, that is one thing that we have been doing, making enough hair to knit a Shetland pony or two
I put the training surcingle on him, and the long lines, lunged him on two reins on a dry bit of yard, then decided to take him for a walk up the road, first time I have ground driven him out of the yard. He left the yard OK, was a little tentative to set off up the road, but then got his courage together and off we went.
When I ride Ben in the indoor arena, he feels slow and sluggish, I feel like I always need to nag him to get him to walk out, following him up the road though WOOWEE, no slug there, I can barely walk fast enough to keep up with him, good exercise for sure. He was good though, would stand and be peaceful when asked, would turn and walk back toward home, then happily turn and walk away from home again, good boy Ben.
Then as usual a step to far, turned him around for the last time and drove him home, but instead of turning in I tried to drive him past, good idea for setting a habit of not always turning in, but Oh what a fight we had
We had rearing, spinning, he got away from me once, so had to follow him into the yard, catch him, then drive him out the road and start all over again. In the end he got it, and we walked up and down the road past the driveway, several times nice and quietly GOOD BOY BEN.
Took him in, brushed him off, fed him and cuddled him, he is to **** smart for his own good, and if you don't win every battle then and there, he will take advantage of you every time after that.
Next to actually ride him out!
Heading out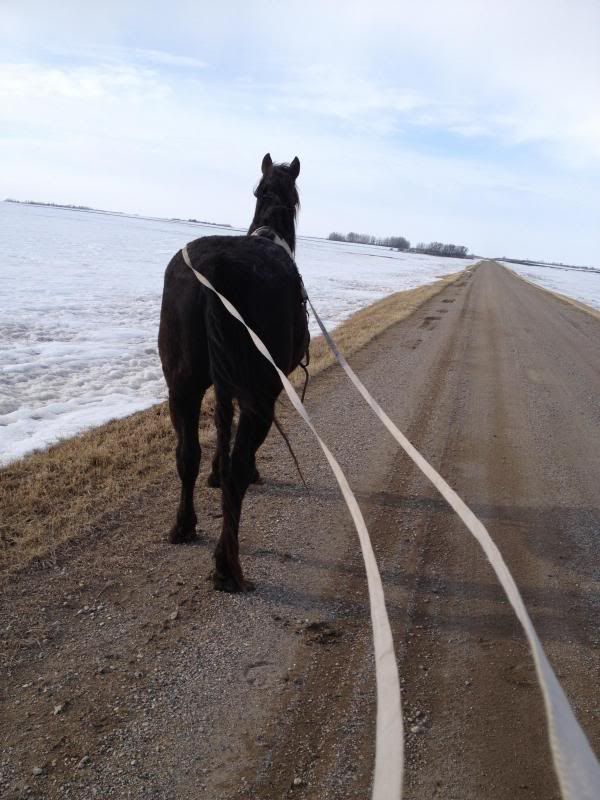 Looking around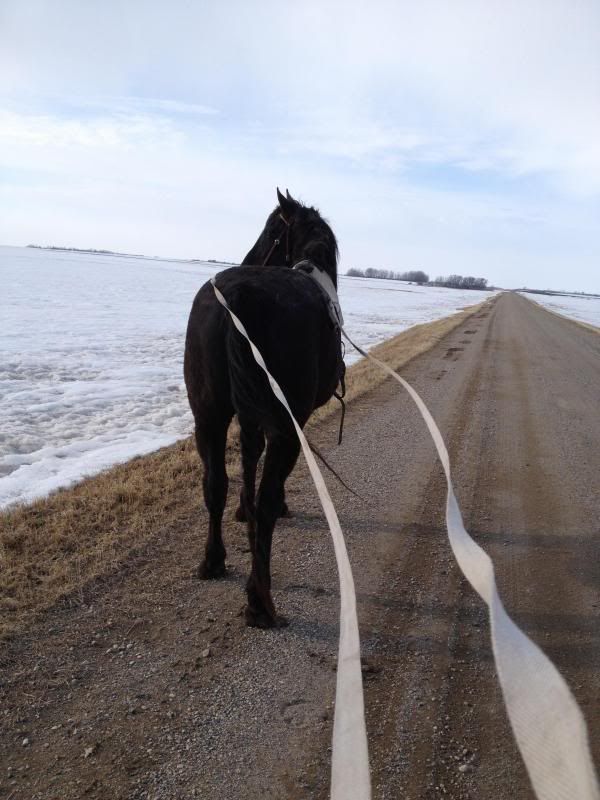 and just hanging out looking handsome.