A day in the life of an Equine Major
---
As some of you know i attend the University Of Findlay for Western Riding and Equine Business Management. Iv decided to post on here my notes i take during our school Demos, Lessons, Lectures, etc..Currently i am taking a judging class taught by Steven Brown (an NRHA and AQHA approved judge for over 20 years, and a very well known cutting/ ranch horse trainer) and i usually fill up a good 4 pages of notes every class.
We also have to take notes on Demos about hip movement, shoulder control, counter cantering, proper riding techniques, etc. Which is taught by Mark Smith, (Nationally known Paint horse trainer, trained the winningest Pinto horse ever "Zips Sacred Slipper") Cindy Morehead, (Has coached many people to national and world titles) and Clark Bradley (AQHA hall-of-fame, AQHA judge for over 30 years one of the most respected horsemen in the industry, 2001 professional horsemen of the year, has been the president of NRHA as well as AQHA).
I would love to share with all of you what im learning! Aswell as typing out my notes will help me "study" I will post pictures, videos, aswell as my notes. Which my notes will be posted on a separate website which i will offer the link to with each post considering how much room itll take up. I have also taken an equine science class which if anyone is interested in i could post those aswell. Hope you enjoy!
1-26-2011
We all had a demo today givin to us by Rick Weaver who is a NRHA futurity winner, has trained many top pleasure horses and was past president of NRHA. It was pretty interesting, he talked really fast and it was kinda hard to understand his "lingo". I took some notes and here they are =] Enjoy
Notes - Life of Tara
I like this!

Right now I'm in the college selection process. My criteria are: Must have riding associated with the school, and must have Animal Science/Equine Science/Equine Studies. Of course, Findlay is on my list. It'll be interesting to read what you learn. You're a freshman right? I remember reading that somewhere.
---
"The wise man thinks he knows nothing.
The fool thinks he knows everything."
Yes i am a freshman =] Im glad i could help!
1-27-11 Judging
---
In judging class we actually got to evaluate some horses =] One horse we looked at had one of the worst leg de-formalities you will literally ever see.
First id like to show you my showmanship horse Meco (Me-ko) i have to teach him showmanship by the end of the semester for a little girl. He is adorable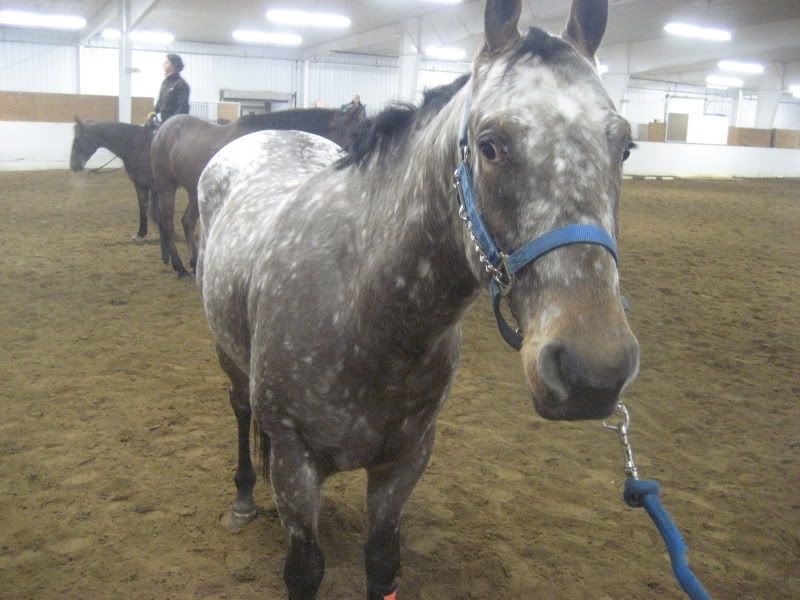 He is a champ =]
Anyways back to judging here are some of the horses we looked at.
Slim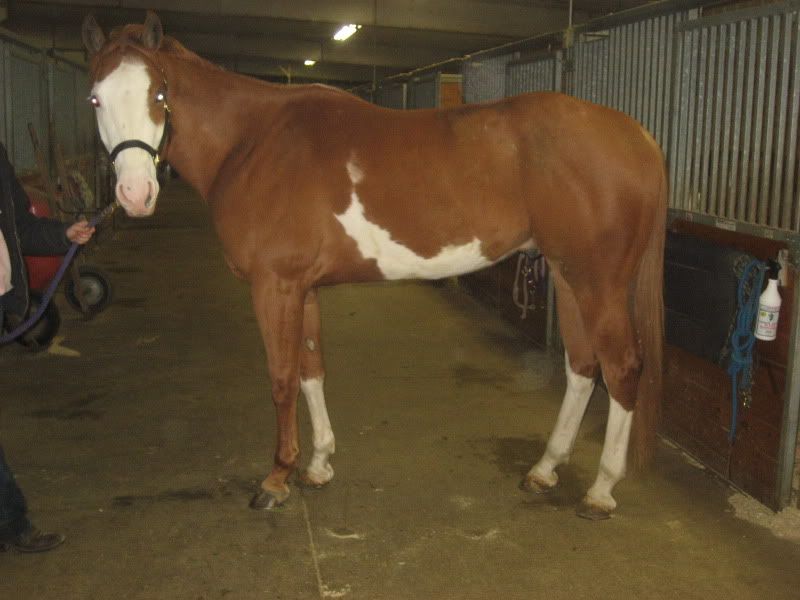 -Good Shoulder
-Little bit of an Ewe Neck
*Throws him a little off balance
-Longer Back
-Front Legs
*Splay footed
*Little Knock Kneed
-Hind End
*Sickle Hocked
Here is the horse with the major deviation i have a video of him walking away from me aswell.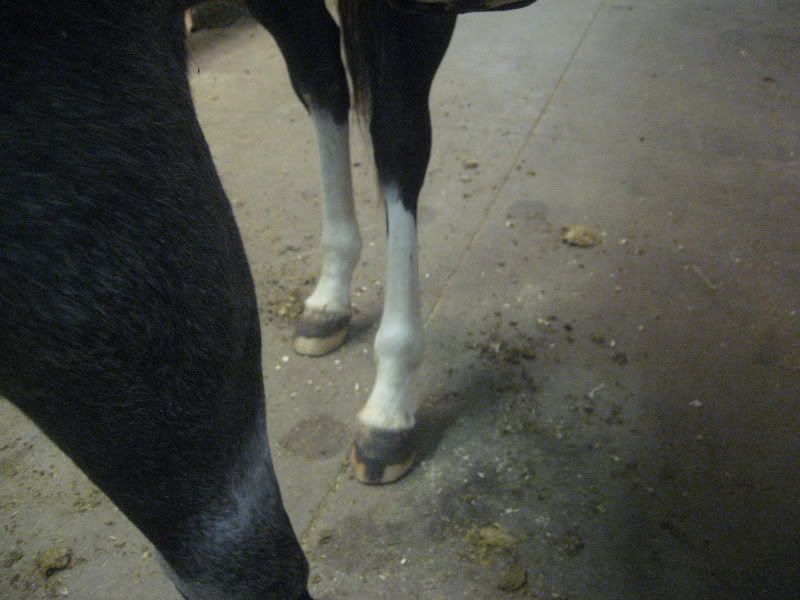 We believe he was born with this. My friend is riding him this semester and he has alot of trouble with balance. He trips alot and just the other day he took a tumble. Here is the video of him walking, notice how he moves on it and lands on his hoof aswell as the bulge of tendon along the side of his fetlock.
I just thought you would be interested to know that I visited Findlay today and absolutely LOVED it! I'm probably going to apply there...I see why you enjoy it so much.
---
"The wise man thinks he knows nothing.
The fool thinks he knows everything."
Great! I might have seen you walkin around the barns! I was there from 11am till about 5
I'd love to read more on your notes and school!
---
Horses are scared of two things... Things that move and things that don't.
Yes i know i have been getting behind! I have alot of big papers to do plus mid terms are coming up. This next post will be a big one thats for sure!
Quote:
Great! I might have seen you walkin around the barns! I was there from 11am till about 5
I was at the English barn around 12:00 I think. Wearing an ENORMOUS red coat cause it was so windy... On the way to Otterbein (I was visiting there too. Didn't like it as much.) we saw a car go skidding off the icy road.
Anyway, I'd still love to see your notes! They're so interesting.
---
"The wise man thinks he knows nothing.
The fool thinks he knows everything."
Oh im at the western barn so i wouldnt have seen you. But im glad you enjoy Findlay =D