Oi...its always something.

I turned Sour out this afternoon with one of her friends to play in the big paddock, and I guess she got a little to rambunctious and tripped or something. I was literally out of sight for fifteen minutes while I caught Kenzie to brush her down and check her ear, and when I came back Sour was limping around, looking sorry for herself. I went and caught her to see what the damage was, and it appears that she somehow messed up her fetlock. She's bearing weight on it and isn't three legged lame or anything, thankfully, but its a bit swollen and warm. I hosed it down and soaked it in epsom salt, and I'm debating whether I should try to call the vet out tonight or in the morning. I'm leaning towards tonight just to be safe, and I'm going to stall her for the night. Hopefully it isn't anything too serious...or costly :/
---
Everyone in your life is meant to
be in your journey, but not all of
them are meant to stay till the end.
Endiku try not to be so negative. Negativity attracts more bad happenings. Worry attracts accidents. Being as positive as you can is going to help you in the long run.

Sour will be okay. It will cost whatever it costs to help get her healthy again.

It'll be alright
---
"Strength is the ability to use a muscle without tension"

You caught me...I've been the queen of negativity lately. heh...

I guess I'm just sort of in one of those ruts right now. Nothing is working out like it should and I'm just plain exhausted xD you're right though. I ought to be glad for what good things are happening, and not always focus on the bad.

I called the vet but he won't come unless she isn't looking better tomrrow, so I hosed her leg again and have her half of a bute. I didn't want to wrap it or anything since I don't know what we're dealing with yet, so I just bedded her down in some deep straw.
---
Everyone in your life is meant to
be in your journey, but not all of
them are meant to stay till the end.
Haven't updated in a while but first things first....
Today was my last day of school!!!!
I still have a summer filled with scholarship applications, grant applications, ACT and SAT studying, and preparing to take a COMPASS (dual credit college entrance exam, must be taken yearly) test again.
Unfortunately I have terrible news in that I was correct about my Algebra II exam.... I got a 67% on it :/ I'm beyond dissapointed in myself, as it counted as 20% of our semester grade, but whats done is done. I am frustrated because I KNOW that with more time I could have finished the test, checked my answers, and done 2x better, but I can't change that now. At my school you must be referred to take any class above Algebra II (such as pre-algebra) and because my over all grade for the year was a low B (82) I was not referred, so I am not eligible for pre calculus. Even I was though, I dont think I would have taken it. I can't risk bringing my GPA even lower and dont feel like I could keep up. Therefore I'm considering the idea of taking Dual Credit College Algebra. How hard is college algebra? This is what my teacher recommended, and it would be nearly free, so I'm very much liking the idea as of right now. I would have to place into the class, but if I did that I would be able to start with pre cal or trig my first year of college....very optimal. I'm nervous about just how hard it might be though, to take a class in my wost subject, dual credit :/ what do you guys think?
OTHER than that nasty grade though, I finished all of my classes with all A's!
I even got a 98 in my compositions class, and special recognition. I'm so excited because I very much enjoy writing, dispite my problems, and I am glad that I was able to do so well in that class. My teacher was phenomial. She also recommended me to a few writing scholarships to look into!!!
More bad news though, a few days ago Sour tripped or something in her paddock when she was feeling a little too frisky, and was lame. I called the vet and thankfully its just a sprain, but she's on stall rest for two weeks and limited turn out for two more just to be safe, and no driving for 5 weeks so that she doesn't re-injure herself. She does NOT like being cooped up but is already improving and making a pain out of herself, dumping things in her stall and just in general being a butt xD thats my Sour! LOL
---
Everyone in your life is meant to
be in your journey, but not all of
them are meant to stay till the end.
---
Last edited by Endiku; 05-17-2013 at

06:03 PM

.
Just realized I had already updated about Sour hurting herself. lol, whoops...I guess I was so tired that I didnt notice xD
Today stunk. I ate something at lunch that decided it hated me and I ended up throwing up at the farm, probably from a mix of the lunch and heat exhaustion (it was 95 today and no breeze ._.), and I kept pushing myself because I was the only volunteer this week and we had 12 therapy rides booked, each 30 minutes long. No break. Very stupid on my part, and I felt aweful. I hate summer heat xD
I'm ok now though, just tired ;) and I still managed to be very cruel to Cowboy by deciding to play dress up with him to make the therapy kids laugh. What do you guys think? LOL. He wasn't pleased at all.
---
Everyone in your life is meant to
be in your journey, but not all of
them are meant to stay till the end.
Congrats on nearly all A's!

And Cowboy looks amazing in his get up :P

I hope you feel better soon!!
---
"Strength is the ability to use a muscle without tension"

horse gernal
---
endiku you have done an awesome job with kenzie and your little mare.
you have done them both proud and reading some of your strings thay are fantastic.
keep up all the good work your doing and theres no giveing up from your posts and how your bringing up your horses is awesome.
many thanks for shareing your gernal.
all the best michael.
grades.
---
theres no giveing in theres no giveing up.
well done on your awesome grades and you have grad as thats awesome.
well if you go to collage you will do well and dont knock your self back ok.
all so if your out in the heat take a break once in a while and drink some water.
i lol when i saw your reply about quincy and his clean air act.
good job you never spilt some soda on the key board well i did the same i had a mouth full of coca cola when i saw your reply.
i still cant stop laughing.
and you and your horses have a great day ok.
michael.
Thanks Michael! I'm glad to have my junior year over with. Now it time for a quick breath before I dive back into school for my last year of highschool! haha. I'll be taking a total of 12 hours worth of dual credit (302, and british lit English, as well as college algebra if I test high enough) work next year, as well as Physics and American History, but that's about it so hopefully I'll have a less stressful year. I took 8 1/2 credits last year plus Yearbook Committee, all in hopes of a better year this year. Heres to hoping! xD

I got my 'official' grades back for Chemistry and Algebra II finally... I didn't do so hot in Algebra that last quarter and I finished the year with an 84.9% (seriously? so close to 85...). Honors Chemistry I finished with an 86.5%. Not the best, but hey, I tried!

That was hilarious Michael xD thankfully most of our horses aren't too toxic, but our Arabian lesson mare takes pride in her ability to fart with nearly every canter stride that you force her to take, and grosses all of the little kids out. Sour isn't too bad, but she always lets one loose when I lift her tail to put the crupper under it so I know to stand to the side. LOL.

Quick update on Sour, she's totally sound again, no pain or puffiness. I let her back into the field last week and she's doing just fine. I'm hoping to start ground driving again, then put her back under cart in a week or two for some leisure driving.
---
Everyone in your life is meant to
be in your journey, but not all of
them are meant to stay till the end.
Since I haven't uploaded any photos of poor Sour in FOREVER, here are a few quick ones. I just did a little refresher ground work and lunging at a walk, clipped her bridle path again, pulled burrs out of her hair, then waited for the farrier to come out today, nothing strenuous since 1) she's coming off of a fairly long break and 2) The wheel on the easy entry cart popped, so I need to scrape up some money to get another one >.>
I think she's looking pretty good for having had so much time off those. Practically no muscle, but she's at a better weight than she was. I started adding a little of that ultra shine to her feed too and its working great.
Little buggar was trying to sneakily steal my lemon lime Gatorade. She LOVES yellow Gatorade, which is funny since her name is Sour...hehe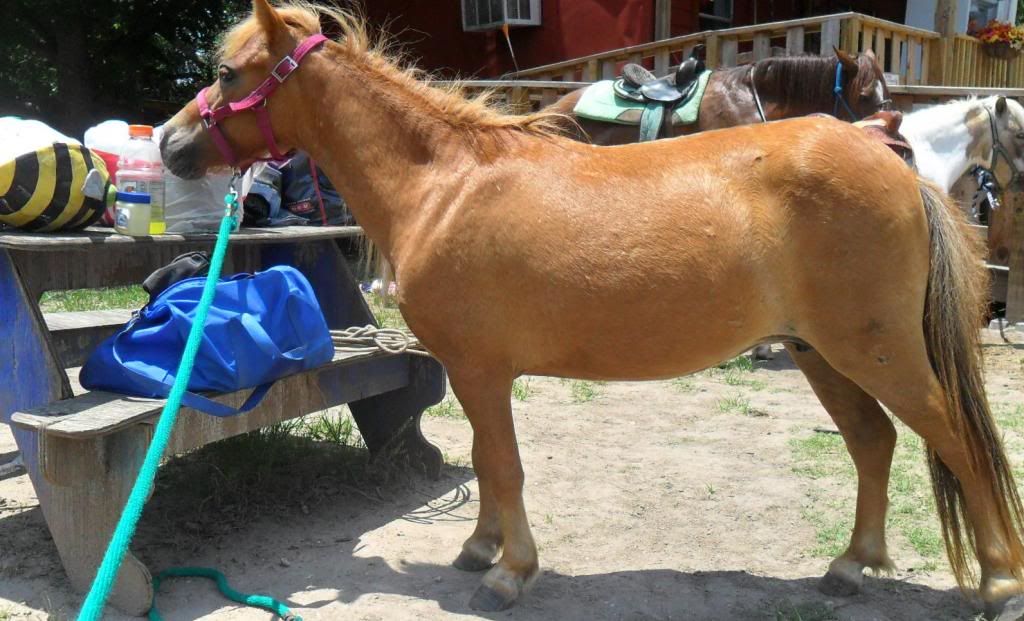 Now that she's five I think its pretty much safe to say that she is what she is, her conformation isn't going to change. Her back is so straight and her croup is so steep with a tiny hip, but I guess I can't complain too much xD she isn't exactly of stellar breeding and she's good enough to be my pleasure cart horse!
---
Everyone in your life is meant to
be in your journey, but not all of
them are meant to stay till the end.