We still didn't get a chance to go to the roundpens today. I lunged Leroy in the arena, he was very good in the stall not as jumpy. I brought a saddle pad out with us and sacked him out. He was totally fine with it, you can tell he has done this before. He wasnt jumpy at all, untill i threw the blanket on the ground, then it turned into a big scary monster
Once we were done working with that i took him back into the stall and attempted to take his temp. Soon as i touched his tail he clamped it down, i tried scratching his but to get him to lift his tail. That worked, untill i poked his butt with the thermometer then he was like
ohemgee. He jumped forward and started wishing his tail violently. His expression was "Did you seriously just try to sick that there?!?!".
I also tried picking up his feet, his front feet were fine but the back was a completely different story. He tried kicking me a few times and i stood up and kicked him back. He slammed into the wall making all kinds of noise. Art O'Brien came over to help me. He suggested i use a rope and loop it around his hind leg down to his pastern. Then stand by his shoulder and pull his foot up and hold it there untill he stops kicking at it. It took a few times each foot but eventually he stopped kicking at it. Im going to go back to the barn after classes and continue working on showmanship, picking up his feet, stall catching, and sacking out.
I helped Julie braid her vanner today, he looks so cute. She was currying him and he makes the funniest expression! I will post some pictures of him braided and enjoying being curried later. Tomorrow i have my stall watching test, wish me luck!
Roulette all braided =D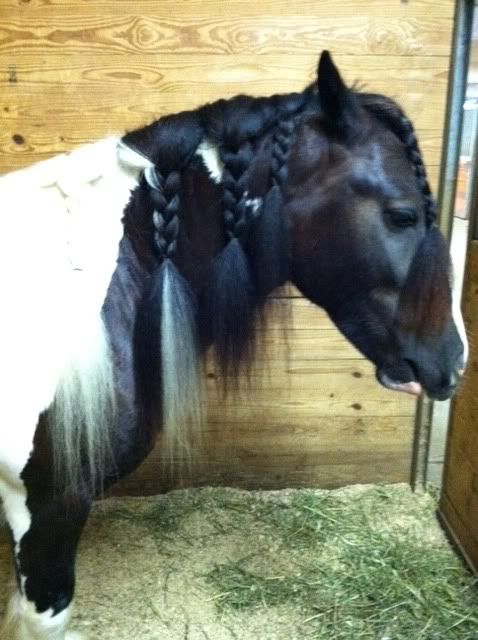 Him enjoying currying =3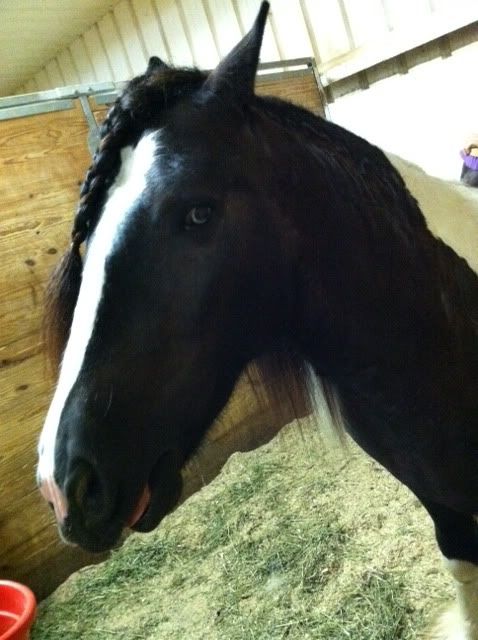 Today i still have not gone into the round pens, we are allowed to but it is very muddy. It was a little crazy at the barn, we had our stall catching tests along with many people lunging in the main arena. Leroy did good, around the end his attention span ran out so he started acting like a spaz. I need to work with him tonight on giving to pressure, he backs up alright its coming foward that is the problem. I lean on the end of my rope with a constant pressure after about 30 seconds he gives a step or two. But thats it, im going to ask Steve if i cant put a war bridle on him (lariat rope used as a halter) to get him giving to pressure more.
We have been working on setting feet and standing still. Today i finally got the thermometer in his butt! He gave me like look like
"YOUR SICK!". But he accepted it
I continued working on picking up his back feet with the rope, eventually i worked my way down the rope and grabbed the back of his leg, he did great! I took him to the wash rack just for kicks, i sprayed him off aswell, he stood there like a champ. He moved a few times and i dropped the hose, it landed on the handle at water sprayed all in my face. It was like a fountain, i was drenched
.
Tomorrow i plan on finally taking him out to the roundpens after work. I work this weekend (each person is required to work 3 weekends a semester) i start a 8am and dont end till 4:30pm, both days. My stall catching test went pretty well i thought, i was nervous and a little jumpy which in turn made him a little jumpy when i put the halter on. A horse got loose today, this girl put her wheelbarrow infront of the stall while she was cleaning (we are told not to). Well the horse plowed it over and sliced up its front right cannon bone pretty good. There was blood everywhere, she got an ear full from the barn managers. Next week we introduce saddles
that will be interesting.
I'm so jealous! This sounds so fun!
Posted via Mobile Device
Just curious as to what you're studying? It seems like so much fun and I'm really interested in pursuing a horsey career. :)
Posted via Mobile Device
I am getting my bachelors degree in Western Riding/Training and Equine Business Management. =D
That sounds so cool haha, I'm gonna start searching programs around me.
Posted via Mobile Device
Quote:
That sounds so cool haha, I'm gonna start searching programs around me.
Posted via Mobile Device
I agree-I would love to do something like that. Subscribing.
SAME DAY
I went back to the barn tonight to work with Leroy some more. I try to work him twice every day. I asked Clark if i could put a war bridle on him and he said no not yet. He told me to look for little rewards, when leaning on the rope even if he takes one step i release because he did what i asked, he gave to the pressure and came forward. I worked alot on showmanship tonight, him keeping up with me. He did really good, by the end of our "session" he was trotting with me and stopping with me. He also set up automatically twice!
There is a thread on here that i was reading last night called "Cowboy has Coosa Lad in him!" In that thread there is a extremely roach backed horse. Until last night i had no idea what that meant, so i did a little research. The girl who is stalled next to me (Heather) was also working with her filly tonight. Her filly was supposed to be a pleasure colt for a senior last year but she went lame in her knees. So now Heather has to break her out. I was in the stall chatting when i looked at her fillys back (Abby). She seemed to have a slight roach back....atleast from what i learned last night. I explained to Heather what that was and she agreed that it kinda looked like it.
I go up to Steve and say "I have a confirmation question for you", his eyes light up. I ask "Is Abby roach backed?" his expression goes from
to
. He says "Roach backed? Where did you hear that? Not from me...". I reply with "I spend alot of time on Horsefourm.com I learn alot about horses on there". His face lights up again and says "Well what does Roach backed mean to you?" I explained what i learned and he agreed. He told me that he was very impressed. He is going to look at her an let me know if i am right. Maybe i was just looking too hard, maybe i am right who knows. I look forward to what he has to say!
So thanks to the wonderful members of Horseforum I impressed the head of the program! It really is amazing what you can learn just lurking around reading threads. Tomorrow i have work, and taking Leroy into the great outdoors! I emailed his owner for the first time today and told her all the stuff we were doing. He has a weird growth on the bottom of his year that resembles a little horn (but i know its not), when i touch that ear it seems to cause him discomfort. Next week we will be drugging him to float him, the barn managers are going to take a look at it and see what they are going to do. I will try to remember to take a picture of it tomorrow.
---
Last edited by farmpony84; 09-06-2011 at

03:00 PM

.