Forgive me for this being such a short post but im extremely tired and i have no muse for writing at the moment. I got half way on Leroy today, hopefully tomorrow i will get on fully. He did amazing, didnt even blink when i stood up. Im going home for the weekend tomorrow, i really dont want to considering I just started him under saddle. I need my truck looked at by a very knowledgeable ex boyfriend back home, its free so why not. Hopefully tomorrow there will be a longer post for you guys.
Sounds like you are doing great Delete! His foot/ear growth is rather interesting, never seen such a thing...they plan on putting him on the farrier schedule for that? Might look cute with a little bar shoe
---
Life is like a camera. Focus on what's important, Capture the good times, Develop from the negatives and if things don't work out, Take another shot.
Today Leroy was being rather bratty. He was un interested in anything we were doing and he was more worried about the other horses. Bad day i guess. But i did manage to get on him today! With just a rope halter and a lead rope. All we did was turn in tight circles, but atleast it was something
His owners came out for a surprise visit today! It was good to see them, i told them about his progress. They told me that his biggest problem was that he was spooky. I explained to them i dont really see him as spooky i see him as unsure and feely.
He isnt scared to anything really, plastic bags, moving vehicles, trailers, etc. He is more scared of me then anything, hes especially scared of other people. Raina (owner) was telling me about how she couldnt catch him in the stall to put him on the trailer. The guy that cleans his stall and puts him on the walker daily had to catch him.She suggested that i have alot of different people handle him/ride him to help build up his confidence. He really just needs exposure. She also said she could tell he was calming down because even when you would go up to his stall he would freak. Now he just looks at you like "whoooo are youuuu"
, but no freaking.
I am going home this weekend. I have a friend of mine lunging him for me. Im not too sure how she will do with him because she is the timid type and Leroy needs someone confident. But i think she will do fine, atleast i hope so.
Can I ask you what school you're in? I'm looking forward to keep hearing abour Leroy's and your progress!
---
"He doth nothing but talk of his horses."
~William Shakespeare
University of Findlay
Posted via Mobile Device
Thanks. It's very cool that they have a equine program like that!
---
"He doth nothing but talk of his horses."
~William Shakespeare
I just came back from a 4 day weekend at home. I spent mostly all weekend with an ex boyfriend trying to fix my truck. It had a weird vibration coming up from the floor when ever i pressed on the accelerator. Turned out to be idler was going bad, luckily Mike (the ex) and my dad fixed it. Pappajoe (my dad) also worked on the brakes and fixed the squeaking
Since we recently sold the trailer my mom and I were discussing getting a new truck for my dad. So on saturday before the lady came to get the trailer we took him down to the local truck dealer. He has been inlove with this late 99 F350 dually powerstroke with 73k miles on it ever since i bought my truck in May. I had Mike test drive it the day before and look it over, he said other then the rust it was a nice truck.
Once we got to the dealer Pappajoe just about started to cry he was so happy. Mom and I told him that he deserves a new truck and this is our way of thanking him for everything he has done for us. He took it for a test drive an the whole time he kept saying "this is so cool" with a big smile on his face. But unfortunately he decided against getting it to save money and pay off credit cards. He was still very appreciative of the thought. It really sucked selling the trailer and watching it drive away. It was the piece of "horse" left on our property. Our pasture is gone, stalls are gone, and now the trailer is gone. It was just like reality punched me in the face that it was going to be a very long time before i own a horse ever again. Iv had horses since i was 10, for the most part the same horses.
But my mom being diagnosed with terminal cancer kinda put a damper on things. Speaking of my mom she just finished her second round of radiation treatment. Only this time they used a special type of radiation where they use 2 lasers to pin point the radiation in one area. Kind of like how they create images in a glass cube. The doctors told her it might be a cure but they wont know anything till 3 months from now when the spot where her tumor is has cooled down. They had to take 24 lymphnodes out of her arm, which has caused major swelling around that area. But with message therapy her swelling has gone down dramatically. She seems to be doing much better she has alot more engery, doesnt sleep near as much as she used to. Hopefully when it comes time to check for cancer itll all be gone.
I rode Leroy today! He was very fresh at first, since it was pretty cold out today. He was a champ. All i had was a lead rope and a rope halter on him, i was working on keeping him going forward in circles around the pen. Julie was in the round pen next to me, which is by the farrier shed. The farrier showed up and started moving stuff around which spooked her colt. The vanner started crow hopping with his head down, Julie couldnt pull his head back up. The vanner went one way and Julie went the other. First sophmore to fall off! She was covered in mud, it wasnt a bad fall by any means it just stinks that she fell. During the whole thing Mary Sheffler was telling me to stop Leroy so he doesnt freak out. But Leroy didnt do anything at all, he wasnt even paying attention. Marry said she was impressed by him, she told me tomorrow to ride him in a side pull.
Leroy is usually really good about staying calm when other horses are freaking out. I have had TBs freaking out backing up into him and Leroy just stands there with a
expression on his face. Today was the first day he actually spooked at something other than me or other people. I was in the big arena working on showmanship and a horse walking around the outside of it started freaking out. The sound of the horses metal shoes against the concrete scared him and he jumped sideways. For being just a nervous nelly one would assume he would spook more then that. But really he is just flighty around other people, if you wave your arms he will try to get away from you like your some big scary monster. Which is a good thing, i want him to respect the fact that i am boss and when i move towards you, you move away.
He has been having alot of trouble with trotting next to me. He can do a 360 pivot pretty dang good. He sets up, he backs up, but when it comes to trotting next to me he is like
um no. So tonight im going to start working him with a chain under his chin. I need to start doing that anyways. He needs a b-a-t-h, another thing that is going to be done tonight. Tomorrow are the riding team try outs! They no longer have a JV team just a varsity. I really really hope i make it! We have to jump on a horse, be lead into the arena, walk, trot, canter, one way. Then get off, get on a different horse, walk, trot, canter, the other way. I am super nervous, i will be one of the few people there without show clothes. Oh the joys of being poor.... Wish me luck!
We have been working showmanship for the past two days
Its been raining non stop, all the roundpens are flooded. We still saddle and lunge in the main arena and little arena. Leroy is becoming a pro. He trots with me, stops with me, pivots, sets up, backs. We have a showmanship test in 2 weeks, im expecting he will do well. We had a test today on how well our horses pick up their feet and temp. Leroy picked 3 feet up no problem. His right front he was like.....uh no thanks. But my teacher passed me anyways.
Today i was working with lunging him close to a wall. I was asking him to walk though a narrow space between me and the wall. We were only doing half circles. I would cue him to stop, face me, and continue the other direction. At first he was a little spazzy, but i anticipated that. He calmed down after 2 or 4 times. He is a very quick learner, an over achiever almost. After my hour was over i went back and braided his main in several little braids. His main doesnt lay correctly, its a little all over the place.
I tried out for the team last night! Its the first time i have ridden horsemanship since freshman year. Needless to say i only rode for about 5 minutes and i pulled a muscle in both my thighs.
Im very rusty, my toes were sticking out waving to everyone. I was kinda all over the place. I really hope i make it though. I had alot of fun helping everyone and watching.
I neeeeeed to vent about my psych class. Its a very big class about 37 people, mostly girls. Only about 3 guys. Now the girls in Findlay are very boy-crazy considering our ratio is 7-1. There is this freshman boy in our class, very very attractive, outgoing, and funny. I sit in the back he usually sits next to me while all the girls sit in the front. Me an him are friends an its like an un-spoken thing that we sit next to eachother in that class. WELL! All the girls in the front like to turn around, point, giggle, and stare. One day i show up and about half the class has moved to the back. Taking my seat and his seat. BUT leaving just enough room for him.
I was peeved.
Maybe they didnt do that just because they wanted to sit next to him. I dont know, but it sure seems like it. Me and this kid are just friends, he is not my cup of tea, but like i said he is extremely attractive. I sat in the very back row (they left that empty) while he sat by himself in the front
The next time we had class he sat in the back row with me. All the girls turned around in their seat trying everything they could think of to start a conversation. Asking to borrow a pen, asking what page we were on, asking where he got his shirt, blahblahblahblah. Every chance they get they turn around to talk to him.
I am not a girl's girl. I cannot stand the majority of the female population. Im more of a tom-boy. I have alot of trouble trying to relate or hold a conversation with the average non-horsey girl. I usually just ignore them. Now i just wanna throw my laptop at their heads and tell them to shut up. They act like love sick 13 year olds. Grow up! Your in college! Stop chasing after every attractive boy you see. I didnt even look at him the first day, talk to him, giggle at him, nothing. An from that day forward he has sat with me, and tried to make conversation with ME. These girls act like im not even there...even tho i am sitting right next to him. When i talk in class, they do not turn around to look at me. I do not exist to them, which is fine. Ugh, end rant.
Today has been a absolutely fantastic day. It was pancake day! Steve made our whole class pancakes! It was awesome
We got a new barn manager today, our old instructor Jake Bowman, he graduated from the western program in 07. He is now the manager of the english an western barn. Which is really great cause the english barn needs some major help. It was sad seeing the old barn manager leave, he was a great guy.
The last of the team try outs are tonight. I really love helping out with everything. I love the show atmosphere, not really the act of showing just being there. Cindy came up to me today and started asking me what kind of show clothes i am planning on getting
i think that means i made it! But i wont know for sure till Monday. I told her that i cannot afford a super fancy 1,500 shirt. But i can get custom chaps, hat, and button up. I think i look better in a button up anyways. I signed up to work for a trainer at congress today! Each year the university has a number of trainers calling looking for help. They hand pick what student they think would work best. The trainer is required to pay for the hotel, parking pass, food, and fuel. I am so excited! I hope i get to work for someone! If not i would be happy setting up and taking down the trail course. You get a VIP parking pass AND a congress official (staff) jacket plus the pay is really good
Last night i worked on showmanship with Art O'Brien. He said i was doing very well with him. We talked about confirmation and movement. I told him i didnt like how he neck ties in, only because i am a fan of the neck tying in a bit higher on the withers. Because when he raises his neck he has a slight Ewe neck. His lower kind of neck set i personally feel are more prone to dropping below the desired level. I like a slightly higher head set, i feel it looks much more natural.
Today we worked on showmanship inside again. The roundpens are still flooded. Leroy seemed to be having kind of a bad day. He was really distracted and heavy, not near as light as he was yesterday. It was getting a bit annoying. I know he knows better but he was too worried with looking around. His attention span is usually about 10 minutes, today it was 3 seconds.
He seems to be a very good minded horse, he has alot of try. Doesnt have a mean bone in his body. He still is a little flighty around groups of people but other then that he is a champ.
I was able to get on half way in the big arena with horses being lunged all around, which i was excited about. We have ran into a problem with him walking or trotting next to me. He like to drift away from me, so i have been trotting circles with in to the inside. The theory is that eventually he will start to lean into me and learn to stay with me. We will see how well it works. Here are some pictures i took today of him
Leroy with his rope halter and bridle on. Sorry for the blurryness he cannot keep his head still to save his life.
Me catching him chewing on the lead rope. Which is he NOT allowed to do and he knows it. I said "Hey! What do you think your doing?!" an this is the expression i got.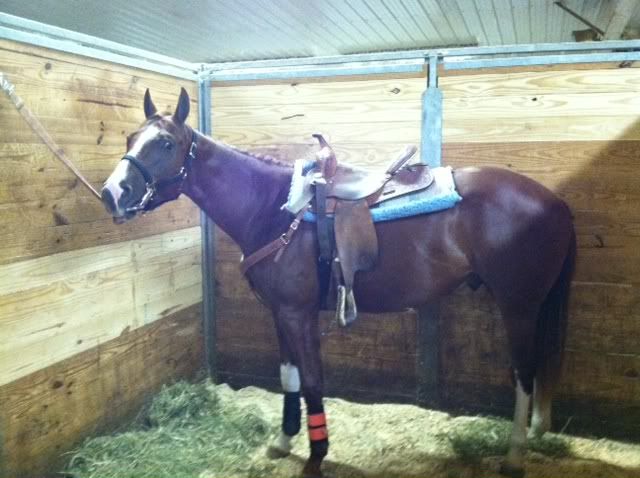 ---
Last edited by .Delete.; 09-09-2011 at

12:50 PM

.