Leroy was on fire again today. Im working with Art again tonight trying to gain some control at the lope. He steers alright he just flys around like a crazy animal. He and Cindy think he charges around like that because he is scared. Which is odd because i have been riding him for a month in a half. He only does it at the lope...well gallop
. It was so bad today Cindy kicked me out of the big arena. Hopefully itll get better tonight
Last night was very frustrating for me. Art was helping me for a good hour or two. He explained to me that Leroy is thinking left when i am going right and right when i am going left. Once reason who he "charges" on a straight away. I told me i need to think ahead of him and redirect him before he starts pulling out of the circle. We worked alot on control, redirecting, and getting his mind where it needs to be. I was getting pretty frustrated because i felt like Leroys problems were being caused by me.
Today Leroy was alot better. I actually had to move him forward because he kept breaking. But in my mind i should get him right back into the lope once he breaks to teach him to keep going. BUT Art had other ideas, he wanted me to gain control of him once he breaks. Trot around and calm him down, re-collect, and lope of once again. Which in the end, it made sense. Hes not being a bad horse by breaking he just doesnt understand. We have been struggling with our left lead quite alot. But he'll get it eventually. We have a riding test tuesday on straight lines and leads.
Im going to the drag strip with Cody and his family this weekend. His family is really big into drag racing. We are dating now
, i really like him. He is nothing what i expected. All my friends love him, he super supportive, hes hilarious, an his family is great. Im only the 3rd girl he has ever brought home, an the first girl in over 3 years. He told me he wanted to bring home a girl to impress his parents, thats meeeee. =DD I feel pretty dang special. Thats about it for now, more monday.
Energy
---
Last edited by .Delete.; 09-30-2011 at

12:11 PM

.
Once I saw you were doing an equine major, I just HAD to look up Findlay on the Internet. That sounds like an absolute dream come true as a major/career! But I think I'll just have to settle for horses on the side as I go about becoming a journalist/doing musical theater.
Ever have those days when you know you should quite while your ahead but you dont cause well...your just so far ahead, then everything goes to **** because you pushed your horse a little too far? Ya that was today.

There was a stock horse show (cow work) at the barn today. So i had to ride down in the cutting arena. I was riding with Nora (my bff, roommate, an senior) and Kelsey (another senior who i love). Leroy was being excellent, picked up both his leads everytime i asked. He was consistent, giving his chin, and moving his shoulders lovely. Than Nora and Kelsey left.... I really should have stopped riding cause he really was being so very good. Once they left his attention span was out the window. He was chargy, he leaned on my hands like crazy, he was having troubles with his left lead again, he started rearing when i asked for the back, all the while i was getting more and more frustrated.

I really should know better than to ride when your mad. But i was determined, but my anger was clearly being shown through my hands. I was jerky, hard, and fast with them. Once i took a breath after i let him walk for a while i realized i needed to get off and fix what i broke tomorrow. This was the first time in a long time i have gotten really mad while riding. I regret not getting off when he was being good. I should have been more understanding of the fact that he is just a baby. Instead i just got angry. Now im just upset with myself. I know for a fact if i was watching myself ride during that time i would have felt sorry for Leroy. Ugh......
We all have those rides.
Posted via Mobile Device
Big discovery, Leroys eyes are uneven. His right eye is lower than his left. He cannot see as well because of that, which explains his nervousness. He did very well today.
Posted via Mobile Device
We rode out in the big arena today. He did very good, i was proud of him. Cindy said that he looked much much better than the last time we rode in the big arena. Mary gave us a demo on turn arounds.

I was talking with one of the barn managers today (Linda). An she thinks his un-even eyes dont effect his sight because once he gets scared he calms right back down. She thinks his problem is confidence. But im not so sure, we are going to hobble him in the arena next week.

Also his "horn" is getting bigger, i am going to look into getting it removed.
Had our riding midterm today. It was trot straight lines and pick up both leads. So easy right? I messed it all up. I didnt plan ahead, i was too close to the wall and leroy stumbled. My plan was that when i first ask him to lope of he usually picks up the correct leads so i didnt work on loping before the test. Bad plan! He was very chargy with the left lead and when we broke down he was really anxious and kept trying to lope off again. They said my set up was bad, which it was. My back up was heavy, and so was my stop.
Oh a lighter note, Leroy got his horn removed!
Before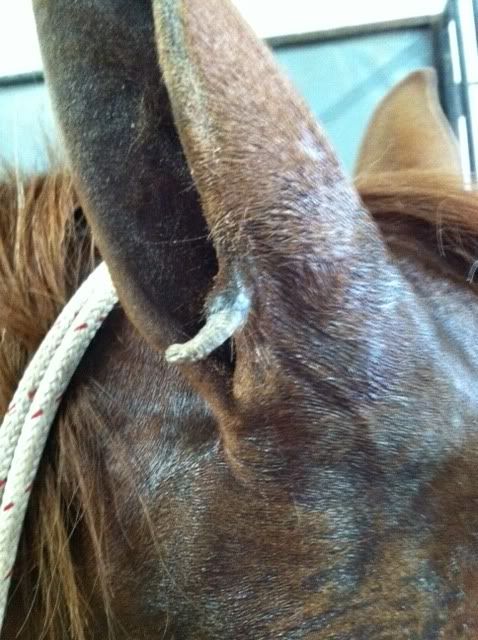 After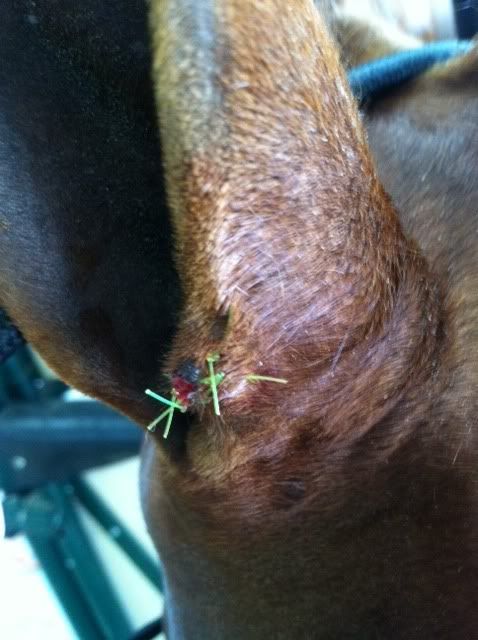 Love reading your blog - do they think the horn will grow back - or figure out what it was? I've never seen anything like it...
---
There is no passion to be found playing small - in settling for a life that is less than the one you are capable of living. - Nelson Mandela