Kaja got her teeth floated today! The dentist has this neat modified trailer that is basically a mobile equine dentist office with stocks inside and an area for equipment. She wasn't too keen on getting into it, but she did much better than a couple of adult show horses who are trailered frequently. Good little Fjord.

However, I'm guessing the dentist thought she was bigger than she is because she currently looks to be a decent weight with her fluff. She's not. Half a cc and she was done. I would have pictures, but instead of standing up against the front of the stocks so we could prop up her head she insisted on smashing herself up against the back, leaving me to stand inside the stocks with her and hold her head up the entire time. awesome.

But from what the dentist said, every Fjord he's ever worked on has had fabulous teeth. eep! She also didn't have any wolf teeth to pull. Yippee! He also figured she was born around February or March because her 3 year old lines are starting.

She is also starting understand moving around me in a lunging fashion. We only did it at a walk today to work more on the "Do not stop when perpendicular to the door" aspect. She did very well by the end, so I cut our lesson short before it got boring.

Oh! And while she was still pretty out, I banded her mane up and cut it a bit more. She's starting to look like a real Fjord.
Can I ask? Why have a three year olds teeth floated? Was there an issue? On a side note, I WANT A FJORD! I had an oppertunity to buy a stocky mare and foal. But missed them selling by 30 seconds!
---
Last edited by Phly; 12-05-2012 at

12:59 AM

.
She hasn't been touched for the most part and from what I've gathered has spent her entire life on crappy pasture. I figured it couldn't hurt to have them filed down to help her gain weight. And I didn't check her mouth for wolf teeth that would interfere with a bit, which luckily she did not have. I plan on sticking a snaffle in her mouth soon just to get her used to the feeling of it.

I was talking to the denist while my other mare's teeth were being done and they basically recommended that with her age and the probability of her being bitted in the near future to have her at least checked out and most likely floated. So now it's something I don't really have to worry about for a while.
Better safe then sorry. Totally gotcha. Thanks
Posted via Mobile Device
The only picture I have of her first dental experience: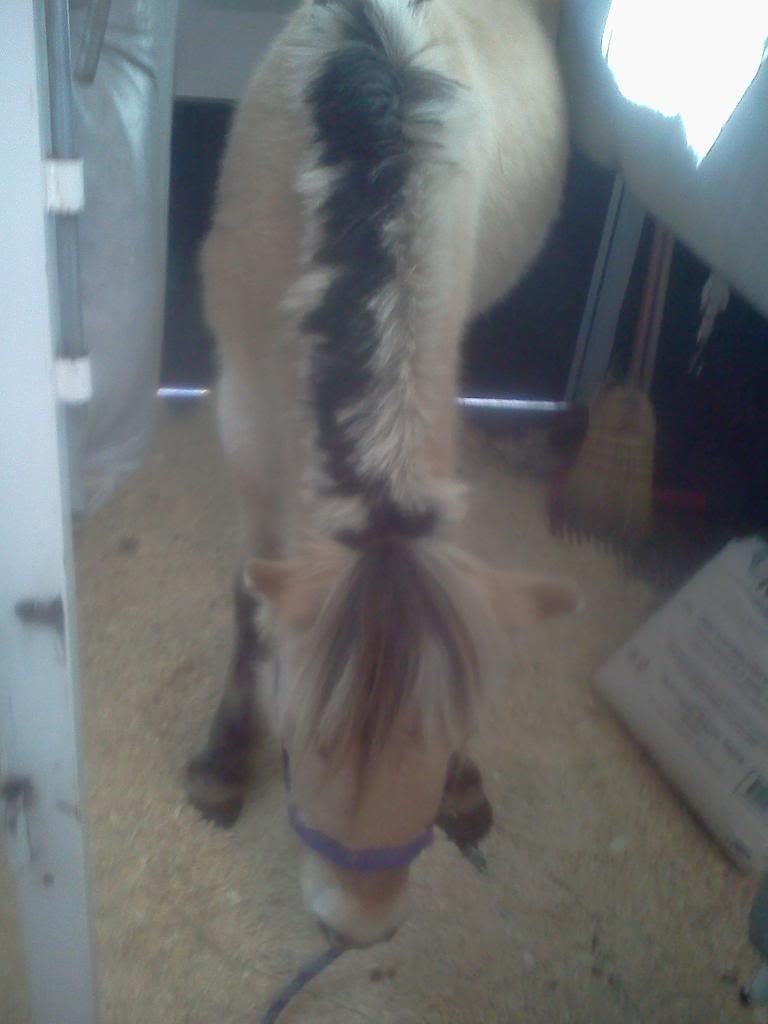 She was completely out of it and took her a while to remember she had 4 legs.
And while she was still pretty sleepy, her mane was all banded.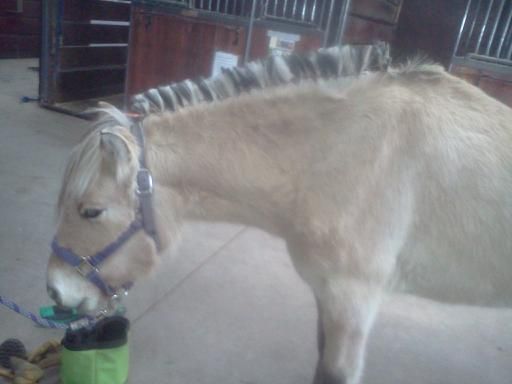 Ah! I have not updated in days.
The other day we worked more on how to lunge. Huge fight because she insisted that we go and stand by every door in the arena (including the outside doors, which I didn't even think about her having a problem with because Abby is only ever concerned with the door that goes into the barn). Anyway, she was reprimanded for it and by the end of it, we had gotten better.
On the 7th, we worked on it again and guess who got the message about the door when we're working? woo! Except she has this problem with going clockwise. Counter clockwise is fabulous, no problem. Clockwise, she'll get almost all the way around and stop in one spot. Does not matter what part of the arena we're in, she'll stop in that spot. I'm not 100% sure if it's my body language or what, but eventually we pushed through it and made a few complete circles.
She also has a wonderful stop, both with just a vocal cue and me dropping my shoulder that holds the line and crossing that hand across my body.
However, during that, I went to walk up and pat her as a reward for being a good girl and was rubbing her. She does not like her butt touched without warning and jumps forward. Not okay, but we've been working on it. So I tied her to one of the wall studs in the arena (a 4x4) and started rubbing her all over. When I got to her butt, she jumped forward, was clotheslined, and when she went to turn back, WHACK ..her little nose on the next post. It didn't take very long for her to stand quietly while I touched her all over.
She also did get a bit in her mouth for the first time the other day. She wasn't impressed to say the least. I need to grab someone to hold her mouth open long enough for me to take pictures because it looked weird on her. The bit didn't appear to sit on the gums at all, but on her lips that get very wide by the corners of her mouth..
Either way, here is crabby pants.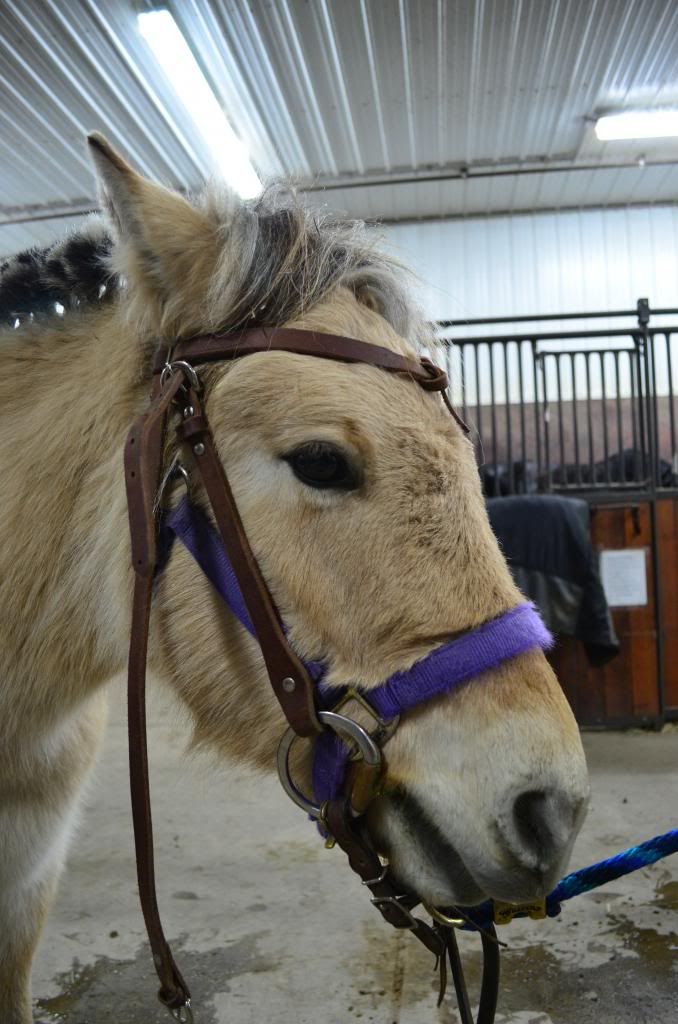 Squee! Po, she is so cute! I just love her. I can't wait for you to get more pictures of her with your fancy camera, lol.
And just as an aside, it'll be easier to keep her mane upright if you can cut it shorter. In general, the Fjord mane is very thick and doesn't need to be that long before it gets kinda floppy. Add that her neck muscles have grown used to it flopping, they won't hold it up straight for quite awhile. 8 years of routinely clipping a couple Fjord manes learns you a thing or two, haha.
Quote:
Can I ask? Why have a three year olds teeth floated? Was there an issue? On a side note, I WANT A FJORD! I had an oppertunity to buy a stocky mare and foal. But missed them selling by 30 seconds!
Just want to add to Po's answer, it is ALWAYS a good idea to get a youngin's teeth checked, and will most likely need to be floated, routinely. Just because they're baby teeth doesn't mean they don't create sharp points in the mouth. The whole "you don't have to do their teeth until they're 5" thing is a myth [per the several different vets I've talked to about it.] They still need to be looked at.
---
"Great spirits have always encountered violent opposition from mediocre minds."

I pulled the bands off her mane today and so far so it with it sticking up straight. It's a little bent from the bands, but so far so good.

My arms are killing me though. Like I said up above, she'll go one direction at a w/t without any issue, no pulling, nothing, very polite. The other direction, she'll plod at a walk fine, but as soon as we get to a trot, she will pull about half the circle and we got a few complete circles without freaking out, but she reaches a point where she turns and bolts. Doesn't matter where we are in the arena, it's the same spot.

Eventually we did get a few circles without a meltdown and I left her at that.
Blech. That always sucks. She'll learn eventually, right? Lol.
Posted via Mobile Device
Teen Forum Moderator
Join Date: Dec 2010
Location: South East Texas
Posts: 7,157
• Horses:
2
Just curious, do you lunge her in a nylon or rope halter? Sour used to pull me like crazy in one direction and often tried to turn, so I made a 5-knot stiff but thick rope halter on her and lunged her with it. The pressure on the side of her fact really seemed to help her and she stopped pulling within a few laps and was a total lady. When she tried to turn, I watched her body signals and the second she tried to push back on her haunches to turn, I snapped the whip behind her butt and held my arm with the lunge line out, for her to follow. She would go off at a canter, but in the right direction at least. I made her keep the speed a few laps, then let her slow down and continue at a trot. Only took a few times to realize that she could NOT turn when I didnt ask her to.

You may already be doing this, but thought I'd mention it. :) Kaja is adorable!
---
Everyone in your life is meant to
be in your journey, but not all of
them are meant to stay till the end.
---
Last edited by Endiku; 12-10-2012 at

09:35 PM

.