Getting back on after bad accident
---
Three months of pain and pain killers and sitting on the couch doing nothing. One moment of stupidity and now probably close to a year of physical therapy and pain and another surgery to take out my plate. I had a terrible accident with my 5 year old haflinger cross mare that was completely my fault. I fractured just about every bone in my ankle, shattered my fibula, and tore all the tendons. I now have a plate, a bone graft, and 11 screws in my ankle. Now Gracie has been off to training (green rider + green horse= disaster) for another 60 days and I'm going to start taking lessons once I start ridding.
I called the doctor today and I can start ridding since I've been weight bearing for awhile. I still walk with a limp, but life is getting back to normal and I'm working again.
So...I hope this will help someone else one day when they have to get back on after an accident. I'm so scared and I know It's going to be hard to trust her again even though it was my fault. I will start ridding my husband's 16 year old been-there-done-that horse first.
So...the journey begins.
My foot about 3 months after surgery, when I started to walk again. There's also a small incision on the other side.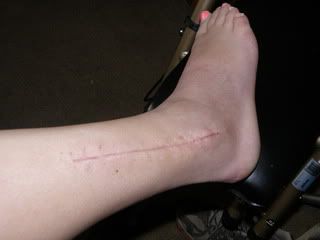 Gracie-my sweet, sweet girl :0)
---
"Courage is being scared to death but saddling up anyways" -John Wayne
Getting back on after a major trauma like that takes a lot of courage. Just take it as slow as you need to.
I had a back injury from a fall. The first 6 months or so back riding were really tough. I gasped and tensed every time Vida tripped or slid in some mud. It will be 2 years this November and I think I'm finally back to my pre-fall confidence level. It does get better honest
---

"Until one has loved an animal, part of one's soul remains unawakened..."
- Anatole France
Good for you! I wish you the best of luck! you are very brave to get back on! I tore all the tendons from my left ankle to my left hip once when a horse bucked and I got my leg caught in the arena railing and it twisted my leg back 180 degrees! OMG it sucked! I was 10 and no one saw it happen because my leg was faceing the rail AWAY from where everyone was watcing so they thought the bucked just scared me. My mom told me to ride for the rest of the hour and my leg swelled up OVER my boot. Went to the hospital and they have to cut my boot off *sniffles* After being off horses for 6 months all I wanted to do was get back on and ride BUT I do remember being TERRIFIED to canter my trainers 20yr old Been-there-done-that gelding. I look back and think I was pathetic but when you really think back I can understand why I was so scared. I ended up cantering and jumping him bearback after about 2 months of riding so YAY did a lot better. ONCE AGAIN GREAT JOB and go kick butt out there on your mare!
---
*+*Know Jumps Know Glory, No Jumps No Glory*+*
I had a few falls in a row a few years back and was traumatized. I just couldn't ride without freaking out. I am now doing better than ever and have even started offering to ride the horse who I was on when I had two of these falls. If it takes you a while to get your confidence back, don't worry. Just do what you feel comfortable with until you're comfortable doing more.
Kudos to you for getting back in the saddle! I wish you lots and lots of luck!
---
Thanks ya'll! You make me feel even more ready to take this on! maybe tomorrow if it doesn't give my husband a heart attach :0) Any pointers on lessons or teachers? Or should I just get on a ride? I will be taking lessons for sure, but I don't know how important it is in the big picture.
---
"Courage is being scared to death but saddling up anyways" -John Wayne
Lessons would definately help you when you start riding your mare again. Give you a safe place with eyes on her to make sure that everything is good, because those kinds of things leave impressions on the horse as well. But I think the big thing at the moment since you have your husbands trusty rusty horse, is just to get on and move around period. After that, once you feel confident and have your balance back on him, then you can set up a lesson for your first ride on your mare again. I wouldn't just jump on your mare as soon as you can, because if you are still off balance, and relatively nervous, she will feed off of that and possibly cause another accident. I wish you the best of luck.
OH GOOD GRIEF - you did some damage to yourself! I know that was horrible to have to go through! Glad you are on the mend and you'll be able to get back to what you love and enjoy! I know it's going to take a lot of courage to climb back on a horse after your accident, but it sounds like you'll be just fine! Take it slow and work in your comfort zone and before you know it your confidence level will soar again! Here's wishing you the best of luck! Hugs.....
If I were you, I would ride outside of lessons supervised. This way you only have to do what you feel comfortable doing, but incase you have trouble, there's someone there to help. :) Weekly lessons would probably help, too, so that you have someone to teach you and help you through any problems you're having. My coach was very helpful in convincing me that it wasn't the horses fault when I scared to ride.
---
Semperfi. Well done. It might take persistence - but there again persistence is all. And it is worth it.
The choice of your husband's rock steady horse is good - leave the pretty 5 yo Haflinger for a bit - she'll survive OK until you are ready for her.

Plan a slow comeback. A little bit each day, every day, starting off in a nice quiet arena. Don't ride if the horse is off colour or on windy days. Lots of walking, a bit of trotting. No cantering until you've built up a few muscles.

You've first got to rebuild the muscles - stomach, lower back, thighs, calves. You've got to sit upright in the saddle and maintain the position. If you have a local Pilates class, that will help you build the muscles away from the horse.

You may, repeat may, have to rebuild your confidence - but to be honest that would not be surprising. You had a seriously nasty fall - for whatever reason.

The biggest problem might be tension. Perhaps, subconciously, you'll stiffen up. Buy a book on the Alexander Technique and read it. Alexander is all about relaxation. Try laying flat on the floor and just let everything go. Relax every day. Pilates if necessary you can also do at home - again by reading a book but its best if you can find an instructor.

Why am I so positive - well after 33 years of riding I came off and made a serious mess of hitting the ground. I am an old man and was lucky to survive. As a result I lost my nerve for riding 12 months ago. I then came off again, several times, because I bought a sprauncy 7 yo skittish mare - big mistake. I had not recognised that I was too tense to ride. The brain said - OI, what are you doing? But with a lot of help from my horsey friends I am back on that same horse and she, God Bless her, is not dumping me these days.

Work with the horse from the ground - so that it gets to know your voice, smell
and body language. Lead the horse in hand before you start to ride it. Get it so that it will walk by your shoulder on the lightest of pressure on the lead rope. When you reckon the horse is ready for your delicate body, then get aboard and ride it in a confined quiet area. Once you are ready to leave the yard, get a friend to walk with you alongside the head of the horse. Take it easy - there is no hurry - is there?

When you are eventually ready for that mad gallop, you'll know - but don't be surprised if you don't get round to galloping for a little while. Time heals.

Remember life without a horse is miserable. That's your goal - to get back up on your very pretty palomino and canter off.

Best of luck

Barry G